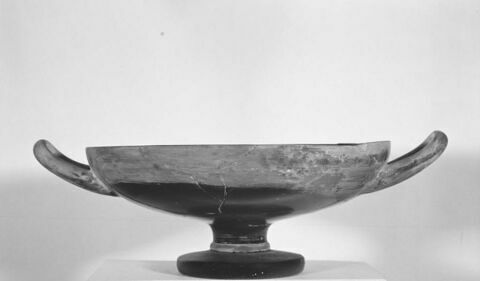 coupe
Epoque / période : archaïque ; figures rouges

Date de création/fabrication : 4e quart VIe s. av. J.-C. (-520 - -510)
Lieu de création : Athènes
Lieu de découverte : Tanagra (?)
Actuellement visible au Louvre
Inventory number
Numéro d'entrée : CA 2997
Artist/maker / School / Artistic centre
Description
Object name/Title
Dénomination : coupe
Typologie : coupe type C (?)
Description/Features
Décor : intérieur (dans médaillon) ; éphèbe (nu, accroupi, vers la droite, devant, œnochoé, portant, outre, sur, épaule, versant, dans, coupe, sur, main) ; au-dessous ; ligne de sol
sur vasque ; pas de décor

Etat de l'oeuvre : le vase est incomplet, recollé, complété et la base du pied a été refaite ; moins des fragments de la vasque et la base du pied ; l'inscription est effacée.
Inscriptions
Inscription :
peinte dans le médaillon au dessus du personnage
Langue :
grecque
Nature du texte :
acclamation (contenu du texte->formule diverse)
Onomastic components
Epilykos (Kalos)
Physical characteristics
Dimensions
Hauteur : 8,9 cm ; Largeur : 25,7 cm ; Diamètre : 19 cm
Materials and techniques
Matériau : argile
Technique : peinture brillante (peinture), dessin au trait, rehaut rouge (peinture->rehaut)
Précision technique : rehauts rouges (moulure du pied) ; le vernis noir vire au rouge à l'extérieur.
Places and dates
Date
Epoque / période : archaïque ; figures rouges

Date de création/fabrication : 4e quart VIe s. av. J.-C. (-520 - -510)
Place of discovery
Tanagra (?)
History
Collector / Previous owner / Commissioner / Archaeologist / Dedicatee
Acquisition details
achat
Acquisition date
Date : 1938
Held by
Musée du Louvre, Département des Antiquités grecques, étrusques et romaines
Location of object
Current location
Sully, [AGER] Salle 653 - Galerie Campana III, Vitrine 14 murale
Bibliography
- Villanueva-Puig, Marie-Christine, Images de la vie quotidienne en Grèce dans l'antiquité, 1992, p. 64
- Beazley, John D., Attic red-figure vase-painters, Oxford, Clarendon Press, 1963, p. 83, n° 9
- Union académique internationale. (dir.), Villard, François ; Merlin, Alfred, Corpus Vasorum Antiquorum. France. Fascicule 17, Musée du Louvre. Fascicule 10, [Musée du Louvre, 10], Paris, 1951, pl. 13.5, pl. 14.2
Last updated on 19.08.2021
The contents of this entry do not necessarily take account of the latest data.