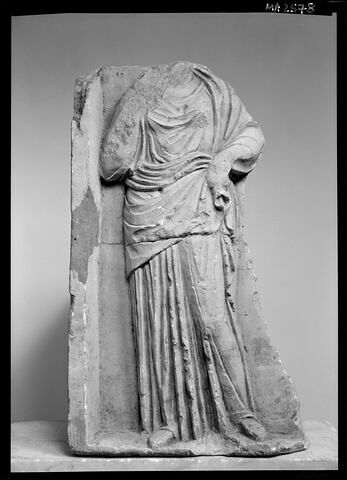 stèle funéraire
-320 / -300 (4e quart IVe s. av. J.-C.)
Lieu de création : Taras = Tarente

Département des Antiquités grecques, étrusques et romaines
Actuellement visible au Louvre
Inventory number
Numéro d'entrée :
MNC 442
Numéro catalogue :
Ma 2578
Description
Object name/Title
Dénomination : stèle funéraire (fragment)
Description/Features
Décor : femme (chitôn, himation, voile)

Etat de l'oeuvre : il s'agit de deux fragments recollés, il ne reste que la partie gauche de la stèle. La tête de la femme manque. Des éclats sont visibles sur l'avant-bras droit et au bord inférieur. L'autre partie était autrefois dans la collection Warren à Lewes(GB)
Physical characteristics
Dimensions
Hauteur : 25,3 cm ; Largeur : 15 cm ; Profondeur : 4,5 cm
Materials and techniques
Matériau : calcaire
Technique : bas-relief (sculpture)
Places and dates
Date
Epoque / période : hellénistique

Date de création/fabrication : 4e quart IVe s. av. J.-C. (vers -320 - -300)
Place of origin
Taras = Tarente
History
Collector / Previous owner / Commissioner / Archaeologist / Dedicatee
Acquisition details
achat
Acquisition date
date de l'inscription sur l'inventaire : 04/01/1883
Held by
Musée du Louvre, Département des Antiquités grecques, étrusques et romaines
Location of object
Current location
Sully, [AGER] Salle 342 - Art grec classique et hellénistique (Italie du Sud), Vitrine 1
Bibliography
- Hamiaux, Marianne, Les sculptures grecques, I, Des origines à la fin du IVe siècle avant J. -C, Paris, 2001, p. 250, n° 267
- Carter, Joseph Coleman, The Sculpture of Taras, Philadelphia, American philosophical society, 1975, p. 57, pl. 20B, n° 110
- Bernabo Brea, Luigi, « I rilievi tarantini in pietra tenera. », Rivista dell'Istituto Nazionale d'Archeologia e Storia dell'Arte (RIASA), 1952, p. 33
- Klumbach, Hans, Tarentiner Grabkunst, 1937, n° 64
- Reinach, Salomon, Répertoire des reliefs, II, Afrique - Iles Britanniques, 1912, p. 421, n° 6
- Lenormant, François ; De Witte, J, Gazette archéologique, 8, 8, 1883, p. 192, fig.
Last updated on 21.07.2022
The contents of this entry do not necessarily take account of the latest data.