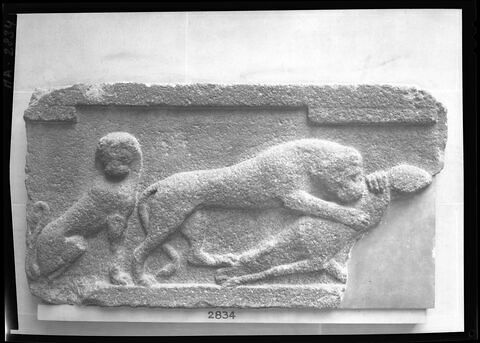 plaque de frise
Lieu de création : Assos
Lieu de découverte : Behramkale = Assos (temple d'Athéna)
LP 2583 ; Ma 2834 ; N 1689
Département des Antiquités grecques, étrusques et romaines
Actuellement visible au Louvre
Inventory number
Numéro d'entrée :
LP 2583
Numéro catalogue :
Ma 2834
Autre numéro d'inventaire :
N 1689
Description
Object name/Title
Dénomination : plaque de frise
Typologie : en haut ; taenia ; régula (2)
en bas ; plinthe
Description/Features
Décor : lion (attaquant, biche, ?, affaissé) ; à gauche ; lion (accroupi, tête, de face)

Etat de l'oeuvre : incomplet : il manque l'angle inférieur droit avec l'arrière-train de la biche). Cette plaque se situait côté sud,11e entrecolonnement. Le revers a été anciennement retaillé.
Physical characteristics
Dimensions
Hauteur : 81 cm ; Largeur : 153,5 cm ; Profondeur : 15 cm
Materials and techniques
Matériau : trachyte
Technique : bas-relief (sculpture)
Places and dates
Date
Epoque / période : archaïque

Date de création/fabrication : 3e quart VIe s. av. J.-C. (vers -540)
Place of discovery
Behramkale = Assos (temple d'Athéna)
History
Collector / Previous owner / Commissioner / Archaeologist / Dedicatee
Acquisition date
date de donation : 1838 (Entré en 1840)
Held by
Musée du Louvre, Département des Antiquités grecques, étrusques et romaines
Location of object
Current location
Denon, [AGER] Salle 170 - Grèce préclassique, Hors vitrine
Bibliography
- Wescoat, Bonna D., The temple of Athena at Assos, 2012, p. 141-151, 273, fig. 73, pl. 83, n° A11
- Hamiaux, Marianne, Les sculptures grecques, I, Des origines à la fin du IVe siècle avant J. -C, Paris, 2001, p. 72, n° 64
- Finster-Holz, Ursula, Der Bauschmuck des Athenatempels von Assos : Studien zur Ikonographie, Roma, G. Bretschneider, 1984, p. 95, 138-139, fig. 29, n° 13
- Charbonneaux, Jean, La sculpture grecque et romaine au Musée du Louvre, 3, Paris, Editions des Musées nationaux, (Collection des Guides du visiteur), 1963, p. 103, fig. , n° 2834
- Sartiaux, Félix, Les sculptures et la restauration du temple d'Assos en Troade, 1915, p. 41-42, n° 14
- Clarac, Charles Othon Frédéric Jean-Baptiste de (Comte de), Musée de sculpture antique et moderne ou description historique et graphique du Louvre, des statues, bustes, bas-reliefs et inscriptions du musée royal des antiques et des Tuileries, tome II - deuxième partie, II.2, Paris, Imprimerie royale, 1841, p. 1161-1162, n° 238 B. n° 5
- Clarac, Charles Othon Frédéric Jean-Baptiste de (Comte de), Musée de Sculpture antique et moderne. Planches, le Louvre et les Tuileries, II, Paris, 1828-1830, pl. 116B, n° 5
Last updated on 08.08.2022
The contents of this entry do not necessarily take account of the latest data.