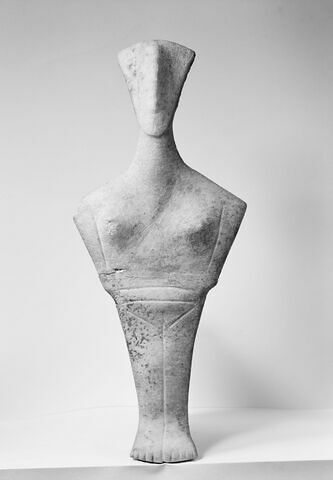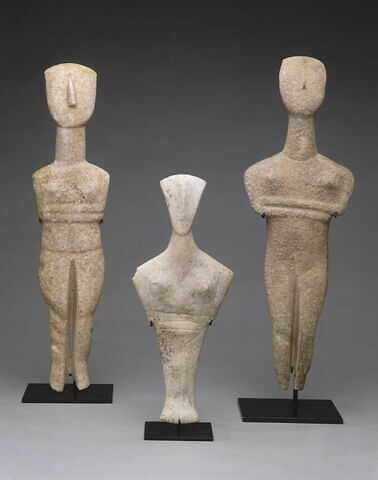 statuette
Epoque / période : bronze ancien ; cycladique ancien II

Date de création/fabrication : 2e moitié IIIe millénaire av. J.-C. (vers -2300)
Lieu de création : Cyclades
Lieu de découverte : Naxos
Actuellement visible au Louvre
Inventory number
Numéro d'entrée : MND 988
Numéro catalogue : Ma 3093
Artist/maker / School / Artistic centre
Description
Object name/Title
Dénomination : statuette
Typologie : idole de la variété de Chalandriani
Description/Features
personnage féminin

Etat de l'oeuvre : incomplet-moins fragments épaule droite et coude gauche.
Restauration : restauration(1996)
Physical characteristics
Dimensions
Hauteur : 27 cm ; Largeur : 11,3 cm ; Profondeur : 3 cm
Materials and techniques
Matériau : marbre
Technique : ronde-bosse (sculpture), gravé = gravure
Précision technique : gravé(bras,sexe,jambé,orteils)
Places and dates
Date
Epoque / période : bronze ancien ; cycladique ancien II

Date de création/fabrication : 2e moitié IIIe millénaire av. J.-C. (vers -2300)
History
Collector / Previous owner / Commissioner / Archaeologist / Dedicatee
Acquisition details
achat
Acquisition date
date de comité/commission : 1913
Held by
Musée du Louvre, Département des Antiquités grecques, étrusques et romaines
Location of object
Current location
Denon, [AGER] Salle 170 - Grèce préclassique, Vitrine 8
Bibliography
- Picasso. Metamorfosi, cat. exp. (Milan, Palazzo Reale, 18 octobre 2018 - 17 février 2019), Milan, Skira, 2018, p. 230, cat. 133
- Hamiaux, Marianne, Les sculptures grecques, I, Des origines à la fin du IVe siècle avant J. -C, Paris, 2001, p. 29, n° 9
- J. Paul Getty museum (dir.), Getz-Gentle, Pat, Sculptors of the Cyclades : individual and tradition in the third millenium B.C., Ann Arbor (Mich.), University of Michigan Press, 1987, p. 123-125, fig. 51, pl. 46-47
- Kunst der Cykladen, cat. exp. (Karlsruhe (1976)), 1976, p. 288, 480, n° 225
- Zervos, Christian, L'art des Cyclades du début à la fin de l'âge du bronze, 2500-1100 avant notre ère, Paris, Cahiers d'Art, 1957, fig. 158
- Michon, Étienne, Cahiers d'art, 4, 1929, p. 252-253, pl. 1
- Héron de Villefosse, Antoine ; Michon, Étienne, « Acquisitions de l'année 1913 au musée du Louvre », Bulletin de la Société Nationale des Antiquaires de France, 1913, Disponible sur : https://gallica.bnf.fr/ark:/12148/bpt6k2068431/f398.image , p. 397, n° 1
- Idoles, L'art de l'Anatolie et des Cyclades à l'âge du Bronze, Rodez, Musée Fenaille, 12 juin- 17 octobre, cat. exp. (Rodez (Externe, France), Musée Fenaille, 2021),
Exhibition history
- Picasso e il mito, Milan (Externe, Italie), Palazzo Reale, 18/10/2018 - 17/02/2019
Last updated on 02.02.2021
The contents of this entry do not necessarily take account of the latest data.