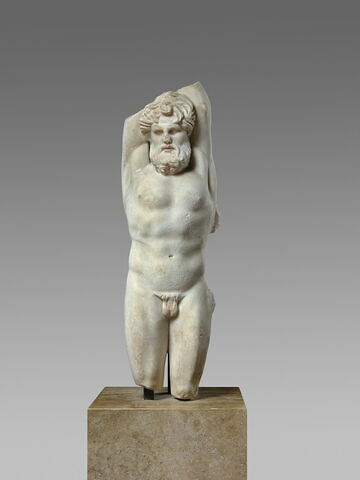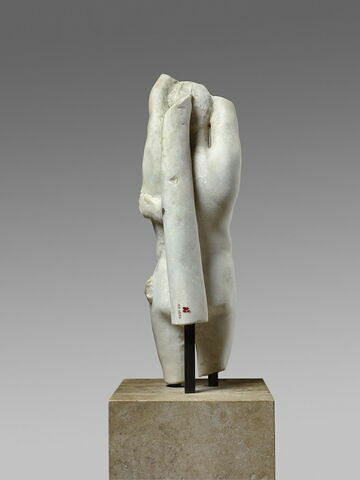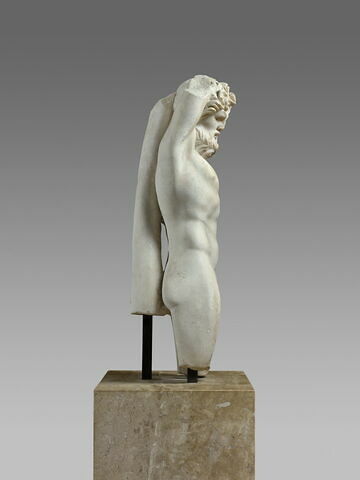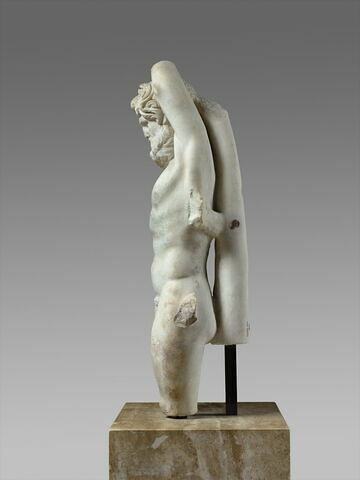 statuette ; Marsyas
Epoque / période : romain impérial

Date de création/fabrication : 2e quart IIe s. ap. J.-C. (d'après Weis) (125 - 150)
Lieu de création : Syrie (?)
Lieu de découverte : Banias = Balanea
Actuellement visible au Louvre
Inventory number
Numéro d'entrée : MND 416
Numéro catalogue : Ma 3280
Description
Object name/Title
Dénomination : statuette
Titre d'usage : Marsyas
Original artwork
supplice de Marsyas ; atelier pergaménien (?) ; 4e quart IIIe s. av. J.-C. ; 1e quart IIe s. av. J.-C. (type blanc)
Description/Features
Marsyas (mèche, long, barbe, nu, attaché, sur, tronc d'arbre)

Etat de l'oeuvre : incomplet : le bras droit depuis le deltoïde, l'avant-bras gauche, les jambes depuis les genoux, le haut et le bas du tronc d'arbre à l'arrière manquent. Un arrachement est visible au haut de la cuisse gauche.Un éclat est visible sur le sexe.
Physical characteristics
Dimensions
Hauteur : 63 cm ; Largeur : 19 cm ; Profondeur : 18 cm
Materials and techniques
Matériau : marbre
Technique : ronde-bosse (sculpture), trépan (sculpture)
Précision technique : trépan(cheveux,yeux)
Places and dates
Date
Epoque / période : romain impérial

Date de création/fabrication : 2e quart IIe s. ap. J.-C. (d'après Weis) (125 - 150)
Place of origin
Syrie (?)
Place of discovery
Banias = Balanea
History
Collector / Previous owner / Commissioner / Archaeologist / Dedicatee
Acquisition details
achat
Acquisition date
date de l'arrêté/décision : 02/04/1901
Held by
Musée du Louvre, Département des Antiquités grecques, étrusques et romaines
Location of object
Current location
Sully, [AGER] Salle 348 - Dieux et héros du monde grec antique : Apollon, Artémis, Dionysos, Hors vitrine
Bibliography
- Weis, Anne, The hanging Marsyas and its copies : Roman innovations in a Hellenistic sculptural tradition, 1992, p. 187-188, n° 34
- Muthmann, F., « Der hängende Marsyas », dans Corolla Ludwig Curtius. Zum sechzigsten Geburtstag dargebracht, Stuttgart, Kohlhammer, 1937, p. 118, n. 6
- Reinach, Salomon, Répertoire de la statuaire grecque et romaine, III, 1904, p. 19, n° 9
Comparative literature
- Borbein, Adolf Heinrich, Marburger Winckelmann-Programm, 1973, p. 127
- Vermeule, Cornelius Clarkson ; Neuerburg, Norman, Catalogue of the ancient art in the J. Paul Getty museum, [the J. Paul Getty museum], Malibu, 1973, p. 14, n° 25
- Künzl, Ernst, Frühhellenistische Gruppen, Köln, 1968, p. 127
- Bieber, Margarete, The Sculpture of the Hellenistic Age, New York, Columbia University Press, 1955, p. 110
Last updated on 04.08.2021
The contents of this entry do not necessarily take account of the latest data.