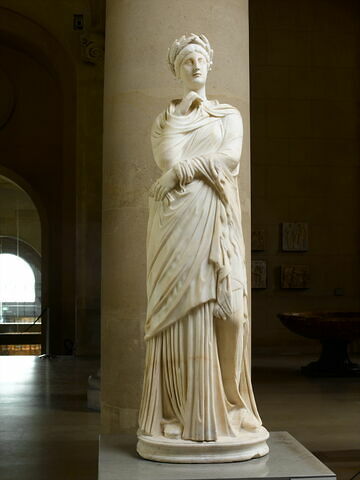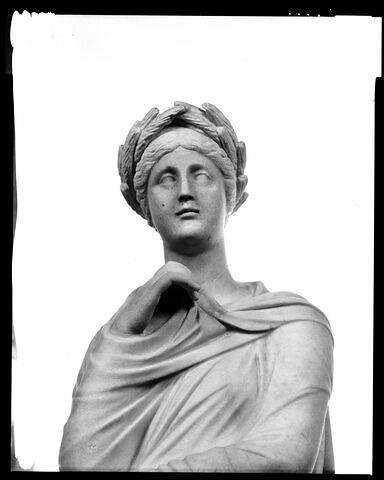 Actuellement visible au Louvre
Inventory number
Numéro catalogue :
Ma 930
Autre numéro d'inventaire :
MR 244
Autre numéro d'inventaire :
N 1559
Description
Object name/Title
Dénomination : statue
Original artwork
la pudicité (type)
Description/Features
déesse (?, couronne : épi de blé, chignon, himation, à frange, drapé, chitôn, chaussé, tenant, épi de blé)

Etat de l'oeuvre : entier-moins calotte crânienne avec la couronne,bout du nez,lèvre supérieure,menton,main droite,épis de blé-moins haut du dos-moins tour de la plinthe
Restauration : recollé(tête)-complété(lacunes,en marbre-refait(plinthe ronde moulurée)-repoli-restauration(2004)
Physical characteristics
Dimensions
Hauteur : 177 cm ; Largeur : 58 cm ; Profondeur : 40 cm
Materials and techniques
Matériau : marbre
Technique : ronde-bosse (sculpture)
Places and dates
Date
Epoque / période : romain impérial
History
Collector / Previous owner / Commissioner / Archaeologist / Dedicatee
Acquisition details
saisie révolutionnaire
Held by
Musée du Louvre, Département des Antiquités grecques, étrusques et romaines
Location of object
Current location
Denon, [AGER] Salle 405 - Salle du Manège
Bibliography
- Martinez, Jean-Luc, Les antiques du Musée Napoléon. Edition illustrée et commentée des volumes V et VI de l'inventaire du Louvre en 1810, Paris, RMN, 2004, p. 55, n° 0066
- Bieber, Margarete, Ancient Copies. Contributions to the History of Greek and Roman Art, New York, University Press, 1977, p. 133, 143, pl. 103, fig. 619
- Linfert, Andreas, Kunstzentren hellenistischer Zeit : Studien an weiblichen Gewandfiguren, Roma, L'Erma di Bretschneider, 1976, p. 150, n. 596, 81, pl. 68, fig. 375
- Clarac, Charles Othon Frédéric Jean-Baptiste de (Comte de), Musée de sculpture antique et moderne ou description historique et graphique du Louvre, les bas-reliefs, inscriptions, autels, cippes, etc. du Musée du Louvre, V, Paris, 1851, p. 200, n° 2344
- Clarac, Charles Othon Frédéric Jean-Baptiste de (Comte de), Description du Musée Royal des Antiques du Louvre, Paris, 1830, Disponible sur : ark:/12148/bpt6k6552349p , p. 40, n° 77
- Clarac, Charles Othon Frédéric Jean-Baptiste de (Comte de), Musée de Sculpture antique et moderne. Planches, le Louvre et les Tuileries, III, Paris, 1832-1834, Disponible sur : http://bibliotheque-numerique.inha.fr/idurl/1/5833 , pl. 310, n° 77
Last updated on 09.03.2021
The contents of this entry do not necessarily take account of the latest data.