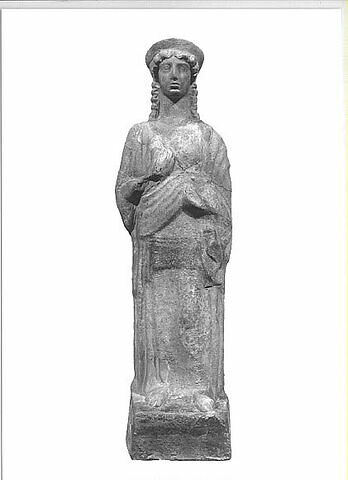 figurine
-475 / -425 (2e quart Ve s. av. J.-C. ; 3e quart Ve s. av. J.-C.)
Lieu de création : Attique (?) ; Béotie (?)

Département des Antiquités grecques, étrusques et romaines
Actuellement visible au Louvre
Inventory number
Numéro d'entrée :
MNB 3053
Description
Object name/Title
Dénomination : figurine
Description/Features
femme (cheveux, long, en bandeau, ondulé, stephanè, péplos, à apoptygma, himation, debout, sur, base, tenant, himation, pli)

Etat de l'oeuvre : la figurine est entière
Physical characteristics
Dimensions
Hauteur : 27,8 cm ; Largeur : 8,4 cm ; Profondeur : 5,9 cm
Materials and techniques
Matériau : argile (argile beige clair)
Technique : moulé, préparation (traces), trou d'évent (rectangulaire), peinture (traces du rouge sur peplos et base - traces de bleu sur himation)
Précision technique : base ouverte en dessous
Places and dates
Date
Epoque / période : classique

Date de création/fabrication : 2e quart Ve s. av. J.-C. ; 3e quart Ve s. av. J.-C. (-475 - -425)
Place of origin
Attique (?) ; Béotie (?)
History
Collector / Previous owner / Commissioner / Archaeologist / Dedicatee
Acquisition details
achat
Acquisition date
date : 1881
Held by
Musée du Louvre, Département des Antiquités grecques, étrusques et romaines
Location of object
Current location
Sully, [AGER] Salle 648 - Figurines en terre cuite grecques - Époques archaïque et classique, Vitrine 9 murale
Bibliography
- Holzhausen, H., Bootische Terrakottatypen des 5. and 4. Jhdts. v. Chr. : Dissertation, 1972, p. 28, n° 1
- Besques, Simone, Catalogue raisonné des figurines et reliefs en terre-cuite grecs, étrusques et romains I. Epoques préhellénique, géométrique, archaïque et classique, Paris, Editions des Musées Nationaux, 1954, p. 91, pl. 64, C46
- Charbonneaux, Jean, Les terres cuites grecques, Paris, L. Reynaud, 1936, p. 24, fig. 26
Comparative literature
- Jeammet, Violaine (dir.), Tanagras. De l'objet de collection à l'objet archéologique. Actes du colloque, Paris, Bibliothèque nationale de France, 22 novembre 2003, Paris, Louvre éditions, 2007, p. 20, pl. X
- Leyenaar-Plaisier, Paula G., Les terres cuites grecques et romaines : catalogue de la collection du Musée national des antiquités à Leiden, 1979, p. 15, pl. 3, n° 14
Last updated on 28.09.2022
The contents of this entry do not necessarily take account of the latest data.