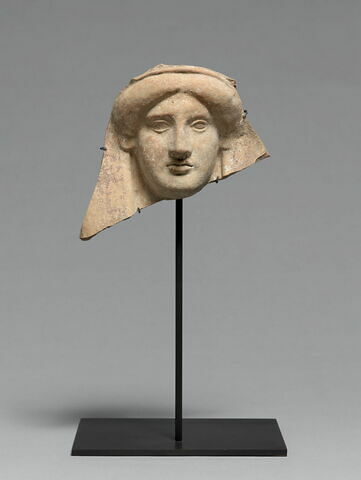 figurine
-475 / -425 (2e quart Ve s. av. J.-C. ; 3e quart Ve s. av. J.-C.)
Lieu de création : Myrina
Lieu de découverte : Myrina
Département des Antiquités grecques, étrusques et romaines
Actuellement visible au Louvre
Inventory number
Numéro catalogue :
Myr 191
Numéro de collection :
Myrina 128
Description
Object name/Title
Dénomination : figurine
Typologie : protomé
Description/Features
protomé (?, femme, tête, cheveux, en bandeau, voile)

Etat de l'oeuvre : incomplet : il manque la partie supérieure de la tête,le cou et la partie gauche du voile
Physical characteristics
Dimensions
Hauteur : 17 cm ; Largeur : 18 cm ; Profondeur : 7,9 cm
Materials and techniques
Matériau : argile (argile beige orange)
Technique : moulé, préparation (traces), peinture (traces de peinture pourpre sur le voile)
Places and dates
Date
Epoque / période : classique

Date de création/fabrication : 2e quart Ve s. av. J.-C. ; 3e quart Ve s. av. J.-C. (fin ; debut) (-475 - -425)
Place of discovery
Myrina
History
Collector / Previous owner / Commissioner / Archaeologist / Dedicatee
Acquisition details
dévolution
Acquisition date
date : 1883
Held by
Musée du Louvre, Département des Antiquités grecques, étrusques et romaines
Location of object
Current location
Sully, [AGER] Salle 646 - Figurines en terre cuite grecques - Époques hellénistique et romaine (Myrina), Vitrine 2 murale
Bibliography
- Besques, Simone, Catalogue raisonné des figurines et reliefs en terre-cuite grecs, étrusques et romains II. Myrina, Paris, Editions des Musées Nationaux, 1963, p. 9, pl. 7c, Myr 191
- Pottier, Edmond ; Reinach, Salomon, La nécropole de Myrina : recherches archéologiques exécutées au nom et aux frais de l'École française d'Athènes, Paris, Ernest Thorin, 1887, Disponible sur : https://gallica.bnf.fr/services/engine/search/sru?operation=searchRetrieve&version=1.2&collapsing=disabled&rk=21459;2&query=dc.relation%20all%20%22cb311409914%22#resultat-id-2 , p. 543, n° 191
Last updated on 15.09.2022
The contents of this entry do not necessarily take account of the latest data.