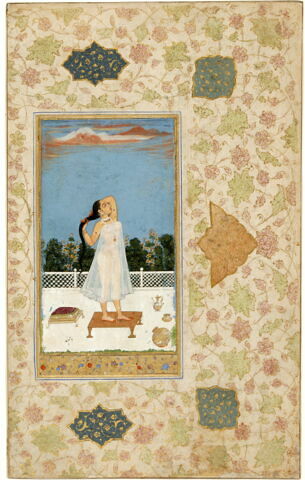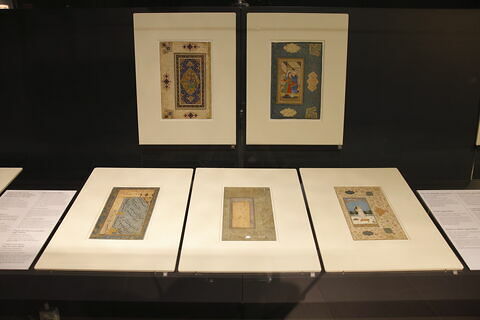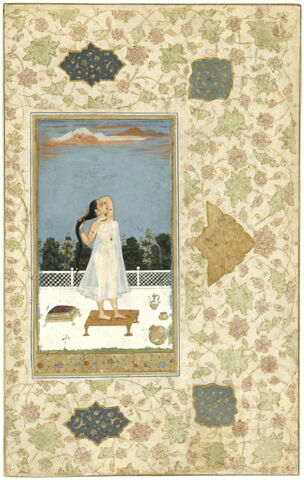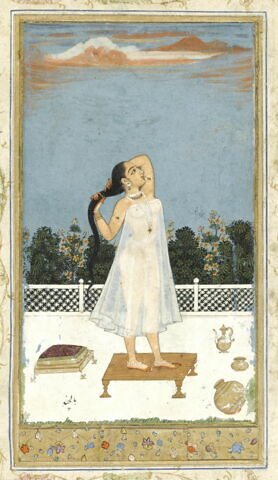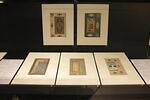 Jeune femme se coiffant
Date de création/fabrication : XVIIIe siècle (1700 - 1800)
Lieu de provenance : Inde (Sous-continent indien)


Artwork recovered after World War II, retrieved by the Office des Biens et Intérêts Privés (OBIP); to be returned to its rightful owner once they have been identified. Online records of all MNR ('National Museums Recovery') works can be found on the French Ministry of Culture's Rose Valland database.
Inventory number
Numéro principal : AOR 4236
Artist/maker / School / Artistic centre
Balchand
Peintre, Copie d'après ?, (Signature de Bâlchand mais probablement copie du XVIIIe siècle d'une oeuvre de Bâlchand (premier tiers XVIIe siècle))
Description
Object name/Title
Dénomination : Album (= Muraqqa) (Art du livre)
Titre : Jeune femme se coiffant
Description/Features
Type miniature : page isolée
Inscriptions
Inscription :
بالچند
Translittération : Bālčand
Traduction : Balchand
Nature du texte : Artiste (Attribution/signature)
Positionnement de l'inscription : En bas, à gauche, sur la peinture
Physical characteristics
Dimensions
Hauteur : 28,2 cm ; Hauteur : 53 cm ; Largeur : 40,5 cm ; Largeur : 17,8 cm
Materials and techniques
Matériau : Papier
Matériau/Technique : Gouache sur papier, rehauts d'or
Places and dates
Date
XVIIIe siècle (1700 - 1800)
Provenance
Inde (Sous-continent indien)
History
Acquisition details
attribution par l'office des biens privés (MNR)
Acquisition date
date : 1951
Owned by
Musées Nationaux Récupération
Location of object
Current location
non exposé
Bibliography
- Makariou, Sophie ; Maury, Charlotte (dir.), Istanbul, Isfahan, Delhi. 3 Capitals of Islamic Art : masterpieces from the Louvre collection, cat. exp. (Istanbul, Sakip Sabanci museum, 2008), Istanbul, Sakip Sabanci museum, 2008, p. 280-281, n° 140
Comparative literature
- Miniatures et peintures indiennes : Collection du département des Estampes et de la Photographie de la Bibliothèque nationale de France. Volume I, cat. exp. (Paris, Bnf, 2010), Paris, BNF, 2010, p. 147, fig. 210, n° 210
- Cohen, Monique ; Okada, Amina ; Negre, Arlette (dir.), A la Cour du Grand Moghol, cat. exp. (Paris, Bibliothèque Nationale, 1986), Paris, BNF, 1986, p. 100, n° 79
- Bussagli, Mario, Indian miniatures, Feltham, Middlesex, The Hamlyn publishing group Limited, 1969, p. 78, ill. p. 77, n° 33
- Stchoukine, Ivan, La peinture indienne à l'époque des grands moghols, Ernest Leroux, 1929, pl. XLIX d
Exhibition history
- L'étrange et le merveilleux en terre d'Islam, Palais, 23/04/2001 - 23/07/2001
- Istanbul, Isfahan, Delhi : three capitals of Islamic Art. Masterpieces from the Louvre collection, Istanbul (Externe, Turquie), Sakip Sabanci museum, 19/02/2008 - 01/06/2008, étape d'une exposition itinérante
- Exposition des MNR, Richelieu, 07/04/1997 - 07/07/1997
- Rotation 13 : exposition Arts du livre, salles du département des arts de l'Islam, Denon, [AI] Sous cour Visconti, Musée du Louvre, Vitrine 29 a (Vitrine), 15/09/2015 - 15/12/2015
Last updated on 05.07.2021
The contents of this entry do not necessarily take account of the latest data.