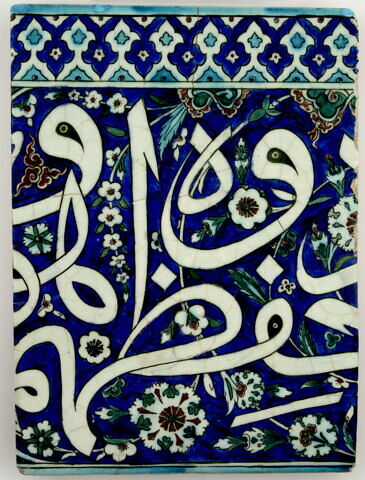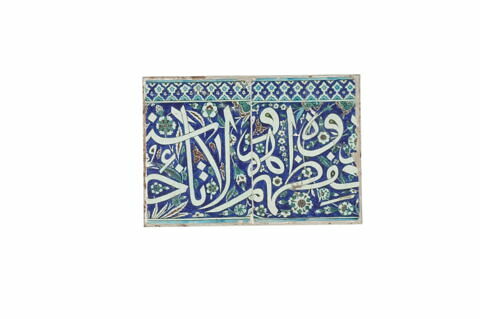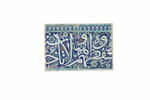 Carreau faisant partie d'une frise inscrite
1585 / 1615 (4ème quart du XVIe siècle ; 1er quart du XVIIe siècle)
Lieu de provenance : Diyarbakir (=Diyarbakır) (Asie Mineure et Europe orientale->Turquie) ; Iznik (Asie Mineure et Europe orientale->Turquie) (?)


AD 26681 b ; UCAD 26681 b
Département des Arts de l'Islam
Inventory number
Numéro principal :
AD 26681 b
Autre numéro d'inventaire :
UCAD 26681 b
Description
Object name/Title
Dénomination : Carreau de frise (Élément d'architecture, décor intérieur et extérieur, huisserie->Décor architectural->Carreau de revêtement)
Titre : Carreau faisant partie d'une frise inscrite
Physical characteristics
Dimensions
Epaisseur : 2,4 cm ; Hauteur : 38,2 cm (Max) ; Largeur : 28,3 cm (Max) ; Poids : 3,949 kg
Materials and techniques
Matériau : Céramique
Matériau/Technique : Céramique (pâte siliceuse), décor peint sur engobe sous glaçure transparente
Places and dates
Date
4ème quart du XVIe siècle ; 1er quart du XVIIe siècle (1585 - 1615)
Provenance
Diyarbakir (=Diyarbakır) (Asie Mineure et Europe orientale->Turquie) ; Iznik (Asie Mineure et Europe orientale->Turquie) (?)
History
Collector / Previous owner / Commissioner / Archaeologist / Dedicatee
Léonce Mahou
(Donateur) (Legs de Mme Claire Julie Bource, veuve M. Mahou, selon la volonté de son mari)
Acquisition date
date : 01/06/1928
Held by
Union centrale des Arts Décoratifs, Paris
Index
Bibliography
Comparative literature
- Jenkins-Madina, Marilyn (dir.), Jenkins-Madina, Marilyn ; Keene, Manuel ; Bates, Michael, Islamic Art in the Kuwait National Museum : the al-Sabah Collection , [The Kuwait National Museum, Koweit city], London, Sotheby, 1983, p. 116-117
- Leth, André, Davids Samling Islamisk Kunst : The David collection Islamic art, [David Collection, Copenhague], Copenhague, [s.n.], 1975, p. 110, n°181
- Soustiel, Jean (dir.), Objets d'art de l'Islam - 1 - Présentation d'un ensemble d'objets d'art musulman appartenant à Joseph Soustiel, cat. exp. ( Paris, 88 rue de Miromesnil, 1973), Paris, 1973, p. 6-7 et p.31, n°21
- Antiquities and Islamic works of art, [Vente, New-York, Sotheby's, 08/06/1984, n°156
- Arts of the Islamic World, [Vente, London, 13/10/2004, p. 223, n°188
Last updated on 12.05.2022
The contents of this entry do not necessarily take account of the latest data.