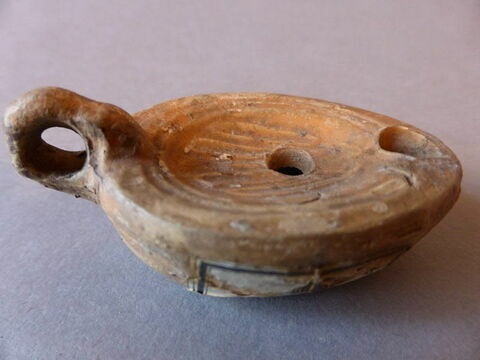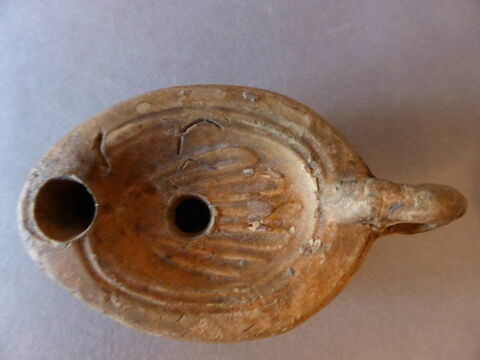 lampe
50 / 110 (Ie s. ap. J.-C. ; 2e moitié Ie s. ap. J.-C. ; 1e moitié IIe s. ap. J.-C.)
Lieu de création : Lugdunum = Lyon (Atelier de la Butte)
Lieu de découverte : Lyon = Lugdunum
Département des Antiquités grecques, étrusques et romaines
En dépôt : Musée d'archéologie nationale et Domaine national de Saint-Germain-en-Laye, Saint-Germain-en-Laye

Inventory number
Autre numéro d'inventaire :
MI 1749
Autre numéro d'inventaire :
N 4289
Numéro dépositaire :
31904
Description
Object name/Title
Dénomination : lampe
Description/Features
Lampe de typologie La Butte VII, Deneauve VI b ; de forme ovale, à réservoir tronconique et anse moulée perforée. Décor représentant un coquillage à cinq cannelures. Sous le fond, un petit trou perforé. Sur le vernis, traces de doigts.
Physical characteristics
Dimensions
Hauteur : 2,6 cm ; Longueur : 6 cm ; Largeur : 3,5 cm
Materials and techniques
Matériau : argile (jaune)
Technique : peinture (vernis ocre), tourné
Places and dates
Date
Ie s. ap. J.-C. ; 2e moitié Ie s. ap. J.-C. ; 1e moitié IIe s. ap. J.-C. (50 - 110)
Place of origin
Lugdunum = Lyon (Atelier de la Butte)
Place of discovery
Lyon = Lugdunum
History
Collector / Previous owner / Commissioner / Archaeologist / Dedicatee
Acquisition details
achat
Acquisition date
date : 1852 (?)
Held by
Musée du Louvre, Département des Antiquités grecques, étrusques et romaines
Location of object
Current location
Saint-Germain-en-Laye (France), Musée d'archéologie nationale et Domaine national de Saint-Germain-en-Laye
Bibliography
Comparative literature
- Desbat, Armand ; Bertrand, Éric ; Élaigne, Sandrine ; Schmitt, Anne, « L'atelier de la Butte », Gallia, 54, Les productions des ateliers de potiers antiques de Lyon. 2e partie : Les ateliers du Ier s. après J.-C., 1997, p. 5-43, Disponible sur : <https://doi.org/10.3406/galia.1997.3233> , p. 24, pl. 11, n° 68
Last updated on 03.04.2023
The contents of this entry do not necessarily take account of the latest data.