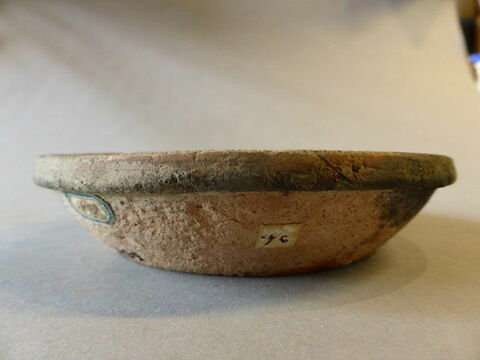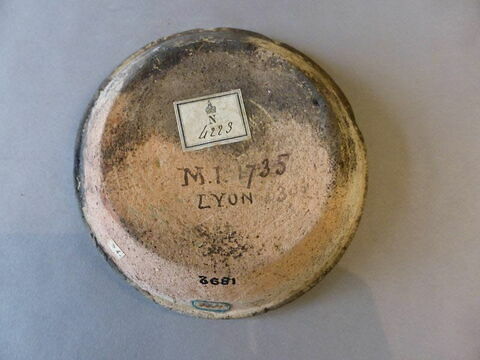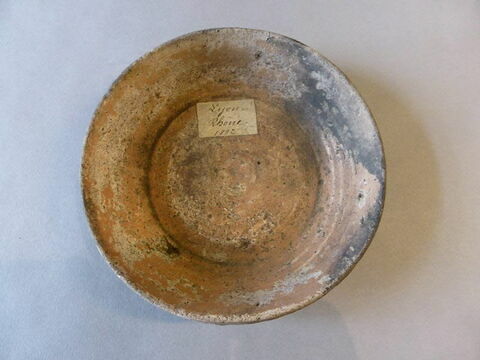 coupelle
-100 / 500 (Ie s. av. J.-C. ; Ve s. ap. J.-C.)
Lieu de création : Gaule
Lieu de découverte : Lyon = Lugdunum
Département des Antiquités grecques, étrusques et romaines
En dépôt : Musée d'archéologie nationale et Domaine national de Saint-Germain-en-Laye, Saint-Germain-en-Laye

Inventory number
Autre numéro d'inventaire :
MI 1735
Autre numéro d'inventaire :
N 4223
Numéro dépositaire :
1892
Description
Object name/Title
Dénomination : coupelle
Description/Features
Coupelle à fond plat, panse évasée et lèvre épaisse et arrondie ; gros coup de feu sur une bonne moitié de la pièce.
Physical characteristics
Dimensions
Hauteur : 3 cm ; Diamètre : 13 cm (diamètre embouchure) ; Diamètre : 9,3 cm (diamètre pied)
Materials and techniques
Matériau : argile (gris clair)
Technique : engobe (rouge), tourné
Places and dates
Date
Ie s. av. J.-C. ; Ve s. ap. J.-C. (Gaule romaine) (-100 - 500)
Place of discovery
Lyon = Lugdunum
History
Acquisition date
date de donation : 1852
Held by
Musée du Louvre, Département des Antiquités grecques, étrusques et romaines
Location of object
Current location
Saint-Germain-en-Laye (France), Musée d'archéologie nationale et Domaine national de Saint-Germain-en-Laye
Last updated on 08.12.2016
The contents of this entry do not necessarily take account of the latest data.