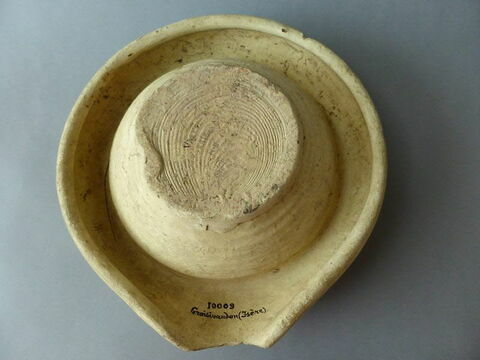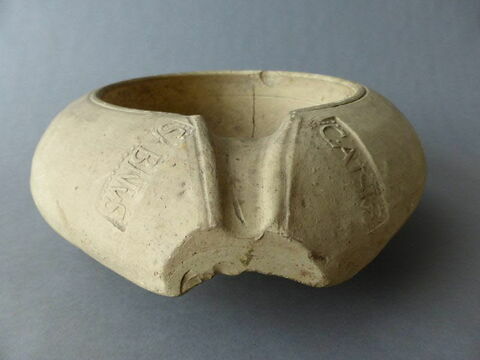 mortier
-100 / 500 (Ie s. av. J.-C. ; Ve s. ap. J.-C.)
Lieu de découverte : vallée du Grésivaudan
10009/Graisivaudan Isère ; N III 1098 ; VALLEE DU GRESIVAUDAN 1861
Département des Antiquités grecques, étrusques et romaines
En dépôt : Musée d'archéologie nationale et Domaine national de Saint-Germain-en-Laye, Saint-Germain-en-Laye

Inventory number
Numéro dépositaire :
10009/Graisivaudan Isère
Autre numéro d'inventaire :
N III 1098
Autre numéro d'inventaire :
VALLEE DU GRESIVAUDAN 1861
Description
Object name/Title
Dénomination : mortier
Description/Features
Mortier à large collerette débordante, pourvu d'un bec verseur ; inscription au tampon de chaque côté du verseur.
Inscriptions
Inscription :
C ATISIVS SABINVS
Nature du texte :
marque de fabrique (contenu du texte->marque)
Physical characteristics
Dimensions
Hauteur : 9,2 cm ; Diamètre : 10,2 cm (diamètre pied) ; Diamètre : 15,9 cm (diamètre embouchure)
Materials and techniques
Matériau : argile (beige)
Technique : moulé
Places and dates
Date
Ie s. av. J.-C. ; Ve s. ap. J.-C. (Gaule romaine) (-100 - 500)
Place of discovery
vallée du Grésivaudan
History
Collector / Previous owner / Commissioner / Archaeologist / Dedicatee
Acquisition details
achat
Acquisition date
date : 1825
Held by
Musée du Louvre, Département des Antiquités grecques, étrusques et romaines
Location of object
Current location
Saint-Germain-en-Laye (France), Musée d'archéologie nationale et Domaine national de Saint-Germain-en-Laye
Last updated on 08.12.2016
The contents of this entry do not necessarily take account of the latest data.