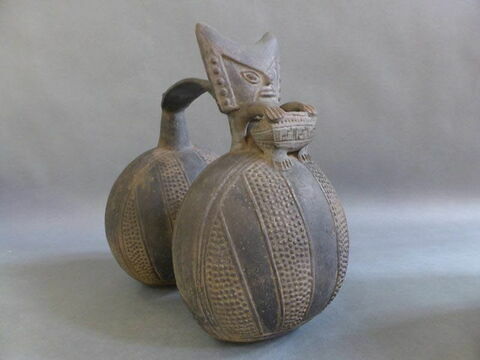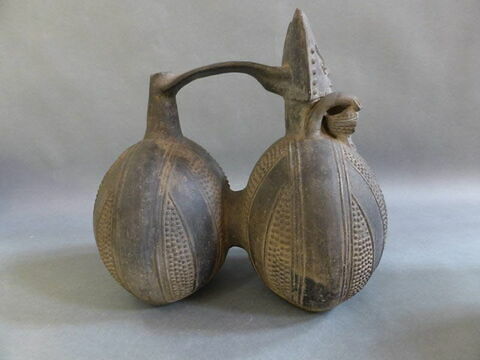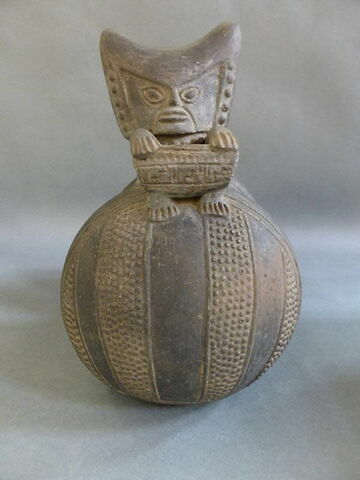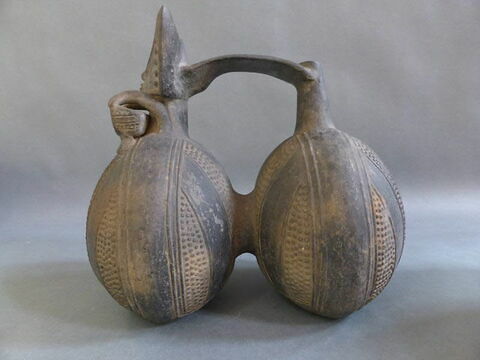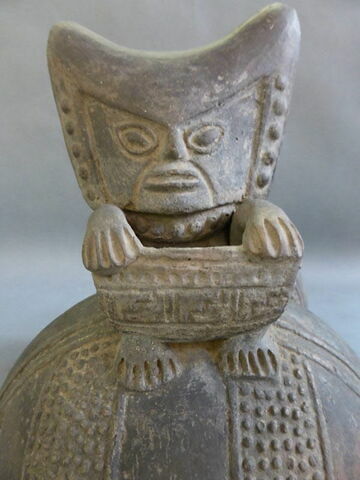 vase fermé
1000 / 1400 (IIe millénaire ap. J.-C. (?) ; XVe s. ap. J.-C. (?))
Lieu de création : Pérou (?) (Lambayeke - Chimu)
Lieu de découverte : Pérou (côte septentrionale)
Département des Antiquités grecques, étrusques et romaines
En dépôt : Musée d'archéologie nationale et Domaine national de Saint-Germain-en-Laye, Saint-Germain-en-Laye

Inventory number
Numéro dépositaire :
51551
Description
Object name/Title
Dénomination : vase fermé (vase siffleur)
Description/Features
Vase à double corps (vase-siffleur), panses ovoïdes, décorées de décors géométriques (alternance de bandes horizontales traitées en aplats noirs polis et de zones pastillées en léger relief) et reliées en leur centre. L'une des panses est surmontée d'un bec verseur conique, l'autre d'un personnage masculin, dignitaire portant une coiffe avec une fente en V et des colliers, ainsi qu'un petit coffre sur ses genoux décoré de motifs géométriques (frise de motifs en escaliers). Le goulot et le personnage modelé sont reliés par une anse-pont plate. Perforations en dessous de la tête du personnage et du goulot.
Physical characteristics
Materials and techniques
Matériau : argile (noire)
Technique : estampage = estampé, incisé = incision, pastillage, peinture (noir), tourné
Places and dates
Date
IIe millénaire ap. J.-C. (?) ; XVe s. ap. J.-C. (?) (1000 - 1400)
Place of origin
Pérou (?) (Lambayeke - Chimu)
Place of discovery
Pérou (côte septentrionale)
History
Acquisition details
achat
Acquisition date
date : 1853 (?)
Held by
Musée du Louvre, Département des Antiquités grecques, étrusques et romaines
Location of object
Current location
Saint-Germain-en-Laye (France), Musée d'archéologie nationale et Domaine national de Saint-Germain-en-Laye
Last updated on 08.12.2016
The contents of this entry do not necessarily take account of the latest data.