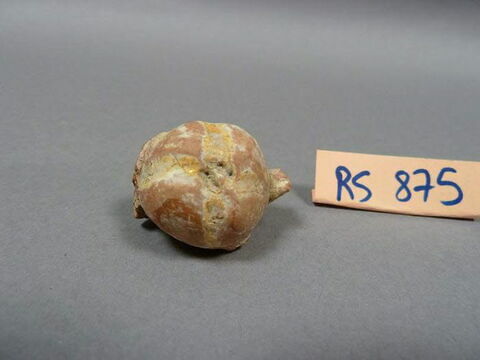 figurine
-500 / -300 (1e quart Ve s. av. J.-C. (?) ; 4e quart IVe s. av. J.-C. (?))
Lieu de création : Éolide (?) (J.-M. Sauget, 1975)
Lieu de découverte : Izmir = Smyrne (région de ou Eolide)
Département des Antiquités grecques, étrusques et romaines
En dépôt : Institut d'archéologie classique, Université de Strasbourg, Strasbourg

Inventory number
Autre numéro d'inventaire :
RS 875
Description
Object name/Title
Dénomination : figurine
Ancien titre : Pomme (Décret ; 15 juillet 1922)
Description/Features
Grenade miniature.
Cupule au sommet d'où rayonnent quatre rainures. Feuilles sur la partie inférieure (il n'en reste que le départ) et petit morceau d'argile avec trace d'arrachement qui semble montrer que le fruit faisait partie d'un ensemble, probablement une couronne dionysiaque ou une corbeille.
Dorure dans les rainures et de peinture rouge sous la base.
Physical characteristics
Dimensions
Hauteur : 2,6 cm ; Longueur : 2,3 cm ; Largeur : 3,1 cm
Materials and techniques
Matériau : argile (beige rosé : Munsell 5YR 6/4)
Technique : dorure, engobe (blanc), peinture (rouge)
Places and dates
Date
1e quart Ve s. av. J.-C. (?) ; 4e quart IVe s. av. J.-C. (?) (-500 - -300)
Place of origin
Éolide (?) (J.-M. Sauget, 1975)
Place of discovery
Izmir = Smyrne (région de ou Eolide)
History
Held by
Musée du Louvre, Département des Antiquités grecques, étrusques et romaines
Location of object
Current location
Strasbourg (France), Université de Strasbourg, Université de Strasbourg, Institut d'archéologie classique
Last updated on 25.01.2016
The contents of this entry do not necessarily take account of the latest data.