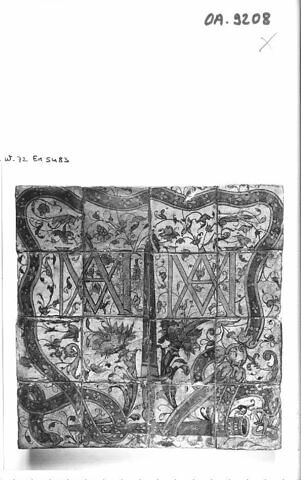 Carreau de pavage carré : partie de l'écu du connétable Anne de Montmorency
Epoque / période : Renaissance (Occident)

Date de création/fabrication : 1542
Lieu de création : Rouen (Haute-Normandie = Haute Normandie->Seine-Maritime = Seine Maritime)
Lieu de provenance : château (Val-d'Oise = Val d'Oise->Ecouen)


En dépôt : Musée national de la Renaissance - Château d'Ecouen, Ecouen

Inventory number
Numéro principal : OA 1287 4
Autre numéro d'inventaire : OA 9208
Artist/maker / School / Artistic centre
Description
Object name/Title
Titre : Carreau de pavage carré : partie de l'écu du connétable Anne de Montmorency
Type of object
élément d'architecture, décor intérieur et extérieur, huisserie ; carreau de pavement
Description/Features
Carreau orné de quatre alérions, partie de l'écu du connétable de Montmorency et fragment du collier de l'Ordre de Saint Michel.
Physical characteristics
Materials and techniques
Matériau : céramique
Matériau : faïence stannifère
Places and dates
Date
Epoque / période : Renaissance (Occident)

Date de création/fabrication : 1542
Place of origin
Rouen (Haute-Normandie = Haute Normandie->Seine-Maritime = Seine Maritime)
Provenance
château (Val-d'Oise = Val d'Oise->Ecouen)
History
Collector / Previous owner / Commissioner / Archaeologist / Dedicatee
Acquisition details
donation
Acquisition date
date de donation : 1856
Held by
Musée du Louvre, Département des Objets d'art du Moyen Age, de la Renaissance et des temps modernes
Location of object
Current location
Ecouen (France), Musée de la Renaissance - château d'Ecouen
Bibliography
- Darcel, Alfred, Notice des fayences peintes italiennes, hispano-moresques et françaises, et des terres cuites émaillées : série G. Musée impérial du Louvre. Musée de la Renaissance., [Collections du Musée du Louvre], [Paris], Ch. de Mourgues frères, 1864, G.697
- Sauzay, Alexandre, Musée Impérial du Louvre. Catalogue du Musée Sauvageot, Paris, Impr. Charles de Mourgues, frères, 1861, Disponible sur : https://bibliotheque-numerique.inha.fr/viewer/12476/?offset=#page=3&viewer=picture&o=bookmark&n=0&q= , p. 218, n° 927
- Peyre, Jean-Gabriel, « Le décor de grotesques: Fresques de l'imaginaire », L'Estampille/L'Objet d'art, n° 383, septembre 2003, p. 56-69, p. 65
Last updated on 29.06.2018
The contents of this entry do not necessarily take account of the latest data.