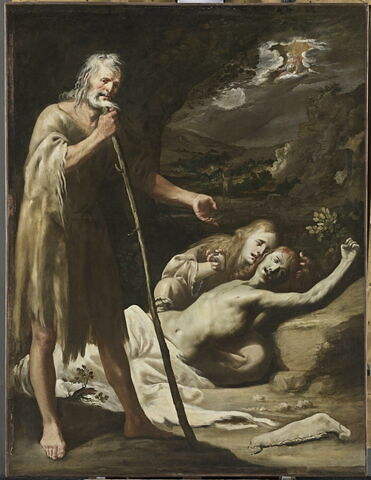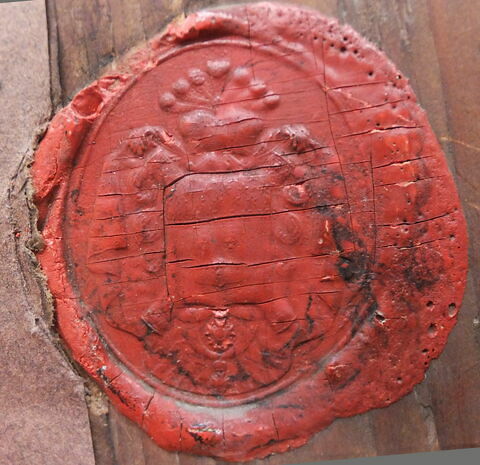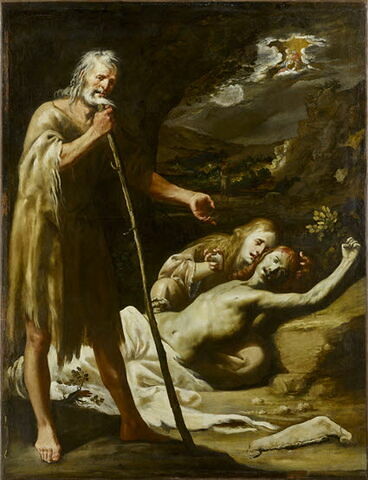 Adam et Eve pleurant le corps d'Abel mort
Date de création/fabrication : Milieu du XVIIe siècle (vers 1655)
Actuellement visible au Louvre
Inventory number
Numéro principal : RFML.PE.2018.31.1
Artist/maker / School / Artistic centre
Description
Object name/Title
Titre : Adam et Eve pleurant le corps d'Abel mort
Inscriptions
Nature de marque :
cachet de cire
Physical characteristics
Dimensions
Hauteur : 2,06 m ; Largeur : 1,61 m ; Hauteur avec accessoire : 2,2 m ; Largeur avec accessoire : 1,76 m
Materials and techniques
huile sur toile
Places and dates
Date
Milieu du XVIIe siècle (vers 1655)
History
Object history
Cathédrale de Séville ( attribué à Alonso Cano); prélevé par le maréchal Soult le 22 mai 1810; proposé par Soult à Vivant-Denon pour le musée Napoléon, mais non retenu;collection Maréchal Soult, n°60 ( sous le nom d' Alonso Cano);vente Soult, Paris, 19-22 mai 1852, n°13 (François Pacheco); acquis par M. Caumartin; Collection Joachim Carvallo, Villandry; Vente Carvallo, Tours, 19 novembre 1953, n°1 ( sous le nom de el Castillo y Saavedra); coll. Flandin Pardo; collection d'une fondation suisse jusqu'en 2016; vente Genève, 9 mars 2016 (anonyme espagnol); acquis auprès de la Galerie Descours, Lyon.
Collector / Previous owner / Commissioner / Archaeologist / Dedicatee
Acquisition details
achat
Acquisition date
date de commission des acquisitions : 09/05/2018
date d'affectation : 13/06/2018
date du conseil artistique des musées nationaux : 13/06/2018
date de décision : 13/06/2018
date de l'inscription sur l'inventaire : 20/06/2018
Held by
Musée du Louvre, Département des Peintures
Location of object
Current location
Denon, [Peint] Salle 718, Salle 718 - Bartolomé Esteban Murillo (1618-1682)
Bibliography
- Galera Andreu, Pedro A., Sebastian Martinez Domedel, La mort d'Abel, [Galerie Michel Descours],
- Galera Andreu, Pedro A. ; Serrano Estrella, Felipe (dir.), Navarrete Prieto, Benito, Sebastianus. Pintor de Jáen, Jáen, Diputacion Provincial, 2017, p. 32-33, fig.7
- Gaya Nuño, Juan Antonio, La pintura española fuera de España (historia y catálogo), Madrid, Espasa Calpe, 1958, p. 375, n°2791
Last updated on 11.05.2021
The contents of this entry do not necessarily take account of the latest data.