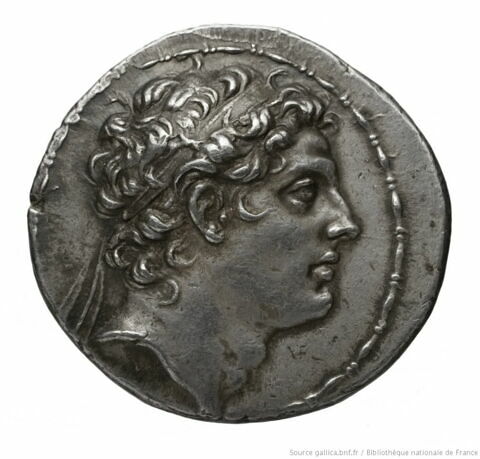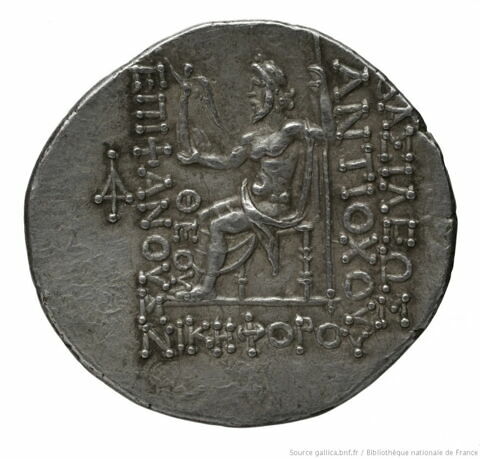 tétradrachme
Epoque / période : hellénistique
Lieu de création : Antioche sur Oronte = Antakya (Hatay)

Actuellement visible au Louvre
Inventory number
Autre numéro d'inventaire : FG 544
Description
Object name/Title
Dénomination : tétradrachme
Description/Features
Tétradrachme en argent frappé à Antioche Sur L'Oronte (Séleucide Et Piérie) : portrait d'Antiochos IV Épiphane glabre et Zeus trônant.
Référence du type : Seleucid Coins. A Comprehensive Catalogue. Part II. Seleucus IV through Antiochus XIII [Texte imprimé] / par A. Hougton, C.C. Lorber. - Lancaster, Londres, 2008, 1398.

Décor : Droit : Tête d'Antiochos IV diadémée à droite. Revers : Zeux trônant à gauche, tenant dans main droite une Nikè ailée, couronnant le nom ΕΠΙΦΑΝΟYΣ, et un long sceptre dans la main gauche.
Inscriptions
Langue :
grecque
Physical characteristics
Dimensions
Poids : 16,29 g
Materials and techniques
Matériau : argent (frappé)
Précision technique : (flan circulaire)
Places and dates
Date
Epoque / période : hellénistique
Place of origin
Antioche sur Oronte = Antakya (Hatay)
History
Held by
Bibliothèque nationale de France-Cabinet des Médailles, Paris
Location of object
Current location
Sully, [AGER] Salle 340 - Art grec classique et hellénistique (Grèce d'Asie)
Last updated on 09.12.2020
The contents of this entry do not necessarily take account of the latest data.