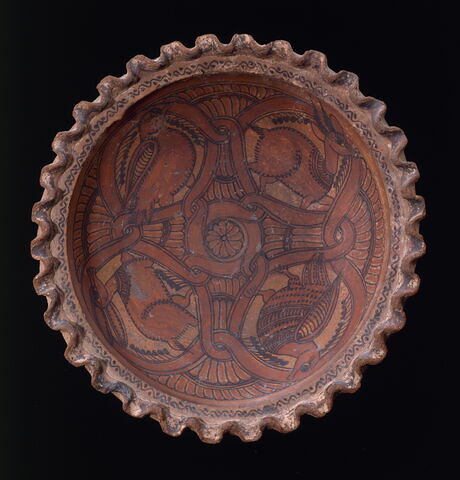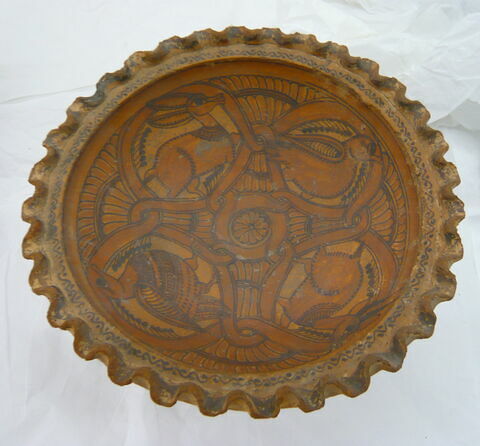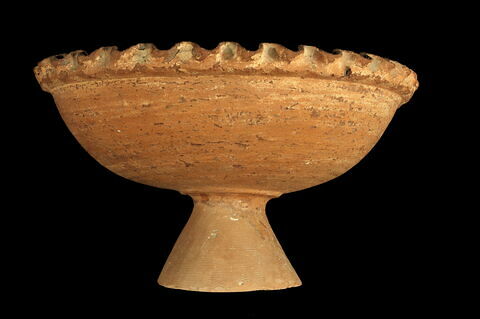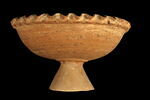 coupe à pied
Date de création/fabrication : époque byzantine ; début époque islamique (attribution d'après style) (600 - 800)
Lieu de découverte : Saqqara (Région memphite->Nécropole memphite) (?)
Actuellement visible au Louvre
Inventory number
Numéro principal : E 11756
Autre numéro d'inventaire : AF 5244
Description
Object name/Title
Dénomination : coupe à pied
Description/Features
Décor : gazelle ; lièvre ; oiseau
Inscriptions
Écriture :
copte
Physical characteristics
Dimensions
Diamètre : 29 cm ; Hauteur : 16,5 cm
Materials and techniques
Matériau : terre cuite
Technique : tournage, engobe = engobage, peinture
Couleur : brun rouge à coeur noir (terre) ; blanc (inclusion) ; doré (mica) ; orange (engobe). Le dessin est exécuté très soigneusement à la peinture noire ; le remplissage des sujets est fait en rouge sombre sur fond orange.
Places and dates
Date
époque byzantine ; début époque islamique (attribution d'après style) (600 - 800)
Place of discovery
Saqqara (Région memphite->Nécropole memphite) (?)
History
Collector / Previous owner / Commissioner / Archaeologist / Dedicatee
Acquisition details
achat
Acquisition date
date d'arrivée au Musée : 1925
Held by
Musée du Louvre, Département des Antiquités égyptiennes
Location of object
Current location
Denon, [AE] Salle 173 - Égypte copte - Art et civilisation, Vitrine 10
Bibliography
- Andreu, Guillemette ; Rutschowscaya, Marie-Hélène ; Ziegler, Christiane, L'Égypte ancienne au Louvre, [Musée du Louvre, Paris], Paris, Hachette, 1997, p. 249 ; 257, ill. p. 249, n° 130
- Ziegler, Christiane ; Rutschowscaya, Marie-Hélène, Le Louvre. Les antiquités égyptiennes, [Musée du Louvre, Paris], Paris, Éditions Scala, 1990, p. 94, ill. p. 94
Comparative literature
- Incordino, Ilaria, « Analysis of a painted female head among the pottery decoration from the monastery of Abba Nefer at Manqabad (Asyut) », Studien zur Altägyptischen Kultur (SAK), 48, 2019, p. 107-116, p. 108, pl.32
Last updated on 25.03.2021
The contents of this entry do not necessarily take account of the latest data.