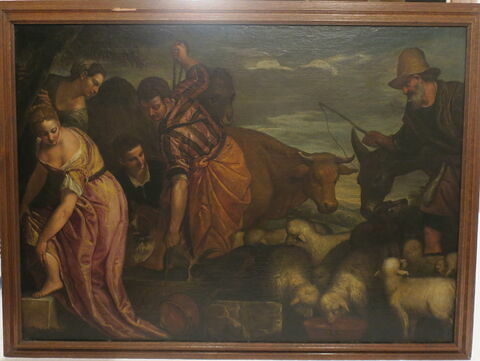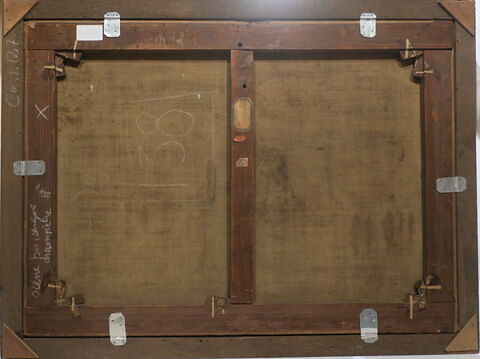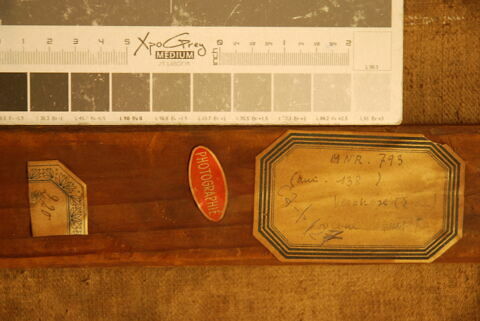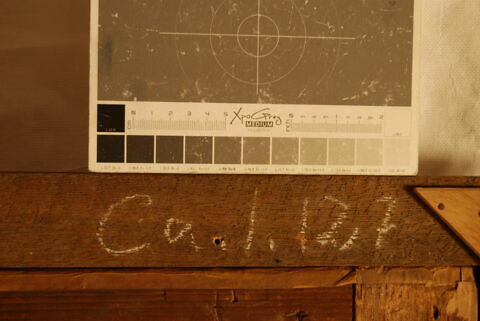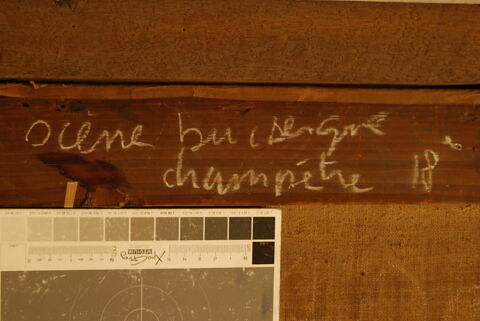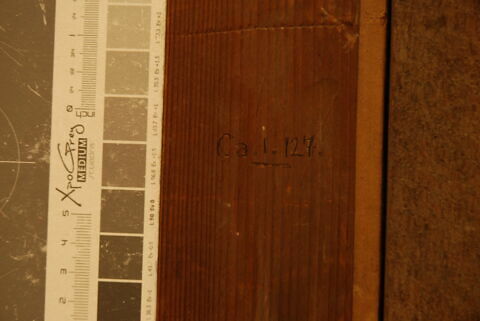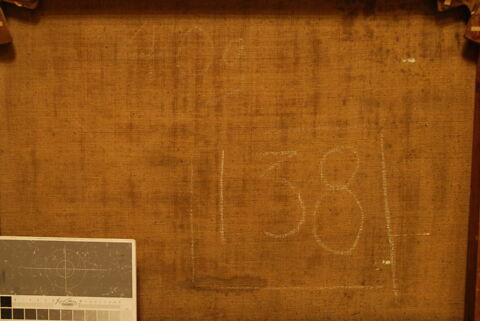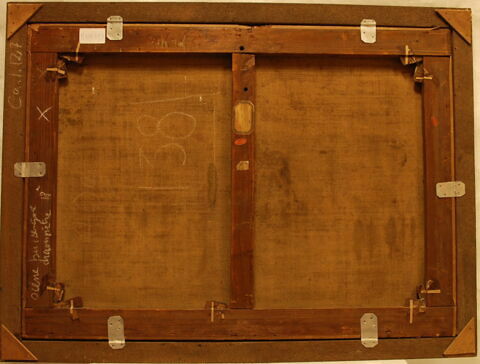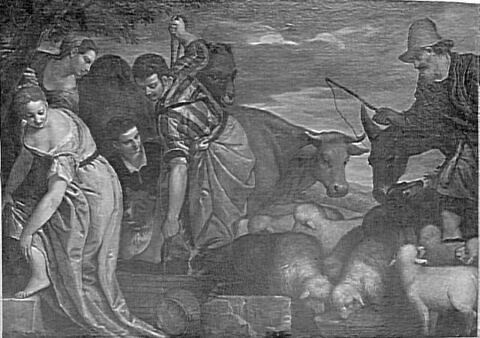 Scène champêtre (Rébecca à la fontaine)
1500 / 1600 (XVIe siècle)
Département des Peintures
Artwork recovered after World War II, retrieved by the Office des Biens et Intérêts Privés (OBIP); to be returned to its rightful owner once they have been identified. Online records of all MNR ('National Museums Recovery') works can be found on the French Ministry of Culture's Rose Valland database.
En dépôt : Musée de Cahors - Henri Martin, Cahors

Inventory number
Numéro principal :
MNR 793
Numéro dépositaire :
CA-1-127
Artist/maker / School / Artistic centre
Description
Object name/Title
Titre : Scène champêtre (Rébecca à la fontaine)
Inscriptions
Inscription :
Au revers, sur le châssis, une étiquette : "MNR 793/(anc 138)/Véronèse (Ecole)/scène champêtre", Marqué à la craie blanche : "138".
Physical characteristics
Dimensions
Hauteur avec accessoire : 0,878 m (avec cadre) ; Hauteur : 0,774 m ; Largeur avec accessoire : 1,165 m (avec cadre) ; Largeur : 1,056 m
Materials and techniques
toile
Places and dates
Date
XVIe siècle (1500 - 1600)
History
Object history
Le tableau est peut-être le "Rebecca" de Véronèse acquis 800 000 F en France par Rochlitz (1).
Il est rapatrié vers la France par le troisième convoi en provenance de Baden-Baden le 6 (ou 7) janvier 1948 à destination du siège de la commission de récupération artistique ; le tableau est retenu lors de la cinquième commission de choix des oeuvres de la récupération artistique le 15 février 1951 (2) ; il est attribué au musée du Louvre (département des Peintures) par l'Office des Biens et Intérêts Privés en 1951, puis déposé au musée Henri-Martin de Cahors en 1955 (CA-1-127) (3).
(1)MEAE/209SUP714 dossier 18 Rochlitz.
(2)SMF, sous-direction des collections, dossier Récupération.
(3)SMF, sous-direction des collections, dossier Récupération : Arrêté du ministère de l'Education nationale du 9 décembre 1955.
Acquisition details
attribution par l'office des biens et intérêts privés (MNR)
Acquisition date
date d'arrivée au Musée : 1951
Owned by
Musées Nationaux Récupération
Location of object
Current location
Cahors (France), Musée de Cahors - Henri Martin
Bibliography
- Lesné, Claude ; Roquebert, Anne, Catalogue des peintures M.N.R., Paris, R.M.N., 2004, p. 610, ill. n&b
- Pignatti, Terisio ; Pedrocco, Filippo, Veronese. Catalogo completo dei dipinti, Florence, Cantini, 1991, p. 161, fig. 669, n° 309
- Pignatti, Terisio, « Il tema di Giacobbe e Rachele al pozzo di Paolo Veronese », Wiener Jahrbuch für Kunstgeschichte, XL, 1987, p. 237, fig. 4
- Galerie Piero Corsini, Important Old Masters Paintings and Discoveries of the Past Years [New York, galerie Piero Corsini, 1986], New York, 1986. , p. 50, fig. 3, n°13
- Brejon de Lavergnée, Arnauld ; Thiébaut, Dominique, Catalogue sommaire illustré des peintures du musée du Louvre. II. Italie, Espagne, Allemagne, Grande-Bretagne et divers, Paris, R.M.N., 1981, p. 301, ill. n&b
Last updated on 16.12.2020
The contents of this entry do not necessarily take account of the latest data.