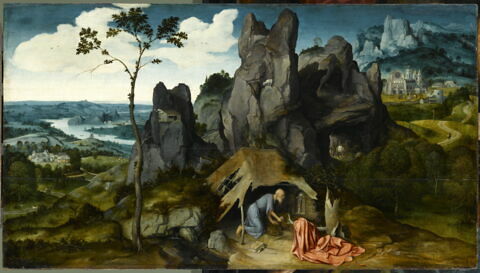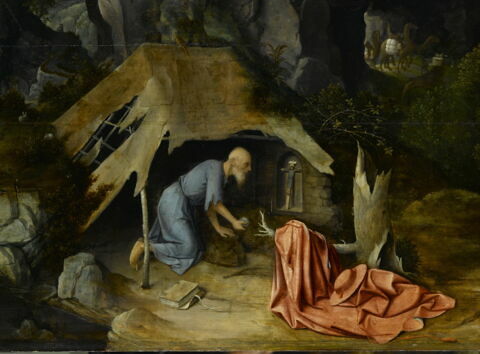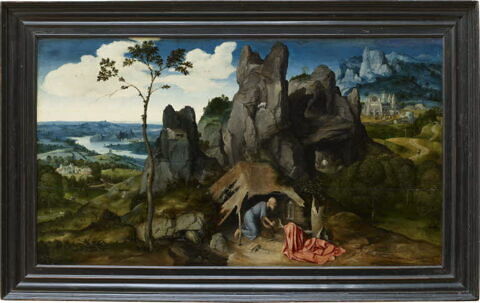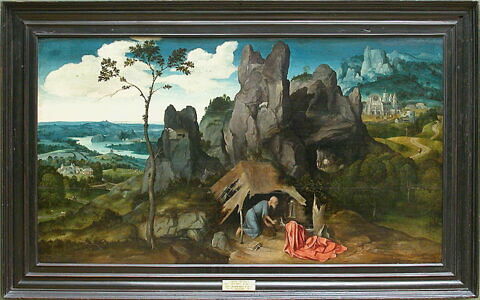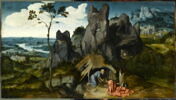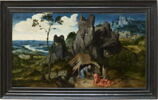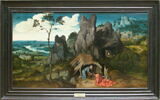 Actuellement visible au Louvre
Inventory number
Numéro principal :
RF 2429
Artist/maker / School / Artistic centre
Description
Object name/Title
Titre : Saint Jérôme en pénitence, dans le désert
Physical characteristics
Dimensions
Hauteur : 0,78 m ; Hauteur avec accessoire : 0,995 m ; Largeur : 1,37 m ; Largeur avec accessoire : 1,585 m
Materials and techniques
huile sur bois
Places and dates
Date
Fin du XVe siècle - début du XVIe siècle (1521)
History
Object history
J. K. Huysmans (1848-1907), écrivain et critique d'art, Paris (cité dans son roman Là-bas, 1891) ; Juliette Og, demi-sœur du précédent, Sèvres ; Sir Joseph Duveen (1869-1939), marchand d'art, Paris-Londres ; don de ce dernier au musée, 1923.
Collector / Previous owner / Commissioner / Archaeologist / Dedicatee
Acquisition date
date : 1923
Held by
Musée du Louvre, Département des Peintures
Location of object
Current location
Richelieu, [Peint] Salle 814 - Humanisme et Réforme
Bibliography
- Foucart-Walter, Élisabeth (dir.), Foucart, Jacques, Catalogue des peintures flamandes et hollandaises du musée du Louvre, [Musée du Louvre, département des Peintures], Paris, Editions Gallimard / Musée du Louvre Editions, 2009, p. 48, ill. n&b
- Vergara, Alejandro (dir.), Patinir. Estudios y catálogo crítico, cat. exp. (Madrid, musée national du Prado, 2 juillet-7 octobre 2007), Madrid, Musée national du Prado, 2007, p. 326-333, n°24
- Martens, Didier, « Images de saint Jérôme pénitent aux XVe et XVIe siècles. La part du texte et la part du peintre », dans Georges-Bloch-Jahrbuch des Kunstgeschichtlichen Seminars der Universität Zürich, 1996, p. 157-170, p. 162-163
- Mirimonde, Albert Pomme de, Le langage secret de certains tableaux du musée du Louvre, Paris, R.M.N., 1984, p. 77-80
- Brejon de Lavergnée, Arnauld ; Foucart, Jacques ; Reynaud, Nicole, Catalogue sommaire illustré des peintures du musée du Louvre. I. Ecoles flamande et hollandaise, Paris, R.M.N., 1979, p. 103, ill. n&b
- Friedländer, Max J., Early Netherlandish Painting, 9. Joos van Cleve, Jan Provost und Joachim Patenier, 2, Leyde/Bruxelles, A. W. Sijthoff/ La Connaissance, 1972-1973, p. 123, n° 245
- Koch, Robert, Joachim Patinir, Princeton, University Press, 1968, p. 30-32, 75, n° 10
- Michel, Edouard, Musée national du Louvre. Catalogue raisonné des peintures du Moyen-Age, de la Renaissance et des Temps modernes. Peintures flamandes du XVe et du XVIe siècle, Paris, Musées nationaux, 1953, p. 237-238, n° 4126
- Friedländer, Max J., Die altniederländische Malerei, 9. Die Antwerpener Manieristen: Joos van Cleve, Jan Provost und Joachim Patenier, Berlin, Paul Cassirer, 1931, p. 158, n° 245
- Huysmans, Joris Karl, Là-bas, Paris, 1891, p. 107-108, 177-178
- Falkenburg, Reindert Leonard, « Iconographical connections between Antwerp landscapes, market scenes and kitchen pieces 1500-1580 », Oud Holland, 107, 1993, p. 118-119
Last updated on 27.10.2021
The contents of this entry do not necessarily take account of the latest data.