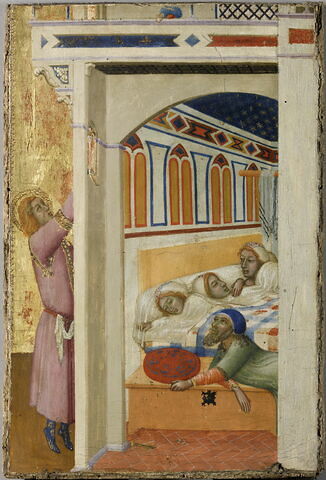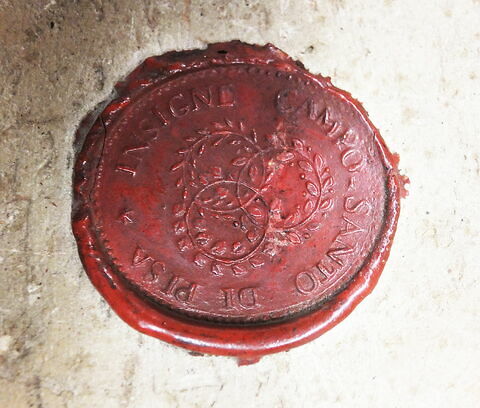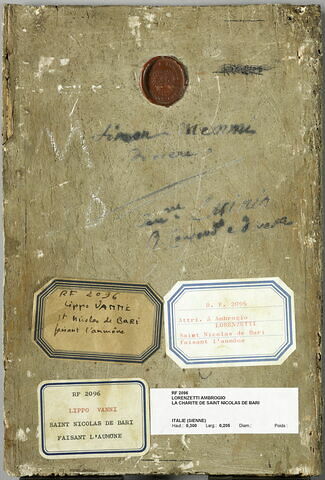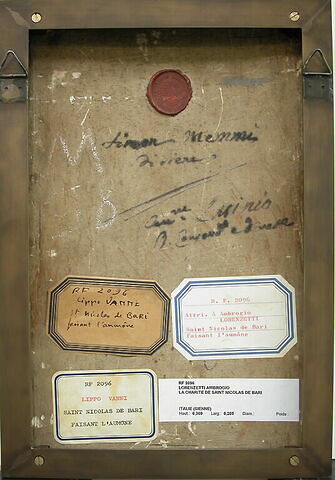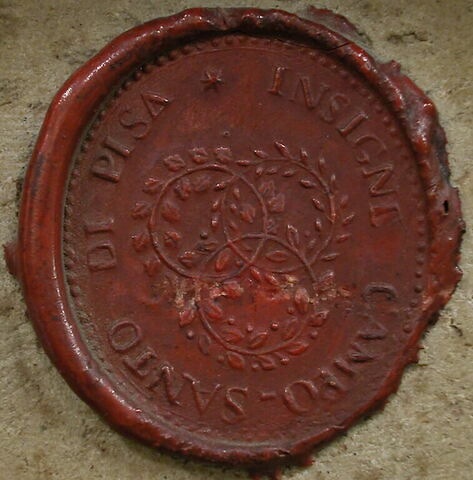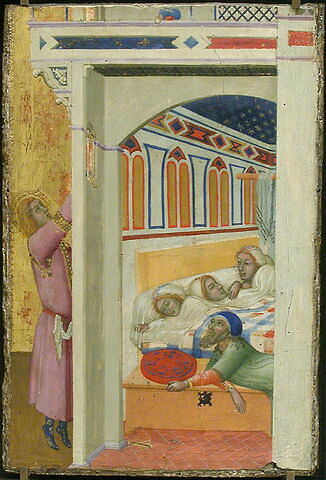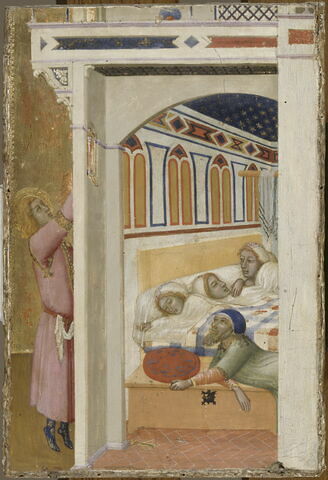 La Charité de saint Nicolas de Bari
1325 / 1350 (2e quart du XIVe siècle)
Département des Peintures
Actuellement visible au Louvre
Inventory number
Numéro principal :
RF 2096
Artist/maker / School / Artistic centre
Description
Object name/Title
Titre : La Charité de saint Nicolas de Bari
Description/Features
Fragment du panneau latéral gauche d'un triptyque auquel appartiennent Saint Martin partageant son manteau (New Haven, Yale University Art Museum) et sans doute La Vierge à l'Enfant entre des saints (Sienne, Pinacoteca).
Inscriptions
Inscription :
(Inscription à l'encre au revers avec une attribution à Simon Memmi et le nom de Carlo Lasinio, collectionneur, marchand et conservateur à partir de 1807 du Camposanto de Pise.)
Nature de marque :
cachet de cire
Physical characteristics
Dimensions
Hauteur : 0,3 m ; Largeur : 0,205 m
Materials and techniques
tempera sur fond d'or sur bois (peuplier)
Places and dates
Date
2e quart du XIVe siècle (1325 - 1350)
History
Object history
? Couvent de Monteoliveto, Sienne, près de la Porta Tufi (cité avec les deux autres panneaux dans un inventaire de 1735) ; C. Lasinio (1759-1838), jusqu'en 1830 (comme "Simon Memmi").- Acquis en vente publique à Paris vers 1890-1900 par Raoul Duseigneur, marchand d'art (1845-1916) ; legs de ce dernier, 1916 (inventaire : école siennoise, 1re moitié du XIVe s.).
Collector / Previous owner / Commissioner / Archaeologist / Dedicatee
Acquisition date
date : 1916
Held by
Musée du Louvre, Département des Peintures
Location of object
Current location
Denon, [Peint] Salle 709 - Salle des Sept Mètres
Bibliography
- Ambrogio Lorenzetti, cat. exp. (Sienne, Santa Maria della Scala, 22 octobre 2017 - 21 janvier 2018), Cinisello Balsamo, Milano, SilvanaEditoriale, 2017, p. 338-345, ill. coul., cat. n°28c
- Kientz, Guillaume, « "L'envers du tableau". Parcours à la découverte des revers de tableaux du musée du Louvre », du mercredi 2 au lundi 28 novembre 2011, 2011, p. 168, n°24
- Thiébaut, Dominique, « XIIIe-XVe siècle », dans Foucart-Walter, Élisabeth (dir.), Catalogue des peintures italiennes du musée du Louvre. Catalogue sommaire, [Musée du Louvre, Département des peintures], Paris, Musée du Louvre Editions / Gallimard, 2007, p. 13-60, p. 34, ill. n&b
- Laclotte, Michel, « Observations on some polyptychs and altaroli by Ambrogio Lorenzetti », dans Schmidt, Victor M. (dir.), Italian Panel Paintings of the Duecento and Trecento, Studies in the history of art, 61. Washington, 2002, p. 183-197, p. 187-189
- Levi, Donata, « Carlo Lasinio, curator, collector and dealer », The Burlington Magazine, février 1993, p. 133-148, p. 144, ill. n&b p. 142
- Les donateurs du Louvre, cat. exp. (Paris, Musée du Louvre, 1989), Paris, Réunion des musées nationaux, 1989, (Liste des oeuvres exposées, en encart)
- Brejon de Lavergnée, Arnauld ; Thiébaut, Dominique, Catalogue sommaire illustré des peintures du musée du Louvre. II. Italie, Espagne, Allemagne, Grande-Bretagne et divers, Paris, R.M.N., 1981, p. 195, ill. n&b
- Torriti, Piero, La Pinacoteca nazionale di Sien, i dipinti dal XII al XV secolo, Gènes, 1977, p. 122
- Berenson, Bernard, Italian Pictures of the Renaissance. A list of the principal artists and their works with an index of places. Central Italian and North Italian schools, Londres, Phaidon Press, 1968, p. 221
- Moran, Gordon ; Seymour, Charles, « The Jarves St. Martin and the Beggar », Yale University Art Gallery Bulletin, n°2, Vol. XXXI, 1967, p. 29-39, p. 30, fig. 2
- Marette, Jacqueline, Connaissance des Primitifs par l'étude du bois du XIIe au XVIe siècle, Paris, A. et J. Picard, 1961, n°720
- Exposition de 700 tableaux de toutes les écoles antérieurs à 1800 tirés des réserves du département des peintures, cat. exp. (Paris, Musée du Louvre, 1960), Paris, 1960, p. 24, n°47
- Hautecoeur, Louis, Musée national du Louvre. Catalogue des peintures exposées dans les galeries. II. Ecole italienne et Ecole espagnole, Paris, Musées nationaux, 1926, n°1562 A
- Leprieur, Paul ; Michel, André ; Migeon, Gaston ; Marquet de Vasselot, Jean-Joseph, Catalogue de la collection Arconati Visconti : peintures et dessins, sculptures et objets d'art du Moyen Age et de la Renaissance, [Musée du Louvre], Paris, Hachette, 1917, p. 110-111, ill. n&b pl. XLVII, n°125
- Longhi, Roberto, « Due resti di un paliotto di Ambrogio Lorenzetti ; rééd. 1974 dans "Giudizio sul Duecento" e richerche sul Trecento nell' Italia centrale (1939-1970). Opere complete di Roberto Longhi, VII », Paragone, 13, 1951 janvier, p. 52-54 ; 117-118, p. 116-117
- Gilbert, Creighton E., « Ambrogio Lorenzetti's Charitable appeal », Yale University Art Gallery Bulletin, 1997-1998, p. 30-41, p. 35, 37-39
Exhibition history
- Ambroggio Lorenzetti, Sienne (Externe, Italie), Complesso museale Santa Maria della Scala, 15/10/2017 - 08/04/2018
- Hommage aux donateurs, Napoléon, Exposition Temporaire sous pyramide, 04/04/1989 - 21/08/1989
Last updated on 29.12.2020
The contents of this entry do not necessarily take account of the latest data.