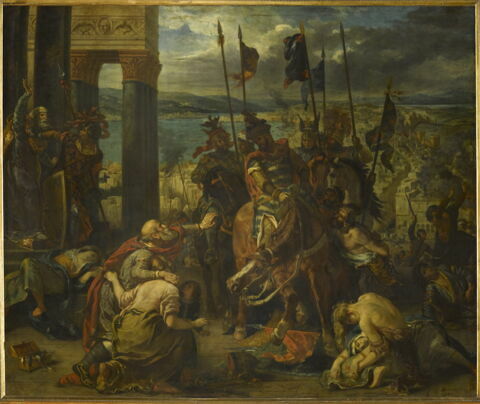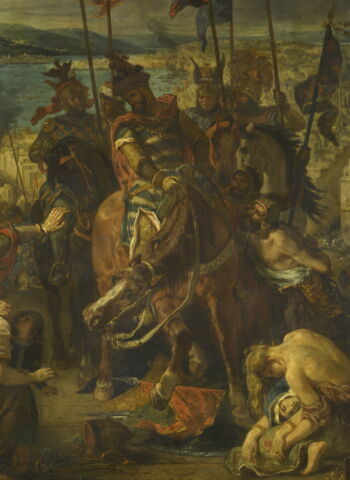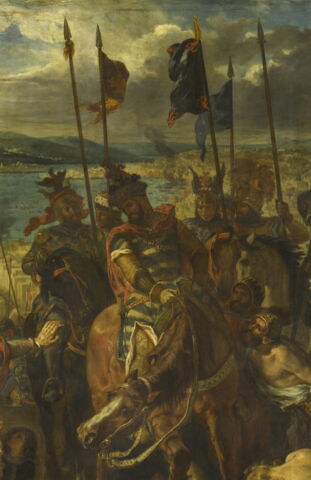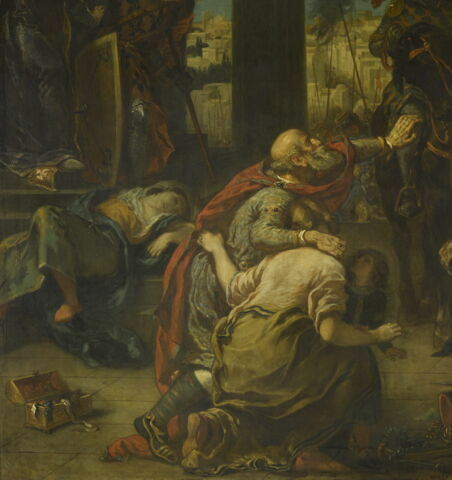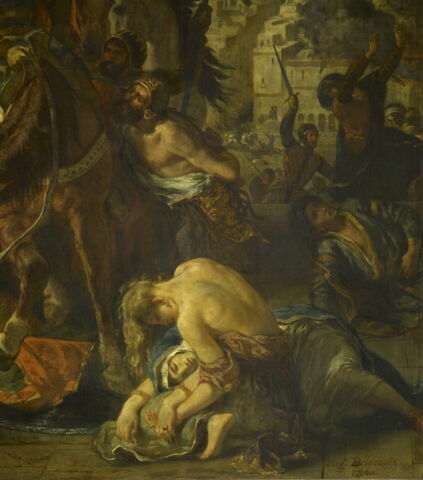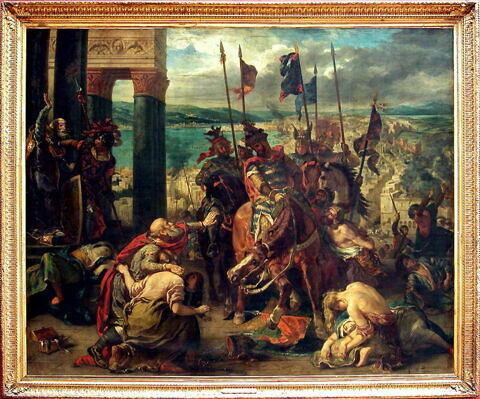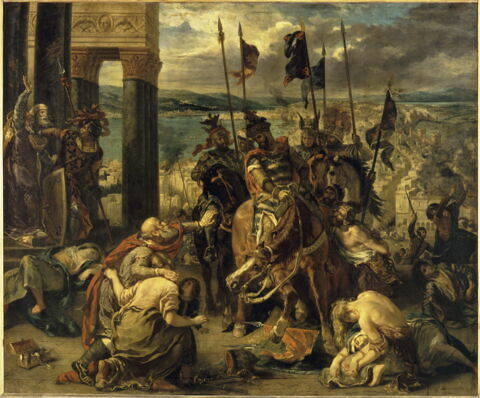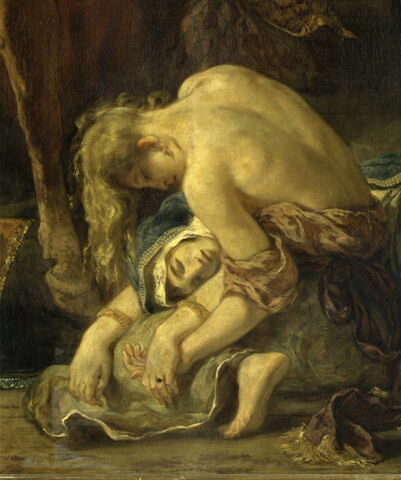 Prise de Constantinople par les croisés (12 avril 1204), dit aussi Entrée des Croisés à Constantinople
Département des Peintures
Actuellement visible au Louvre
Inventory number
Numéro principal :
INV 3821
Autre numéro d'inventaire :
LP 4674
Artist/maker / School / Artistic centre
Description
Object name/Title
Titre : Prise de Constantinople par les croisés (12 avril 1204), dit aussi Entrée des Croisés à Constantinople
Inscriptions
Signature :
Signé daté en bas à droite: Eug.Delacroix. 1840.
Physical characteristics
Dimensions
Hauteur : 4,11 m ; Largeur : 4,97 m
Materials and techniques
huile sur toile
Places and dates
Date
2e quart du XIXe siècle (1840)
History
Object history
Salon de 1841. Commandé par Louis Philippe pour les galeries historiques de Versailles, 1838. Entré au Musée du Louvre en 1885. Robaut 734-Rossi Bortolatto 350-Sérullaz 231.
Collector / Previous owner / Commissioner / Archaeologist / Dedicatee
Acquisition details
achat après commande
Acquisition date
date : 1841
date d'arrivée au Musée : 1885
Held by
Musée du Louvre, Département des Peintures
Location of object
Current location
Denon, [Peint] Salle 700 - Salle Mollien, romantisme
Bibliography
- Degas - Klassik und Experiment, cat. exp. (Karlsruhe (Allemagne), Staatliche Kunsthalle, 8 novembre 2014 - 1er février 2015), Munich, Hirmer Verlag GmbH, 2014, p. 210, 211, 212, ill. coul, p. 211, n°85.1
- Die Erschütterung der Sinne/A Shock to the Senses. Constable, Delacroix, Friedrich, Goya, cat. exp. (Dresden, Staatliche Kunstsammlungen, Galerie Neue Meister, du 16 mars au 14 juillet 2013), Dresden, Sandstein Verlag Dresden/Staatliche Kunstsammlungen Dresden, 2013, p. 88, coul. p. 88, n° 4.
- Compin, Isabelle ; Roquebert, Anne, Catalogue sommaire illustré des peintures du musée du Louvre et du musée d'Orsay. III. Ecole française, A-K, Paris, R.M.N., 1986, p. 199, ill. n&b
- Johnson, Lee, The paintings of Eugène Delacroix. A critical catalogue, 1832-1863 (Movable pictures and private decorations), III (text), IV (plates), Oxford, Carendon Press, 1986, p. 95 t. 3, ill. 3, pl. 9, n&b, t. 4, pl. 93, n° 274
- Sérullaz, Maurice, Delacroix, Paris, 1981, n°231
- Rossi Bortolatto, Luigina ; Georgel, Pierre, Tout l'oeuvre peint de Delacroix, 1975, n°350
- Compin, Isabelle ; Reynaud, Nicole, Catalogue des peintures du musée du Louvre. I, Ecole française, Paris, R.M.N., 1972, p. 128
- Sterling, Charles ; Adhémar, Hélène, Musée national du Louvre. Peintures. Ecole française. XIXe siècle. A-C, vol. I, Paris, Musées nationaux, 1958, n° 687
- Brière, Gaston, Musée national du Louvre. Catalogue des peintures exposées dans les galeries. I.Ecole française, Paris, Musées nationaux, 1924, n° 213
- Robaut, Alfred, L'oeuvre complet de Eugène Delacroix, Paris, 1885, n°49
Last updated on 03.04.2023
The contents of this entry do not necessarily take account of the latest data.