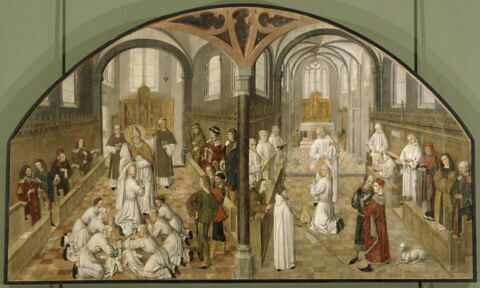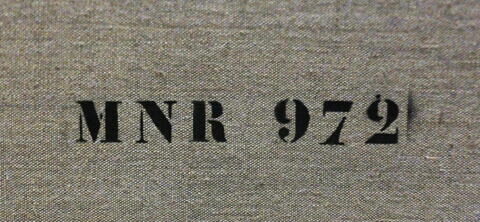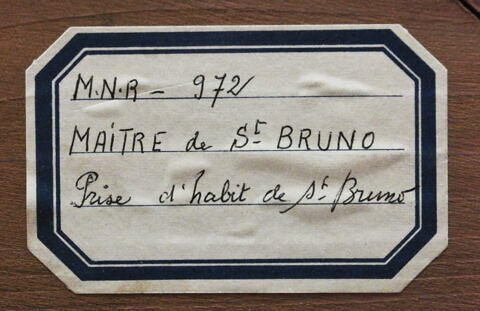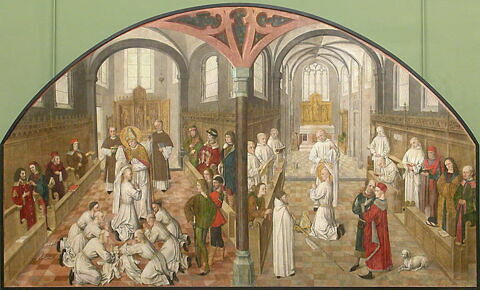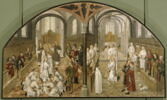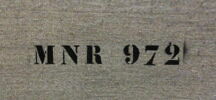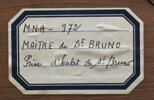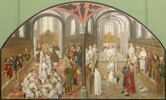 Prise d'habit de saint Bruno et de saint Hugues
Date de création/fabrication : 4e quart du XVe siècle (1475 - 1500)
Artwork recovered after World War II, retrieved by the Office des Biens et Intérêts Privés (OBIP); to be returned to its rightful owner once they have been identified. Online records of all MNR ('National Museums Recovery') works can be found on the French Ministry of Culture's Rose Valland database..
Actuellement visible au Louvre
Inventory number
Numéro principal : MNR 972
Artist/maker / School / Artistic centre
Description
Object name/Title
Titre : Prise d'habit de saint Bruno et de saint Hugues
Ancien titre : Prise d'habit d'un saint
Physical characteristics
Dimensions
Hauteur : 1,6 m ; Largeur : 2,68 m
Materials and techniques
toile
Places and dates
Date
4e quart du XVe siècle (1475 - 1500)
History
Object history
Peint pour le petit cloître de la chartreuse de Cologne vers 1489 ; acquis 4000 F (comme Maître de Saint Pantaleon) le 10 septembre 1941 chez Brosseron et Marchand, Paris, par Bornheim pour Göring (1) ; collection Göring à Kurfürst; enregistré au Central Collecting Point de Munich sous le n°5133/1.
Attribué au musée du Louvre par l'Office des Biens et Intérêts privés en 1953.

(1)Bundesarchiv BAK B323/562 et 323/317 et archives de Paris PEROTIN/3314/71/1/3 63 dossier 1077 : Brosseron et cie : la peinture n'est pas mentionnée et il est noté "Vente aux allemands d'objets de collection hors commerce pour 1 141 000 francs..."
Acquisition details
attribution par l'office des biens et intérêts privés (MNR)
Acquisition date
date d'arrivée au Musée : 1953
Owned by
Musées Nationaux Récupération
Location of object
Current location
Richelieu, [Peint] Salle 819 - Tradition et innovations à Cologne
Index
Bibliography
- Foucart-Walter, Élisabeth, « Ecole germanique », dans Foucart-Walter, Élisabeth (dir.), Catalogue des peintures britanniques, espagnoles, germaniques, scandinaves et diverses du musée du Louvre, [Musée du Louvre, Département des peintures], Paris, Louvre éditions / Gallimard, 2013, p. 105-158, p. 107, 156
- Lesné, Claude ; Roquebert, Anne, Catalogue des peintures M.N.R., Paris, R.M.N., 2004, p. 52, ill. n&b
- Die Kölner Kartause um 1500: eine Reise in unsere Vergangenheit. Aufsatzband, cat. exp. (Cologne, Stadtmuseum, 18 mai - 22 septembre 1991), Cologne, Kölnisches Stadtmuseum, 1991, p. 279-280, fig. 49
- Provoyeur, Pierre (dir.), Le Temple : Représentations de l'Architecture Sacrée, cat. exp. (Nice, Musée National Message Biblique Marc Chagall, 3 juillet - 4 octobre 1982.), Réunion des Musées nationaux, Nice, 1982, n°38
- Brejon de Lavergnée, Arnauld ; Thiébaut, Dominique, Catalogue sommaire illustré des peintures du musée du Louvre. II. Italie, Espagne, Allemagne, Grande-Bretagne et divers, Paris, R.M.N., 1981, p. 32, ill. n&b
- Reynaud, Nicole, Les Primitifs de l'Ecole de Cologne. Les dossiers du département des Peintures, n°9, Paris, RMN, 1974, n°10
Exhibition history
- La représentation du temple dans l'art occidental, Nice (France), Musée National du Message Biblique Marc Chagall, 04/07/1982 - 04/10/1982
Last updated on 09.02.2021
The contents of this entry do not necessarily take account of the latest data.