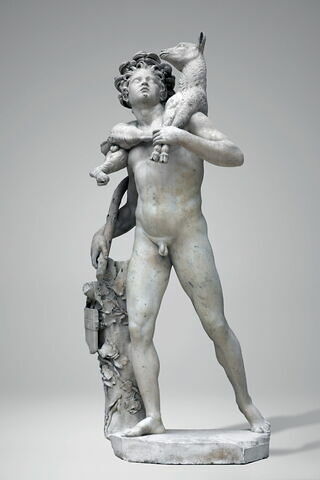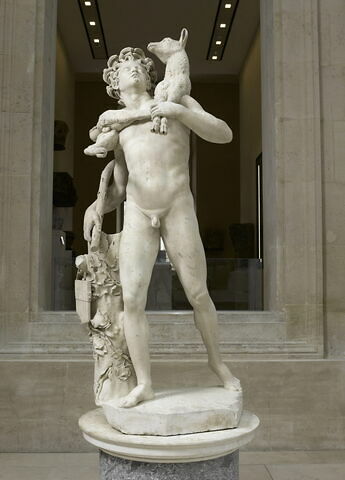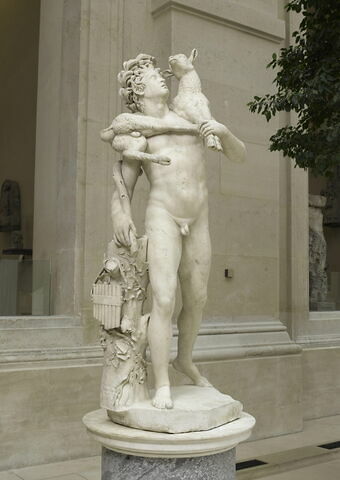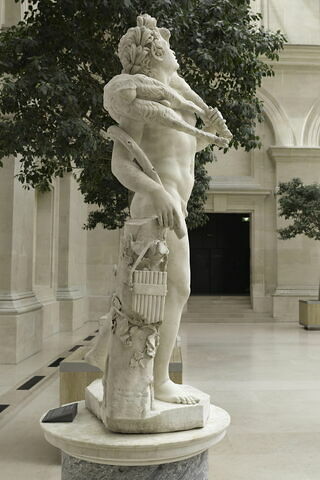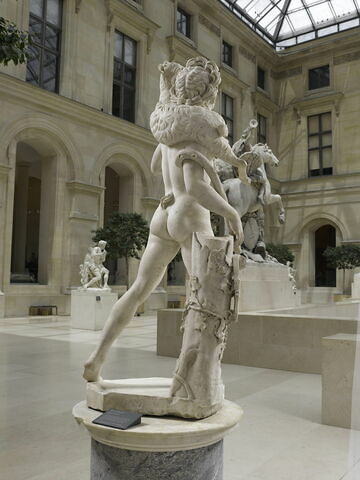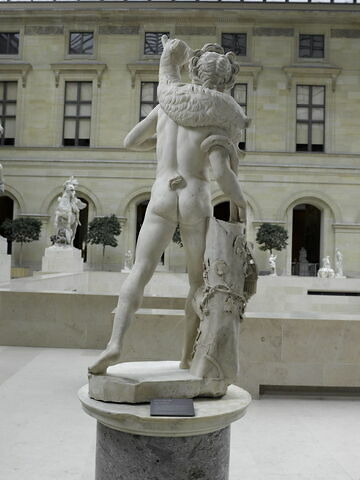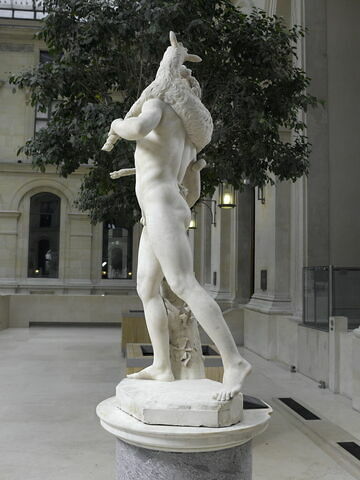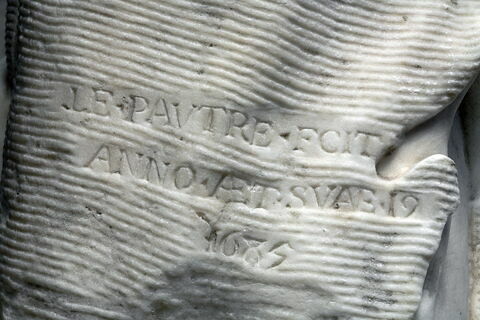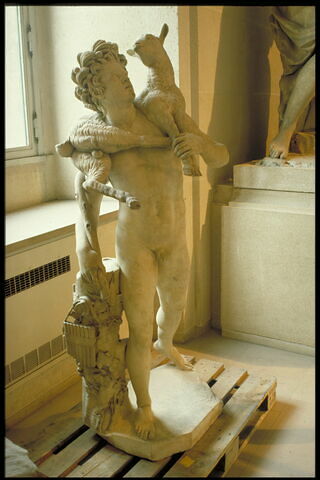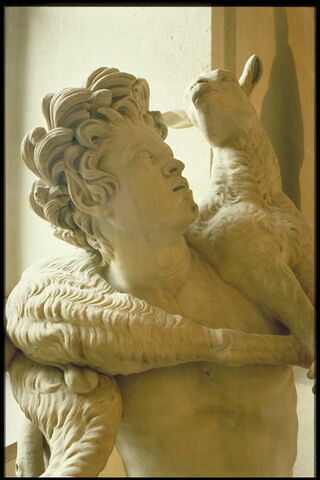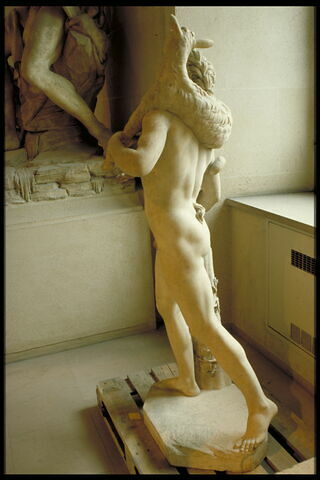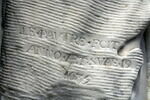 Faune au chevreau
Date de création/fabrication : 1685 (signature)
Lieu de provenance : parc (France->Marly) (appartements verts, avant 1695)


Actuellement visible au Louvre
Inventory number
Numéro principal : MR 1808
Artist/maker / School / Artistic centre
Description
Object name/Title
Titre : Faune au chevreau
Inscriptions
Inscription :
Sur le tronc, à gauche (apocryphe?) : "LE. PAVTRE.FCIT / ANNO.ÆT.SVAE 19 / 1685"
Physical characteristics
Dimensions
Hauteur : 1,724 m ; Largeur : 0,692 m ; Profondeur : 0,56 m
Materials and techniques
marbre
Places and dates
Provenance
parc (France->Marly) (appartements verts, avant 1695)
History
Object history
Copie d'après un modèle connu sous le nom du Petit Faune de la reine de Suède, de la collection de Christine de Suède (1626-1689) à Rome (actuellement à Madrid, musée du Prado). Exécutée à Rome lors du séjour du sculpteur à l'Académie de France, à partir de 1684. Prête à expédier en France en juin 1687 et placée dans le parc de Marly, dans les "appartements verts", avant 1695. Décrite dans l'inventaire de 1707 au bosquet du Couchant. Saisie révolutionnaire inventoriée le 1er décembre 1793. Placée en 1797 au jardin des Tuileries, dans une niche de la terrasse à l'entrée ouest, puis dans l'exèdre du parterre sud en 1798. Placée vers 1800 dans une niche supérieure de la façade orientale du palais des Tuileries et inventoriée à cet emplacement en 1824. Entrée au Louvre en 1872. Déposée au château de Maisons-Laffitte, de juillet 1912 à 1973.
Acquisition details
entrée
Acquisition date
date : 1797
date d'arrivée au Musée : 1872
Location of object
Current location
Richelieu, [SCULPT] Salle 102 - Cour Marly, Salle 102 - RDC
Bibliography
- Bresc-Bautier, Geneviève, La sculpture des jardins de Marly, Paris, musée du Louvre, 2019, p. 314-316, n° 85
- Moschini, René, « Bosquet de Marly du côté du couchant », Marly Varia, 3, La statuaire du château de Marly, 2018, p. 41-42
- Le Pogam, Pierre-Yves, La sculpture à la lettre : promenade épigraphique au département des sculptures du musée du Louvre, Milan Paris, Officiana Libraria / Musée du Louvre éditions, 2008, p. 81, n° 39
- Lafabrie, Michèle, « Une réalisation muséographique oubliée : Paul Vitry et le château de Maisons-Laffitte (1911-1939) », Bulletin archéologique du Comité des travaux historiques et scientifiques, Moyen Âge, renaisance, temps modernes, 29, 2002, p,193-219,, p. 203
- Maroteaux, Vincent, Marly, l'autre palais du soleil, Genève, 2002, p. 126
- Bresc-Bautier, Geneviève ; Pingeot, Anne, Sculptures des jardins du Louvre, du Carrousel et des Tuileries, 2, Paris, 1986, p. 273-274, n° 227
- Souchal, François, French sculptors of the 17th and 18th centuries : the reign of Louis XIV, 3, Oxford ; Londres, Cassirer ; Faber, 1977-1987, t. II, 1981, p. 375-376
- Gaborit, Jean-René sous la direction de, Sculpture française II - Renaissance et Temps Modernes, vol. 1 et 2, Paris, Editions de la Réunion des musées nationaux, 1998, p. 468
- Haskell, Francis ; Penny, Nicholas, Taste and the Antique: Lure of Classical Sculpture, 1500-1900, Londres, New Haven, 1981, ill. 109, n° 37
- Barbet de Jouy, Henry, Musée national du Louvre. Description des Sculptures du Moyen-Age, de la Renaissance et des Temps modernes, Paris, 1873, n° 245
- Millin, Aubin-Louis, Description des statues des Tuileries, Paris, 1798, n° 117
- Clarac, Charles Othon Frédéric Jean-Baptiste de (Comte de), Musée de sculpture antique et moderne ou description historique et graphique du Louvre et de toutes ses parties, des statues, bustes, bas-reliefs et inscriptions du musée royal des Antiques et des Tuileries […], Paris, 1841-1853, n° 2646
Last updated on 17.05.2021
The contents of this entry do not necessarily take account of the latest data.