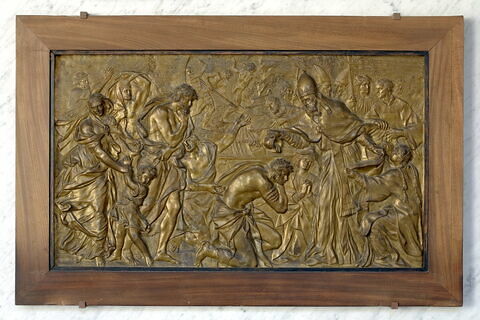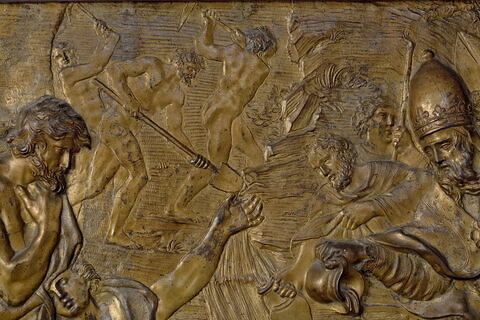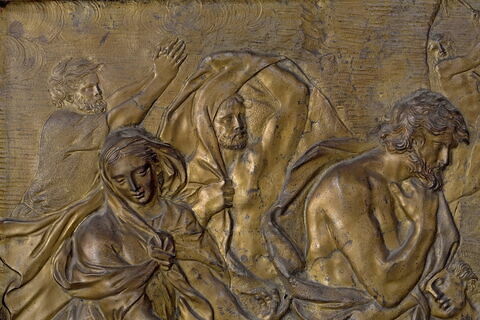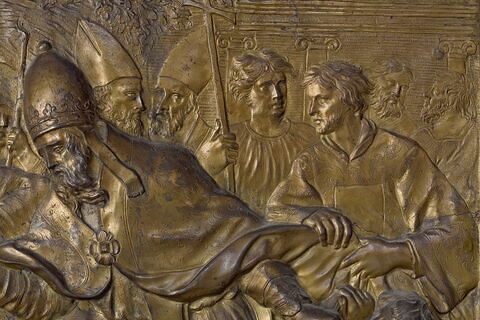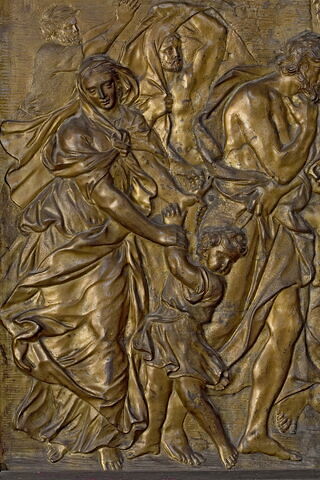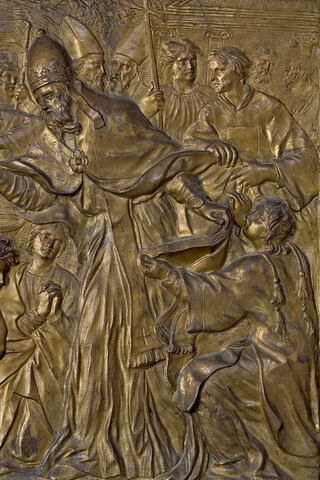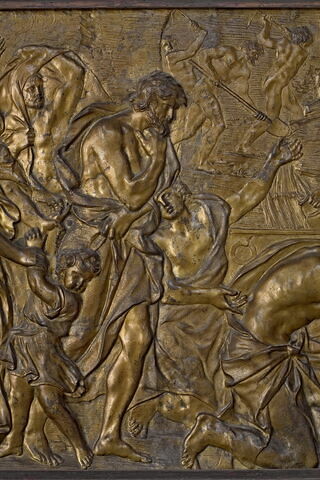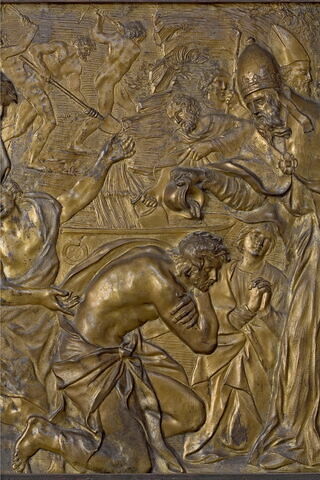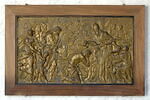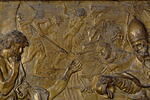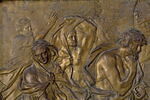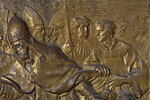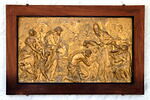 Le Pape Libère baptisant les néophytes
Lieu de provenance : Italie


Département des Sculptures du Moyen Age, de la Renaissance et des temps modernes
Actuellement visible au Louvre
Inventory number
Numéro principal :
RF 1114
Artist/maker / School / Artistic centre
Description
Object name/Title
Titre : Le Pape Libère baptisant les néophytes
Type of object
bas-relief
Physical characteristics
Dimensions
Hauteur : 0,517 m ; Largeur : 0,876 m ; Profondeur : 0,015 m
Materials and techniques
bronze doré=dorure
History
Object history
Réplique en bronze d'un des reliefs en marbre, exécuté par l'Algarde entre 1645 et 1654 et placé sur la fontaine de la cour Saint-Damase au Vatican. Don d'Ernest Grandidier (Paris, 1833 - Paris, 1912), 1896 (comme école italienne ou école française, XVIIe siècle, comité du 11 mars 1896, lettre d'autorisation d'acceptation du 13 avril 1896).
Collector / Previous owner / Commissioner / Archaeologist / Dedicatee
Acquisition date
date de comité/commission : 11/03/1896
autres dates : 13/04/1896 (Lettre d'autorisation d'acceptation)
Held by
Musée du Louvre, Département des Sculptures du Moyen Age, de la Renaissance et des temps modernes
Location of object
Current location
Denon, [SCULPT] Salle 403 - Galerie Michel-Ange, Table 2
Bibliography
- Bresc-Bautier, Geneviève, sous la direction de (dir.), Bormand, Marc ; Gaborit, Jean-René ; Guillot de Suduiraut, Sophie ; Lafabrie, Michèle ; Le Pogam, Pierre-Yves ; Tupinier-Barrillon, Béatrice ; Leroy-Jay Lemaistre, Isabelle ; Scherf, Guilhem, Les Sculptures européennes du Musée du Louvre: Byzance, Espagne, îles Britanniques, Italie, Anciens Pays-Bas et Belgique, pays germaniques et de l'Europe de l'Est, pays scandinaves, Antiques restaurées et copies d'antiques, Paris, Somogy, éditions d'art ; Musée du Louvre éditions, 2006, p. 71, ill. 71
- Montagu, Jennifer, Alessandro Algardi, New Haven / Londres, 1985, p. 451-453, n° 191.c.1
- Vitry, Paul, Musée national du Louvre. Catalogue des sculptures du Moyen Âge, de la Renaissance et des Temps modernes. Première partie, Moyen Âge et Renaissance ; deuxième partie, Temps modernes, I, Paris, 1922, p. 84, n° 691
- Michel, André, Musée national du Louvre. Catalogue sommaire des sculptures du Moyen Âge, de la Renaissance et des Temps Modernes, Paris, 1897, n° 313
- Wittkower, Rudolf, « Algardi's relief of pope Liberius baptizing neophytes », Bulletin of Minneapolis Institute of Art XLIX, juillet–décembre 1960, 29-42,
Last updated on 15.06.2022
The contents of this entry do not necessarily take account of the latest data.