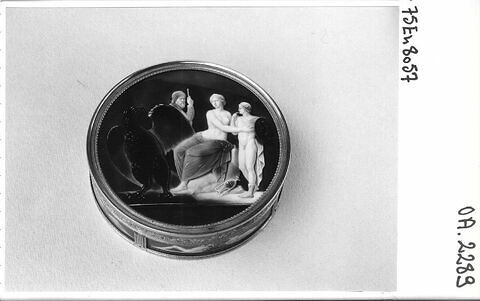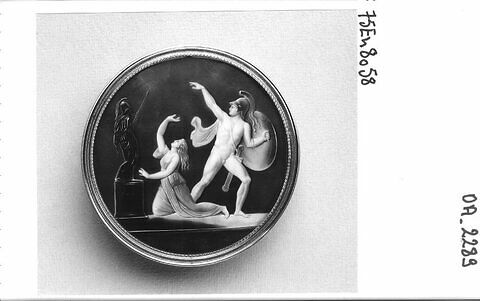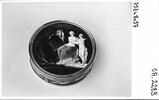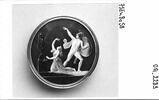 Bonbonnière : scène mythologique
Epoque / période : La Convention nationale (1792-1795) (Occident->époque contemporaine->Période Révolutionnaire (1792-1799)) ; Le Directoire (1795-1799) (Occident->époque contemporaine->Période Révolutionnaire (1792-1799)) ; Le Consulat (1799-1804) (Occident->époque contemporaine) ; Premier Empire (1804-1814) (Occident->époque contemporaine)

Date de création/fabrication : 1798 - 1809
Lieu de création : Paris (France->Ile-de-France = Ile de France)

Actuellement visible au Louvre
Inventory number
Numéro principal : OA 2289
Artist/maker / School / Artistic centre
Description
Object name/Title
Titre : Bonbonnière : scène mythologique
Type of object
accessoire personnel, boîte, étui ; bonbonnière
Description/Features
Bonbonnière ronde à cage doublée en or avec bordures d'encadrement en or gravé et ciselé de filets et de frises. Les faces sont entièrement ornées de six miniatures sous verres, peintes en camée sur fond rouge imitant l'agate-onyx, couvercle : Jupiter personnifié par un aigle à côté de Junon assise attirant vers elle Ganymède, un vieillard à l'arrière plan ; dessous : un guerrier nu et casqué prête serment devant une statue de Minerve au pied de laquelle est agenouillée une jeune femme ; sur la bâte : les quatre saisons personnifiées chacune par un couple de figures étendues.
Inscriptions
Poinçon :
Poinçons de N. F. Demoget ; Titre 1795-1797 et 1798-1809 ; Garantie 1798-1809 et 1838-1846.
Signature :
Parant (couvercle et dessous)
Physical characteristics
Dimensions
Hauteur avec accessoire : 2,3 cm ; Diamètre avec accessoire : 8,5 cm
Materials and techniques
Technique : techniques métal (orfèvrerie)
Matériau : or
Technique : techniques peinture (miniatures en imitation de camée)
Places and dates
Date
Epoque / période : La Convention nationale (1792-1795) (Occident->époque contemporaine->Période Révolutionnaire (1792-1799)) ; Le Directoire (1795-1799) (Occident->époque contemporaine->Période Révolutionnaire (1792-1799)) ; Le Consulat (1799-1804) (Occident->époque contemporaine) ; Premier Empire (1804-1814) (Occident->époque contemporaine)

Date de création/fabrication : 1798 - 1809
Place of origin
Paris (France->Ile-de-France = Ile de France)
History
Collector / Previous owner / Commissioner / Archaeologist / Dedicatee
Acquisition date
date : 1874
Held by
Musée du Louvre, Département des Objets d'art du Moyen Age, de la Renaissance et des temps modernes
Location of object
Current location
Richelieu, [OArt] Salle 555 - Biennais, Vitrine table
Bibliography
- Grandjean, Serge, Catalogue des tabatières boites et étuis des XVIIIe et XIXe siècles du musée du Louvre, [Collections du Musée du Louvre], Paris, RMN, 1981, n° 296
Exhibition history
- The eye of Josephine, Atlanta (Etats-Unis), High Museum of Art, 04/10/2007 - 18/05/2008
Last updated on 23.03.2021
The contents of this entry do not necessarily take account of the latest data.