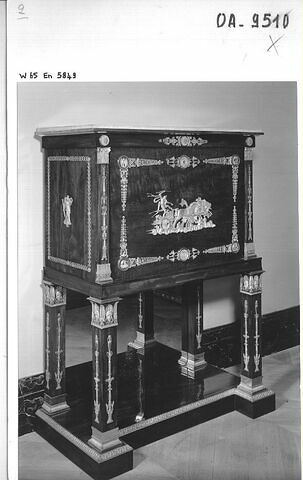 Secrétaire à abattant
Epoque / période : Premier Empire (1804-1814) (Occident->époque contemporaine)

Date de création/fabrication : vers 1805
Lieu de création : Paris (France->Ile-de-France = Ile de France)

Actuellement visible au Louvre
Inventory number
Numéro principal : OA 9510
Artist/maker / School / Artistic centre
Jacob, François-Honoré-Georges
dit aussi , Jacob-Desmalter, Desmalter (Paris, 1770 - Paris, 1841), Ebéniste, Attribué à
Thomire, Pierre Philippe
(Paris, 1751 - Paris, 1843), Bronzier, Attribué à
Description
Object name/Title
Titre : Secrétaire à abattant
Type of object
mobilier ; secrétaire à abattant
Description/Features
Secrétaire droit en acajou veiné, ouvrant à abattant, porté sur le devant par deux pieds à chapiteaux de bronze doré, et sur le fond par un panneau à glace.
Deux pilastres à chapiteaux et à appliques de bronze flanquent l'abattant qui est lui-même orné d'un bas-relief découpé en bronze doré, représentant Apollon sur son char attelé à quatre chevaux, et d'un encadrement de fleurons interrompu aux angles par quatre médaillons à fables de La Fontaine (L'aigle et le hibou, Le renard et la cigogne, Le loup et l'agneau, Le renard et le corbeau).
Sur les côtés unis, une Renommée et un encadrement de feuilles régulières en appliques de bronze.
Derrière l'abattant recouvert de maroquin vert, cinq tiroirs, deux tiroirs secrets et deux grandes cases, le tout en acajou orné d'appliques en bronze.
Dessus en marbre blanc, mi-encastré dans une moulure de bronze.
Inscriptions
Etiquette :
N° 1055 (étiquette imprimée de Compiègne, inventaire de 1938)
Inscription :
C 337 C (numéro écrit au crayon rouge)
567 - TU (couronné) 18955 - C 16068 (numéros au pochoir noir)
Physical characteristics
Dimensions
Hauteur : 1,25 m ; Largeur : 0,95 m ; Profondeur : 0,47 m
Materials and techniques
Matériau : acajou
Matériau : bronze (doré)
Technique : (ébénisterie)
Places and dates
Date
Epoque / période : Premier Empire (1804-1814) (Occident->époque contemporaine)

Date de création/fabrication : vers 1805
Place of origin
Paris (France->Ile-de-France = Ile de France)
History
Acquisition details
dépôt
Acquisition date
date de comité/commission : 27/01/1949
date de l'arrêté : 16/02/1949
Held by
Musée national du Château de Compiègne, Compiègne
Location of object
Current location
Richelieu, [OArt] Salle 551 - Simone et Cino Del Duca, Grands donateurs, Hors vitrine
Last updated on 06.10.2021
The contents of this entry do not necessarily take account of the latest data.