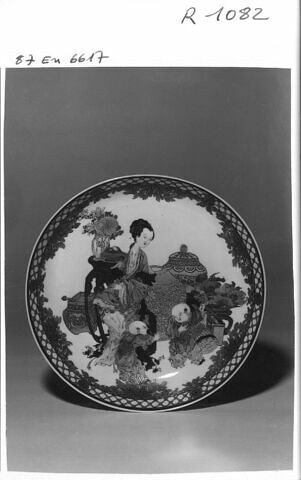 Assiette en porcelaine de Chine coquille d'oeuf à revers blanc et à bordure dorée
Epoque / période : époque Yongzheng = Yong Zcheng = Young-Tcheng = Yong Tcheng = Yong-Tcheng = Jong Tcheng (1723-1735) (Chine->dynastie Qing (1644-1911))

Date de création/fabrication : 1700 - 1800
Lieu de création : Chine (Asie->Asie orientale = Extrême Orient)

En dépôt : FNAGP - Fondation Salomon de Rothschild, Paris

Inventory number
Numéro principal : R 1082
Description
Object name/Title
Titre : Assiette en porcelaine de Chine coquille d'oeuf à revers blanc et à bordure dorée
Description/Features
Femme debout près d'un guéridon chargé de vases de fleurs. Elle regarde deux enfants en train de jouer.
Physical characteristics
Dimensions
Hauteur avec accessoire : 3,7 cm ; Diamètre avec accessoire : 19,5 cm
Materials and techniques
Matériau : porcelaine
Technique : techniques céramique
Places and dates
Date
Epoque / période : époque Yongzheng = Yong Zcheng = Young-Tcheng = Yong Tcheng = Yong-Tcheng = Jong Tcheng (1723-1735) (Chine->dynastie Qing (1644-1911))

Date de création/fabrication : 1700 - 1800
Place of origin
Chine (Asie->Asie orientale = Extrême Orient)
History
Collector / Previous owner / Commissioner / Archaeologist / Dedicatee
Acquisition date
date : 1922
Held by
Musée du Louvre, Département des Objets d'art du Moyen Age, de la Renaissance et des temps modernes
Location of object
Current location
Paris (France), FNAGP - Fondation Salomon de Rothschild
Last updated on 10.11.2020
The contents of this entry do not necessarily take account of the latest data.