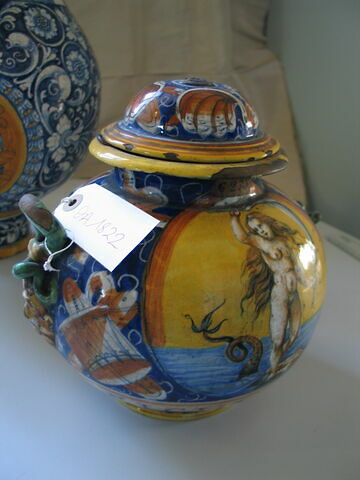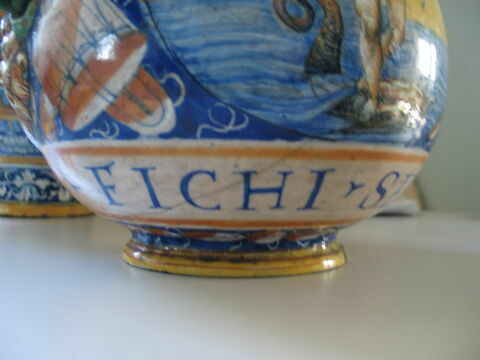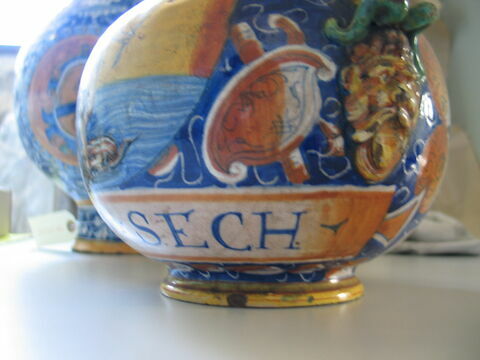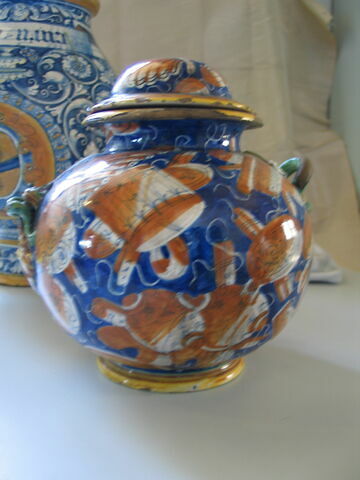 Pot couvert à deux anses : Allégorie de la Fortune
Epoque / période : Renaissance (Occident)

Date de création/fabrication : vers 1579 - 1580
Lieu de création : Casteldurante = Castel Durante = Castel-Durante = Urbania (Italie->Marches) (ancienne attribution) ; Pesaro (Italie->Marches) (?)
Lieu de provenance : Pesaro (Italie->Marches) (Pharmacie de Marco Pauli "ad signum Fortunae" [à l'enseigne de la Fortune] (quartier de San Nicola))


Inventory number
Numéro principal : OA 1822
Artist/maker / School / Artistic centre
Description
Object name/Title
Titre : Pot couvert à deux anses : Allégorie de la Fortune
Type of object
pot à pharmacie ; pot couvert
Description/Features
Vase de pharmacie sphérique couvert à décor polychrome : Allégorie de la Fortune dans un cartouche, trophées d'armes sur fond bleu. Iinscription " Fichi.Sech". Marque en creux sous le pied : "4-4". Allégorie tirée d'une gravure de Nicoletto da Modena, d'une estampe de Baccio Baldini ou d'Antonio Fregoso publiée dans le Dialogo de Fortuna (1521)
Inscriptions
Etiquette :
Etiquettes imprimées: sous le pied "486"; sous le col "G 275"
Physical characteristics
Dimensions
Hauteur avec accessoire : 23 cm ; Largeur avec accessoire : 24 cm ; Diamètre avec accessoire : 21 cm
Materials and techniques
Technique : techniques céramique
Matériau : faïence stannifère
Matériau : majolique=maiolica
Technique : décor de grand feu = grand feu (techniques céramique->revêtement et décor)
Places and dates
Date
Epoque / période : Renaissance (Occident)

Date de création/fabrication : vers 1579 - 1580
Place of origin
Casteldurante = Castel Durante = Castel-Durante = Urbania (Italie->Marches) (ancienne attribution) ; Pesaro (Italie->Marches) (?)
Provenance
Pesaro (Italie->Marches) (Pharmacie de Marco Pauli "ad signum Fortunae" [à l'enseigne de la Fortune] (quartier de San Nicola))
History
Collector / Previous owner / Commissioner / Archaeologist / Dedicatee
Acquisition details
achat
Acquisition date
date : 1861
Held by
Musée du Louvre, Département des Objets d'art du Moyen Age, de la Renaissance et des temps modernes
Location of object
Current location
non exposé
Bibliography
- Gresta, Riccardo, I lanfranco dalle Gabicce e la maiolica pesarese a metà del Cinquecento, Gabicce Mare, Il Fortino, 2018, p. 174
- Glaser, Silvia (dir.), Italienische Fayencen der Renaissance. Ihre Spuren in internationalen Museumssammlungen: [Tagung, Nürnberg, Germanische Nationalmuseum, vom 12. bis 14. Februar 2001], Nuremberg, Verlag des Germanischen Nationalmuseums, (Wissenschaftliche Beibände zum Anzeiger des Germanischen Nationalmuseums, 22), 2004, p. 50, n° 72
- Giacomotti, Jeanne, Catalogue des majoliques des musées nationaux, [Paris, musée du Louvre; Paris, musée de Cluny; Sèvres, musée national de céramique; Limoges, musée Adrien-Dubouché], Paris, Éditions des Musées Nationaux, 1974, n°990
- Darcel, Alfred, Notice des fayences peintes italiennes, hispano-moresques et françaises, et des terres cuites émaillées : série G. Musée impérial du Louvre. Musée de la Renaissance., [Collections du Musée du Louvre], [Paris], Ch. de Mourgues frères, 1864, p. 169, G275
- Cornu, Sébastien, Catalogue des tableaux, des sculptures de la Renaissance et des majoliques du Musée Napoléon III, Paris, Firmin-Didot frères, fils et Cie, 1862, p. 237, n° 509
- The Luigi Koelliker Studiolo. Old master paintings and works of art from the London residence of Luigi Koelliker including bronzes, maiolica, silver, scientific instruments, oriental works of art and furniture, [Vente, Londres, mercredi 3 décembre 2008, p. 24
Comparative literature
- La via dellà ceramica tra Umbria e Marche - Maioliche rinascimentali da collezioni private, cat. exp. (Gubbio, Palazzo Ducale - 26/06 2010 - 30/01 2011), Gubbio, 2010, p. 280
- Italian Renaissance ceramics from the Howard I. and Janet H. Stein collection and the Philadelphia museum of art, cat. exp. (Philadelphia, Philadelphia museum of art, December 7, 2001-April 28, 2002), Philadelphie (Pennsylvanie), Philadelphia Museum of art, 2001, p. 209
Last updated on 06.05.2019
The contents of this entry do not necessarily take account of the latest data.