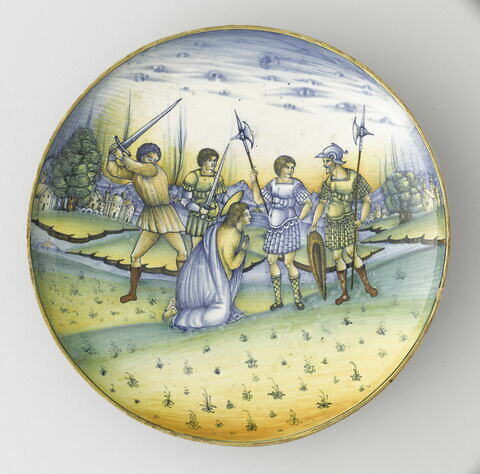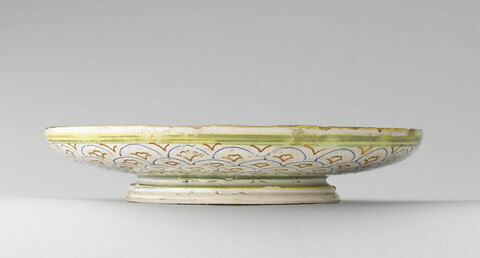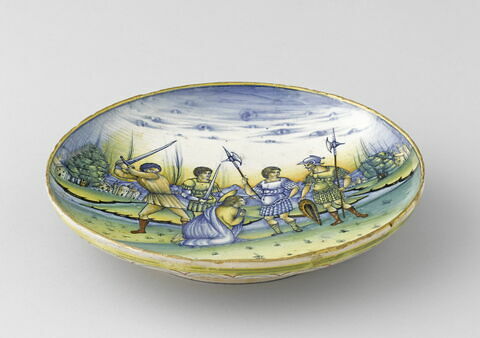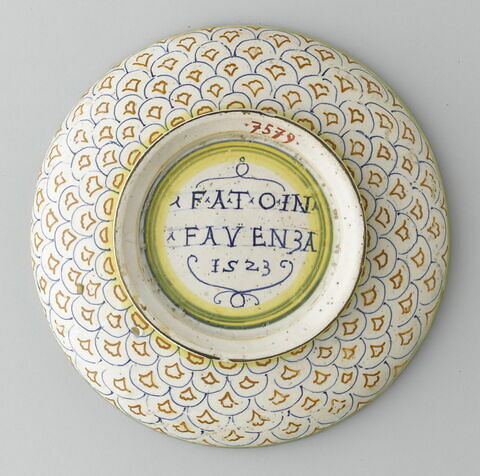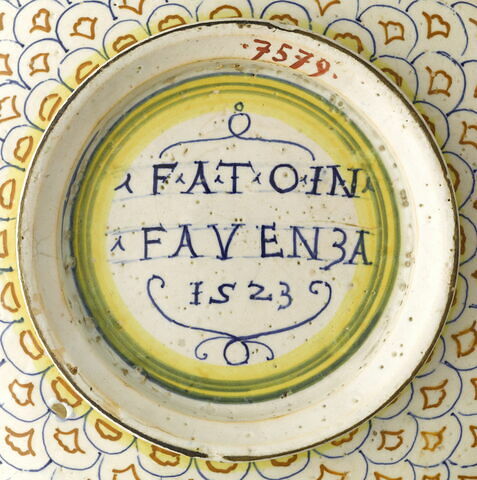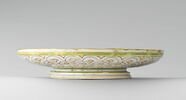 Coupe : Le Martyre d'un saint
Lieu de création : Faenza (Italie->Emilie-Romagne = Emilie Romagne)

Département des Objets d'art du Moyen Age, de la Renaissance et des temps modernes
Actuellement visible au Louvre
Inventory number
Numéro principal :
OA 7579
Artist/maker / School / Artistic centre
Description
Object name/Title
Titre : Coupe : Le Martyre d'un saint
Type of object
platerie ; coupe
Description/Features
Au revers, écailles bleus et orange
Inscriptions
Inscription :
Au revers, inscription "Fato In Favenza-1523"
Physical characteristics
Dimensions
Hauteur avec accessoire : 5,4 cm (dimensions hors tout) ; Diamètre avec accessoire : 25,8 cm (dimensions hors tout)
Materials and techniques
Matériau : céramique
Matériau : majolique=maiolica
Technique : décor de grand feu = grand feu (techniques céramique->revêtement et décor)
Matériau : faïence stannifère
Places and dates
Date
Epoque / période : Renaissance (Occident)

Date de création/fabrication : 1523
Place of origin
Faenza (Italie->Emilie-Romagne = Emilie Romagne)
History
Collector / Previous owner / Commissioner / Archaeologist / Dedicatee
Held by
Musée du Louvre, Département des Objets d'art du Moyen Age, de la Renaissance et des temps modernes
Location of object
Current location
Richelieu, [OArt] Salle 507 - Galerie des Chasses de Maximilien, Vitrine 1 , Verticale A
Bibliography
- Wilson, Timothy, Italian Maiolica and Europe. Medieval, Renaissance, and later Italian pottery in the Ashmolean Museum, Oxford, with someexamples illustrating the spread of tin-glazed pottery across Europe, [Ashmolean Museum, Oxford], Oxford, Ashmolean Museum, 2017, p. 93
- Fatto in Italia dal medioevo al made in Italy, cat. exp. (Turin, Reggia di Venaria, Sale delle Arti, 19 mars-10 juillet 2016), Milan, SilvanaEditoriale S.p.A., 2016, p.218, n° 6.11
- Barbe, Françoise, Majolique. L'âge d'or de la faïence italienne au XVIe siècle, Paris, Editions Citadelles & Mazenod, 2016, p. 68, ill. 43, p.69 et 43 bis (revers), p.68
- Barbe, Françoise ; Dectot, Xavier, « Arts du feu de la Renaissance, 1922 », dans Prévost-Marcilhacy, Pauline, sous la direction de (dir.), Les Rothschild. Une dynastie de mécènes en France., II, 1922-1935. Paris, Paris, Louvre éditions - BnF éditions - Somogy éditions d'art, 2016, p. 80;82;89;100, Fig.8
- Feu et Talent II. Majoliques italiennes de la Renaissance. XXVIe Biennale des Antiquaires, cat. exp. (Paris, Grand Palais, du 14 septembre 2012 au 23 septembre 2012), Vandermeersch, 2012, p.65
- Ravanelli Guidotti, Carmen, Thesaurus di opere della tradizione di Faenza nelle raccolte del Museo Internazionale delle Ceramiche Thesaurus di opere della tradizione di Faenza nelle raccolte del Museo internazionale delle ceramiche in Faenza, [Agenzia polo ceramico], Faenza, Agenzia Polo Ceramico, 1998, p. 27
- Giacomotti, Jeanne, Catalogue des majoliques des musées nationaux, [Paris, musée du Louvre ; Paris, musée de Cluny ; Sèvres, musée national de céramique ; Limoges, musée Adrien-Dubouché], Paris, Éditions des musées nationaux, 1974, n° 345
- Verlet, Pierre, « La céramique italienne. Essai de chronologie », Gazette des Beaux-Arts, 1936, p. 124-134, p. 130
Comparative literature
- Hausmann, Tjark, Majolika : spanische und italienische Keramik vom 14. bis zum 18. Jahrhundert, VI, [Staatliche Museen preussischer Kulturbesitz / Kataloge des Kunstgewerbemuseums Berlin], Berlin, Gebr. Mann Verlag, 1972, p. 171-172, n° 127
Exhibition history
- The origins of "Made in ltaly", Turin (Italie), La Venaria Reale, 18/03/2016 - 17/07/2016
Last updated on 15.04.2019
The contents of this entry do not necessarily take account of the latest data.