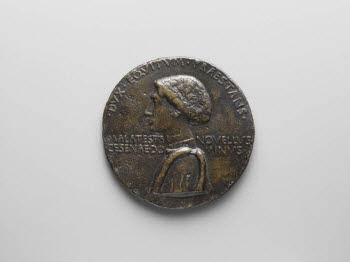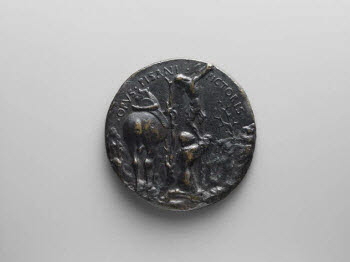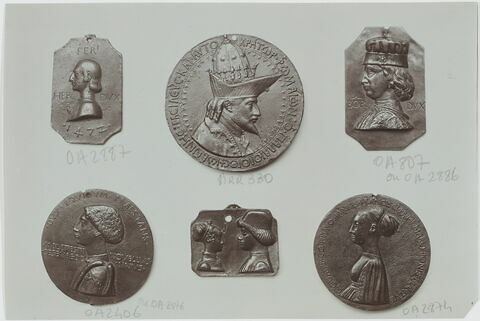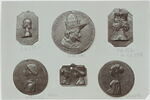 Médaille : Domenico Malatesta Novello (1418-1465) / un homme en armure en prière au pied d'un crucifix
Lieu de création : Italie (Europe)

Département des Objets d'art du Moyen Age, de la Renaissance et des temps modernes
Actuellement visible au Louvre
Inventory number
Numéro principal :
OA 2406
Artist/maker / School / Artistic centre
Description
Object name/Title
Titre : Médaille : Domenico Malatesta Novello (1418-1465) / un homme en armure en prière au pied d'un crucifix
Description/Features
Buste à gauche de Domenico Malatesta Novello, tête nue, cheveux longs, vêtu d'un pourpoint. Au revers, Domenico Malatesta Novello, armé de toutes pièces, agenouillé devant le Christ en croix dont il baise les pieds ; à gauche, son cheval vu de dos en raccourci, arraché à un arbre
Inscriptions
Inscription :
Domenico Malatesta Novello (1418-1465): MALATESTA NOVELLUS CESENAE DOMINUS DUX EQUITUM PRAESTANS [Malatesta Novello seigneur de Césène, éminent commandant des cavaliers]
Revers: un homme en armure en prière au pied d'un crucifix.: OPUS PISANI PICTORIS [OEuvre du Pisan peintre]
Physical characteristics
Dimensions
Diamètre : 8,46 cm ; Epaisseur : 0,9 cm
Materials and techniques
Matériau : bronze (fonte défectueuse (bulles) avec épaisse patine brune pour en dissimuler les défauts)
Technique : techniques métal
Places and dates
Date
Epoque / période : Renaissance (Occident)
Place of origin
Italie (Europe)
History
Collector / Previous owner / Commissioner / Archaeologist / Dedicatee
Acquisition date
date : 1875
Held by
Musée du Louvre, Département des Objets d'art du Moyen Age, de la Renaissance et des temps modernes
Location of object
Current location
Richelieu, [OArt] Salle 512 - Della Torre, Vitrine 1
Bibliography
- Malgouyres, Philippe, De Filarete à Riccio. Bronzes italiens de la Renaissance (1430-1550). La collection du Musée du Louvre, Paris, Louvre Editions ; Mare & Martin, 2020, p. 297, n° 84
- Pollard, John Graham, Renaissance medals. Volume oneI Italy, [The collections of the national Gallery of Art, Washington], New York / Oxford, Oxford University press, 2007, p. 24
- Pisanello. Le Peintre aux Sept Vertus, cat. exp. (Paris, Musée du Louvre, 6 mai - 5 août 1996), Paris, Réunion des musées nationaux, 1996, p. 302, 399, n° 195
- Migeon, Gaston, Catalogue des bronzes et cuivres de la Renaissance et des temps modernes, Paris, Librairies-imprimeries réunies, 1904, p. 349, n° 449 bis
- Clément de Ris, Louis, Musée du Louvre. Série C. Notice des objets de bronze, cuivre, étain, fer, etc, Paris, Ch. de Mourgues frères, 1882, p. 153, C. 454
Comparative literature
- Hill, George Francis, A Corpus of Italian Medals of the Renaissance before Cellini, I, Londres, 1930, p. 10-11, n° 35
- Armand, Alfred, Les Médailleurs italiens des quinzième et seizième siècles, I, Paris, 1883, p. 6, n° 16
Last updated on 09.02.2021
The contents of this entry do not necessarily take account of the latest data.