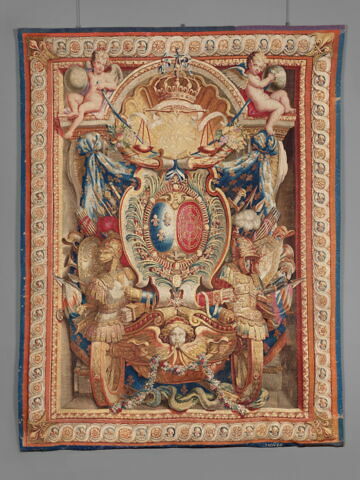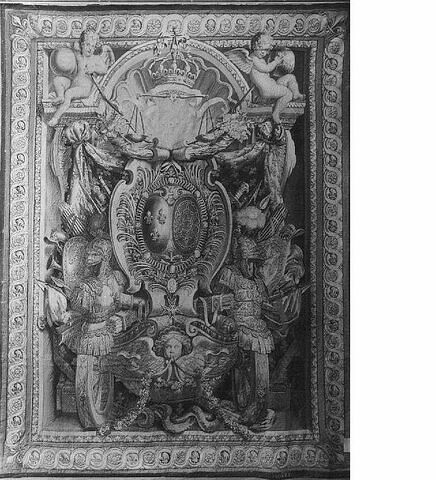 "Portière du Char de Triomphe" de la série des portières des Renommées
Epoque / période : Louis XV (1715-1774) (Occident->époque moderne = Ancien Régime->dynastie des Bourbons)

Date de création/fabrication : vers 1715 - 1720
Lieu de création : Paris (France->Ile-de-France = Ile de France)

Artwork recovered after World War II, retrieved by the Office des Biens et Intérêts Privés; to be returned to its rightful owner once they have been identified. Online records of all MNR ('National Museums Recovery') works can be found on the French Ministry of Culture's Rose Valland database.
Actuellement visible au Louvre
Inventory number
Numéro principal : OAR 446
Artist/maker / School / Artistic centre
Description
Object name/Title
Titre : "Portière du Char de Triomphe" de la série des portières des Renommées
Type of object
tapisserie
Description/Features
au centre, un char dont on voit les roues de face supporte un cartouche aux armes de France et de Navarre ; à la partie supérieure, une couronne royale, une balance et un soleil.
Inscriptions
Etiquette :
sur parchemin à l'encre noire : "Tapisserie des Gobelins/ Exécutée par/ Souette/Entrepreneur/(Basse-lisse)/1693-1724"
Marque de l'atelier :
İ۰SOVET (dans la lisière, en bas à droite)
Physical characteristics
Dimensions
Hauteur : 350 cm ; Hauteur : 350 cm ; Hauteur : 348,5 cm ; Longueur : 272 cm ; Longueur : 272 cm ; Longueur : 270 cm
Materials and techniques
Technique : tapisserie de basse lisse = basse lisse (techniques textile->tapisserie = tapisserie sur métier)
Matériau : laine (chaines et trames)
Matériau : soie (trames)
Places and dates
Date
Epoque / période : Louis XV (1715-1774) (Occident->époque moderne = Ancien Régime->dynastie des Bourbons)

Date de création/fabrication : vers 1715 - 1720
Place of origin
Paris (France->Ile-de-France = Ile de France)
History
Collector / Previous owner / Commissioner / Archaeologist / Dedicatee
Acquisition details
attribution par l'office des biens privés (MNR)
Acquisition date
date d'arrivée au Musée : 1951
Owned by
Musées Nationaux Récupération
Location of object
Current location
Sully, [OArt] Salle 602 - Louis XIV
Bibliography
- Henry, Christophe, « Tisser l'histoire à la manufacture des Gobelins », dans Henry, Christophe (dir.), Une histoire du savoir-faire. Création et vie artistique à Paris du grand siècle à nos jours [les symposiums d'Histoire de l'Art de Mairie du 11], vol. 1, Paris, 2018, p. 135-150, Disponible sur : https://www.mairie11.paris.fr/actualites/parution-des-symposiums-d-histoire-de-l-art-de-la-mairie-du-11e-598 , note 512, p. 136
- Standen, Edith Appleton, « For Minister or for King : Two Seventeenth-Century Gobelins Tapestries after Charles Le Brun », Metropolitan Museum Journal, 34, 1999, p. 125-134
- Fenaille, Maurice, Etat général des tapisseries de la Manufacture des Gobelins depuis son origine jusqu'à nos jours. 1600-1900. Période Louis XIV 1662-1699, 2, Paris, Hachette, 1903, p. 16-22
Comparative literature
- Lisses et délices : chefs-d'oeuvre de la tapisserie de Henry IV à Louis XIV, cat. exp. (Chambord, château, 7 septembre 1996 - 5 janvier 1997), Paris, Caisse nationale des monuments historiques, 1996, p. 286, fig. p. 287
Last updated on 24.08.2021
The contents of this entry do not necessarily take account of the latest data.