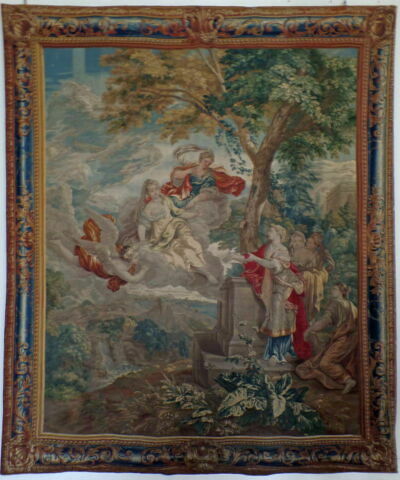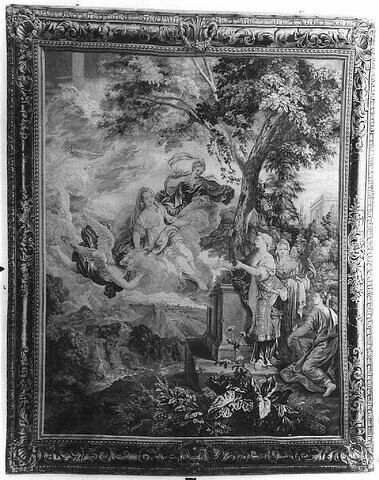 Zéphyr porte les sœurs de Psyché au palais de l'Amour, de la tenture de l'Histoire de Psyché
Epoque / période : Louis XV (1715-1774) (Occident->époque moderne = Ancien Régime->dynastie des Bourbons)

Date de création/fabrication : vers 1725
Lieu de création : Bruxelles (Europe->Belgique) (?)

Artwork recovered after World War II, retrieved by the Office des Biens et Intérêts Privés; to be returned to its rightful owner once they have been identified. Online records of all MNR ('National Museums Recovery') works can be found on the French Ministry of Culture's Rose Valland database.
En dépôt : Musée des Beaux-arts, Arras

Inventory number
Numéro principal : OAR 27
Artist/maker / School / Artistic centre
Description
Object name/Title
Titre : Zéphyr porte les sœurs de Psyché au palais de l'Amour, de la tenture de l'Histoire de Psyché
Description/Features
Sur la gauche, Psyché accompagnée de trois suivantes, et appuyée sur un autel à l'antique, implore Vénus qui apparaît sur une nuée, accompagnée de Zéphir et d'une autre déesse. Bordure formant cadre agrémentée de motifs ornementaux sur fond bleu.
Même suite que OAR 28 et 30.
Physical characteristics
Dimensions
Hauteur : 370 cm ; Largeur : 304 cm
Materials and techniques
Technique : tapisserie de basse lisse = basse lisse (techniques textile->tapisserie = tapisserie sur métier)
Matériau : laine (chaînes et trames)
Matériau : soie (trames)
Places and dates
Date
Epoque / période : Louis XV (1715-1774) (Occident->époque moderne = Ancien Régime->dynastie des Bourbons)

Date de création/fabrication : vers 1725
Place of origin
Bruxelles (Europe->Belgique) (?)
History
Acquisition details
attribution par l'office des biens privés (MNR)
Acquisition date
date de l'arrêté/décision : 16/05/1951
Owned by
Musées Nationaux Récupération
Location of object
Current location
Arras (France), Musée des Beaux-Arts
Bibliography
- Brosens, Koenraad, « The 'Story of Psyche' in Brussels Tapestry c.1700: New Information on Jan van Orley, Jan-Baptist Vermillion and Victor Janssens », The Burlington Magazine, 147, 1227, 2005, juin, p. 401-406, p. 404-405, ill. 57
Last updated on 27.04.2021
The contents of this entry do not necessarily take account of the latest data.