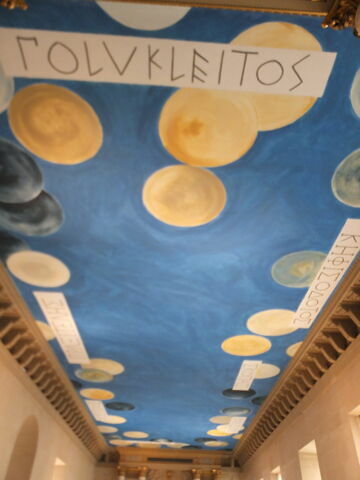 Actuellement visible au Louvre
Inventory number
Numéro principal : INV 20903
Artist/maker / School / Artistic centre
Description
Object name/Title
Titre : « The Ceiling » (Le Plafond)
Description/Features
Ciel bleu animé par quelques sphères qui peuvent être interprétées comme des boucliers, des planètes ou des pièces de monnaie et rythmé par des cartouches blancs en réserve avec les noms des
principaux sculpteurs de la Grèce antique : Céphisodote, Lysippe, Myron, Phidias, Polyclète, Praxitèle, Scopas.
Physical characteristics
Materials and techniques
( (T.(11 lés) marouflé))
History
Object history
Commandé pour le décor du plafond de l'ancienne salle des Bronzes et réalisé grâce à la générosité de la Fondation Janet Wolfson de Botton, avec le soutien de Gagosian Gallery, 2010.
Held by
Musée du Louvre, Département des Peintures
Location of object
Current location
Sully, [AGER] Salle 663 - Salle des Bronzes
Bibliography
- McCormack, Catherine, The Art of Looking Up, London, White Lion Publishing, 2019, p. 79-80, coul.
- Meslay, Olivier ; Faroult, Guillaume, « Ecoles britannique et américaine », dans Foucart-Walter, Élisabeth (dir.), Catalogue des peintures britanniques, espagnoles, germaniques, scandinaves et diverses du musée du Louvre, [Musée du Louvre, Département des peintures], Paris, Louvre éditions / Gallimard, 2013, p. 19-55, p. 55
- Bernadac, Marie-Laure ; Fonkenell, Guillaume ; Leeman, Richard, Cy Twombly : The Ceiling, un plafond pour le Louvre Un plafond pour le Louvre, Paris, Musée du Louvre/ éditions du Regard, 2010,
- Hochdörfer, Achim, Cy Twombly: States of Mind : Painting, Sculpture, Photography, Drawing, Münich, Schirmer/Mosel Verlag, 2009, p. 310
Last updated on 20.01.2022
The contents of this entry do not necessarily take account of the latest data.