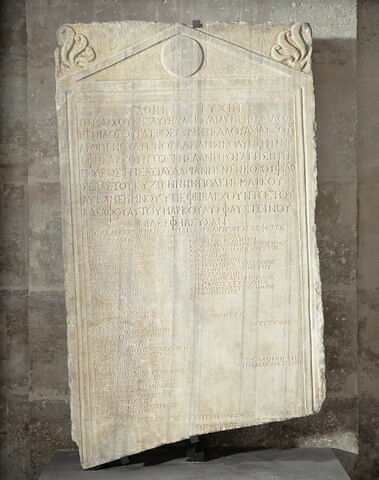 stèle ; inscription
222 / 235 (1e quart IIIe s. ap. J.-C. ; 2e quart IIIe s. ap. J.-C.)
Lieu de création : Cyzique

Département des Antiquités grecques, étrusques et romaines
Actuellement visible au Louvre
Inventory number
Numéro d'entrée :
MND 1787
Numéro catalogue :
Ma 4236
Description
Object name/Title
Dénomination : stèle ; inscription
Description/Features
Décor : fronton (incluant, disque) ; acrotère ; cadre (moulure)

Etat de l'oeuvre : incomplet : il manque le bas de la stèle. Les lettres ont été repeintes en rouge. Le revers a été anciennement retaillé.
Inscriptions
Inscription :
dix lignes d'intitulé en grandes lettres, listes d'éphèbes par tribus sur deux colonnes en petites lettres (la dernière liste est inachevée)
Langue :
grecque
Nature du texte :
liste éphébique (contenu du texte->inscription civile->liste de noms)
Onomastic components
Aurelia Iulia (Hipparque, fille de Ménélas) ; la cité de Cyzique ; Geleontes (tribu) ; Argadeis (tribu) ; Aigicoreis (tribu) ; Oinopes (tribu) ; Hopletes (tribu)
Physical characteristics
Dimensions
Hauteur : 150 cm ; Largeur : 85 cm ; Profondeur : 7 cm
Materials and techniques
Matériau : marbre (marbre blanc veine gris)
Technique : bas-relief (sculpture), gravé = gravure
Places and dates
Date
Epoque / période : romain impérial

Date de création/fabrication : 1e quart IIIe s. ap. J.-C. ; 2e quart IIIe s. ap. J.-C. (fin ; debut) (vers 222 - 235)
History
Collector / Previous owner / Commissioner / Archaeologist / Dedicatee
Acquisition details
affectation, attribution
Acquisition date
date d'arrivée au Musée : 1918
date de l'inscription sur l'inventaire : 26/07/1929
Held by
Bibliothèque nationale de France-Cabinet des Médailles, Paris
Location of object
Current location
Denon, [AGER] Salle 171 - Inscriptions grecques, Hors vitrine
Bibliography
- Leopold Wenger Institut. Universität München. (dir.), Barth, Matthias ; Stauber, Josef, Inschriften Mysia und Troas, Munich, 1993, n° 1458
- Masson, Olivier, « Notes sur les inscriptions grecques du musée du Louvre jadis conservées au Cabinet des Médailles », Bulletin de correspondance hellénique (BCH), 111, 1987, p. 267-279, Disponible sur :
https://doi.org/10.3406/bch.1987.1774
, p. 272, fig. 1
- Hasluck, Frederick William, Cyzicus being some account of the history and antiquities of that city and of the district adjacent to it , with the towns of Apollonia ad Rhyndacum, Miletupolis, Hadrianutherae, Priapus, Zeleia, etc..., Cambrige University Press, 1910, Disponible sur :
https://archive.org/stream/in.gov.ignca.11765/11765
, p. 266, II, 17
- Böckh, August ; Preußische Akademie der Wissenschaften (dir.), Corpus inscriptionum graecarum, Berlin, 1828-1877, n° 3665
Last updated on 01.03.2022
The contents of this entry do not necessarily take account of the latest data.