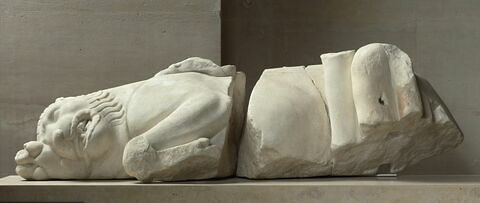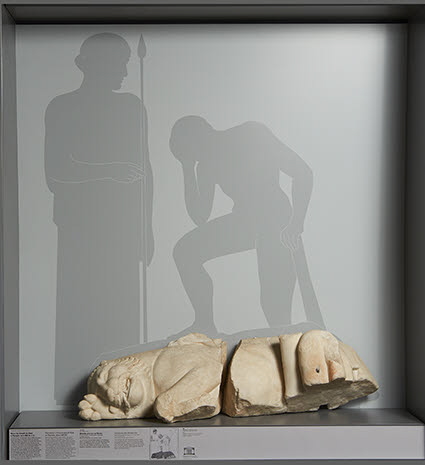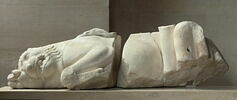 métope
Lieu de création : Olympie
Lieu de découverte : Olympie - 1829 (temple de Zeus)
Département des Antiquités grecques, étrusques et romaines
Actuellement visible au Louvre
Inventory number
Numéro d'entrée :
CC 278
Numéro catalogue :
Ma 718
Autre numéro d'inventaire :
N 1756
Description
Object name/Title
Dénomination : métope (fragment)
Description/Features
Décor : Héraklès et le lion de Némée ; Héraklès (restes, pied, jambe, gauche, massue, debout, sur) ; lion (couche, mort, gueule, ouvert)

Etat de l'oeuvre : incomplet : il reste le lion unique fragment de la métope d'Héraclès et le lion de Némée. Bon état;
Physical characteristics
Dimensions
Hauteur : 32 cm ; Largeur : 120 cm ; Profondeur : 33 cm
Materials and techniques
Matériau : marbre (marbre parien)
Technique : haut-relief (sculpture)
Places and dates
Date
Epoque / période : classique

Date de création/fabrication : 2e quart Ve s. av. J.-C. (vers -460)
Place of discovery
Olympie - 1829 (temple de Zeus)
History
Collector / Previous owner / Commissioner / Archaeologist / Dedicatee
Acquisition details
donation
Acquisition date
date : 1830
Held by
Musée du Louvre, Département des Antiquités grecques, étrusques et romaines
Location of object
Current location
Denon, [AGER] Salle 407 - Olympie, Vitrine 8
Bibliography
- Hamiaux, Marianne, Les sculptures grecques, I, Des origines à la fin du IVe siècle avant J. -C, Paris, 2001, p. 112-113, n° 100
- Mertens-Horn, Madeleine, « Studien zu griechischen Löwenbildern », Mitteilungen des Deutschen Archäologischen Instituts, Römische Abteilung, 93, 1986, p. 37, pl. 12, 3
- Ashmole, Bernard ; Yalouris, Nicholas, Olympia : the sculptures of the temple of Zeus, London, Phaidon Press, 1967, p. 25, 150-151, pl. 143
- Charbonneaux, Jean, La sculpture grecque et romaine au Musée du Louvre, 3, Paris, Editions des Musées nationaux, (Collection des Guides du visiteur), 1963, p. 15, n° 718
- Picard, Charles, Manuel d'archéologie grecque : la sculpture, II.1, Période classique- Vème siècle, Paris, A. et J. Picard, 1939, p. 183-184
- Curtius, Ernst ; Adler, Friedrich (dir.), Treu, Georg, Olympia III. Die Bildwerke von Olympia in Stein und Thon, Berlin, 1897, Disponible sur : https://doi.org/10.11588/diglit.779 , p. 151-154, fig. 175, 176, pl. 35, 35.1
- Michon, Étienne, « Les sculptures d'Olympie conservées au musée du Louvre », Revue Archéologique, 1895, Disponible sur : http://www.jstor.org/journal/revuearch , p. 105, n. 3
- Clarac, Charles Othon Frédéric Jean-Baptiste de (Comte de), Musée de sculpture antique et moderne ou description historique et graphique du Louvre, les bas-reliefs, inscriptions, autels, cippes, etc. du Musée du Louvre, tome II - première partie, II.1, Paris, 1841, p. 557-560, n° 211A
- Blouet, Abel, Expédition scientifique de Morée, ordonnée par le gouvernement français : architecture, sculptures, inscriptions et vues du Péloponèse, des Cyclades et de l'Attique mesurée, dessinées, recueillies et publiées, Paris, F. Didot, 1831-1838, pl. 74.2
- Clarac, Charles Othon Frédéric Jean-Baptiste de (Comte de), Musée de Sculpture antique et moderne. Planches, le Louvre et les Tuileries, II, Paris, 1828-1830, pl. 195 bis, n° 211 A
Last updated on 22.07.2021
The contents of this entry do not necessarily take account of the latest data.