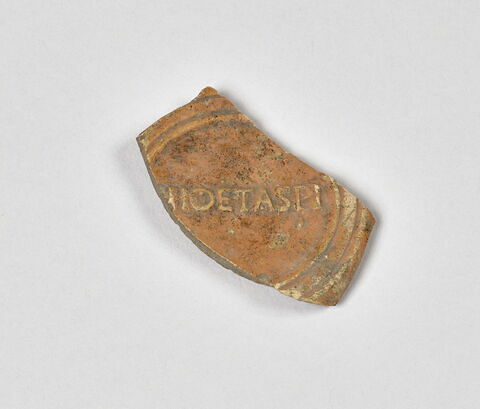 lampe
Epoque / période : romain impérial

Date de création/fabrication : 4e quart Ie s. ap. J.-C. (75 - 100)
Lieu de création : Italie septentrionale
Lieu de découverte : Lyon = Lugdunum - 1883 (cimetière de Trion Toutefois, la lampe a pu être confondue avec du matériel de Vichy lors du transfert du musée des Religions de Lyon vers Paris en 1888 (voir BERNARD Clara, "Les lampes à huile gallo-romaines en terre cuite de la collection Emile Guimet du musée du Louvre", mémoire EDL M2, 2016).)
Inventory number
N° anc. coll. : MG 22024
Description
Object name/Title
Dénomination : lampe (fragment)
Typologie : firmalampe ; base (annulaire)
Description/Features
Etat de l'oeuvre : bon-il ne reste qu'une partie de la base
Inscriptions
Inscription :
Hoetaspus (Phoetaspus) estampée en relief sur fond
Langue :
latine
Nature du texte :
marque de fabrique (contenu du texte->marque)
Physical characteristics
Dimensions
Hauteur : 5,1 cm ; Largeur : 2,7 cm ; Longueur antique : 5,2 cm
Materials and techniques
Matériau : argile (argile beige rose)
Technique : moulé, couverte
Précision technique : couverte rouge orange clair
Places and dates
Date
Epoque / période : romain impérial

Date de création/fabrication : 4e quart Ie s. ap. J.-C. (75 - 100)
Place of origin
Italie septentrionale
Place of discovery
Lyon = Lugdunum - 1883 (cimetière de Trion Toutefois, la lampe a pu être confondue avec du matériel de Vichy lors du transfert du musée des Religions de Lyon vers Paris en 1888 (voir BERNARD Clara, "Les lampes à huile gallo-romaines en terre cuite de la collection Emile Guimet du musée du Louvre", mémoire EDL M2, 2016).)
History
Collector / Previous owner / Commissioner / Archaeologist / Dedicatee
Guimet, Emile
(Achat d'Emile Guimet à l'antiquaire Vaganay (71 rue de la République, Lyon), aux alentours du 6 juin 1885.)
Vaganay, N.-J.
(N.-J. Vaganay aurait acquis ces lampes auprès d'Auguste Allmer et Paul Dissard (fouilles de Trion, 1885-1886).)
Musée Guimet
(collection)
Acquisition details
ancien fonds
Held by
Musée du Louvre, Département des Antiquités grecques, étrusques et romaines
Location of object
Current location
non exposé
Bibliography
Comparative literature
- The British Museum (dir.), Bailey, Donald Michael, A Catalogue of the Lamps in the British Museum. 2, Roman lamps made in Italy, London, British Museum Publications, 1980,
- Allmer, Auguste ; Dissard, Paul, Trion. Antiquités découvertes en 1885, 1886 et antérieurement au quartier de Lyon dit de Trion, Lyon, Mémoires de l'Académie des Sciences, Belles Lettres et Arts de Lyon, 1887-1888, p. 512, n°1458
Last updated on 26.01.2021
The contents of this entry do not necessarily take account of the latest data.