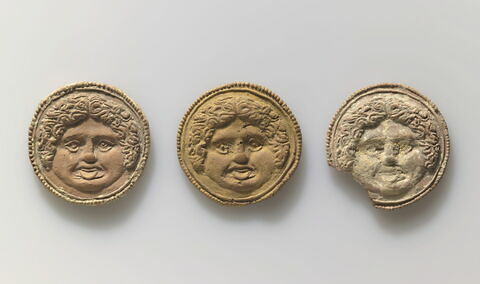 bouton
-325 / -300 (4e quart IVe s. av. J.-C.)
Lieu de création : Macédoine
Lieu de découverte : Kavakli - 1917 (tumulus)
Département des Antiquités grecques, étrusques et romaines
Actuellement visible au Louvre
Inventory number
Autre numéro d'inventaire :
S 7386.3
N° de fouille :
KK 19
Description
Object name/Title
Dénomination : bouton
Désignation : Bouton formé d'un gorgonéion entouré d'un rang de perles
(PLAQUETTE)
Description/Features
Décor : gorgonéion (entouré de, perle)

Etat de l'oeuvre : éclat sur la bordure
Physical characteristics
Dimensions
Diamètre : 2,8 cm ; Profondeur : 0,4 cm
Materials and techniques
Matériau : argile (argile bistre rose)
Technique : moulé, estampage = estampé, engobe, dorure
Places and dates
Date
Epoque / période : hellénistique

Date de création/fabrication : 4e quart IVe s. av. J.-C. (-325 - -300)
Place of origin
Macédoine
Place of discovery
Kavakli - 1917 (tumulus)
History
Collector / Previous owner / Commissioner / Archaeologist / Dedicatee
Acquisition details
dévolution
Acquisition date
date : 1918
Held by
Musée du Louvre, Département des Antiquités grecques, étrusques et romaines
Location of object
Current location
Sully, [AGER] Salle 341 - Art grec classique et hellénistique (Grèce du Nord), Vitrine 4
Bibliography
- Descamps-Lequime, Sophie (dir.), Au royaume d'Alexandre le Grand : La Macédoine antique, cat. exp. (Paris, Musée du Louvre, 13 octobre 2011-16 janvier 2012), Paris, Somogy éd. d'art ; Louvre éd., 2011, p. 141-142, n° 59.9-11
- Mathieux, Néguine ; Becq, Juliette, « De l'or à l'argile. Circulation de modèles et motifs iconographiques entre les ateliers d'orfèvrerie et de coroplathie », Revue du Louvre. La revue des musées de France, 2, 2000, p. 39-47, p. 42, 43, n. 32
- Besques, Simone, Catalogue raisonné des figurines et reliefs en terre-cuite grecs, étrusques et romains III. Epoques hellénistique et romaine, Grèce et Asie Mineure, Paris, Editions des Musées Nationaux, 1972, p. 42, pl. 50e, D236-D238
Last updated on 20.04.2022
The contents of this entry do not necessarily take account of the latest data.