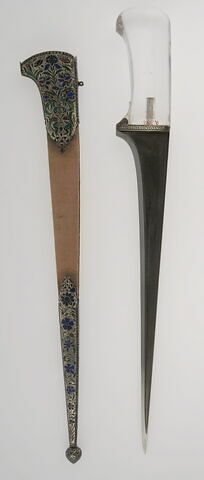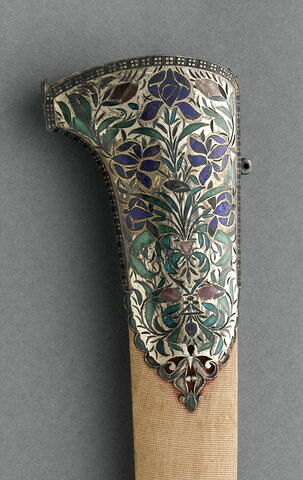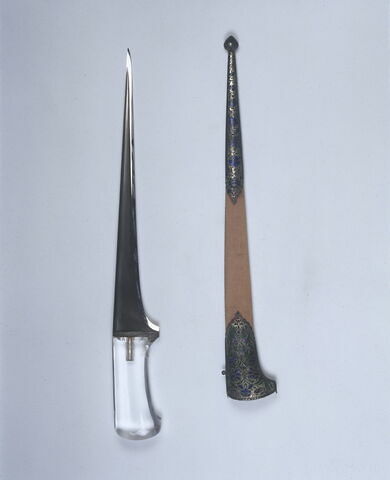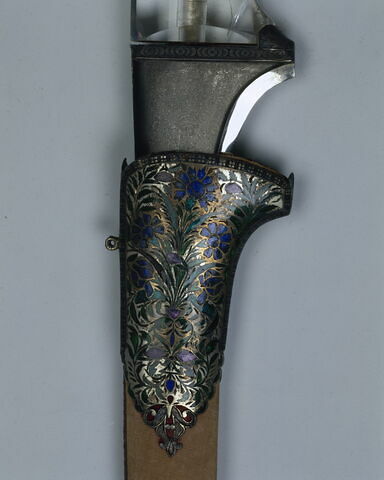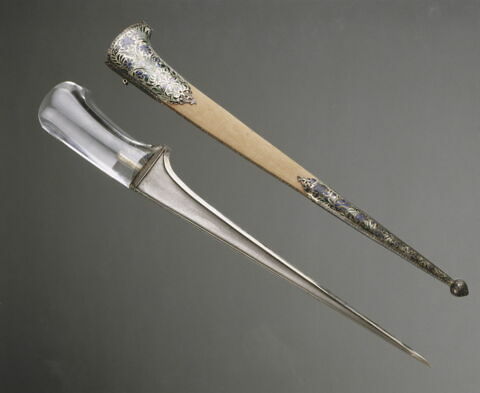 Poignard (pesh-kabz)
Date de création/fabrication : XVIIIe siècle (1700 - 1800)
Lieu de provenance : Lucknow (Sous-continent indien->Inde)


Actuellement visible au Louvre
Inventory number
Numéro principal : R 195 a
Description
Object name/Title
Dénomination : Pesh-kabz (Arme et équipement militaire->Poignard)
Titre : Poignard (pesh-kabz)
Description/Features
Description sur l'inventaire Rothschild conservé aux Objets d'art : Dague, manche en cristal de roche. Fourreau de velours rose. Entrée et pointe du fourreau en argent incrusté d'émaux. Perse, XVIIIe siècle.
Inscriptions
Inscription :
يا علي
Translittération : Yā ʿAli
Traduction : Ô Ali
Nature du texte : Formule chiite (Texte religieux)
Positionnement de l'inscription : Sur le dos de la lame
Physical characteristics
Dimensions
Longueur : 45,7 cm ; Largeur : 5,5 cm ; Epaisseur : 2,9 cm ; Poids : 0,466 kg
Materials and techniques
Matériau : Composite
Matériau/Technique : Composite : Lame : acier damassé, décor gravé et ciselé ; Manche : cristal de roche
Places and dates
Date
XVIIIe siècle (1700 - 1800)
Provenance
Lucknow (Sous-continent indien->Inde)
History
Collector / Previous owner / Commissioner / Archaeologist / Dedicatee
Acquisition date
date du legs : 1922
date d'arrivée au Musée : 28/04/1927
Held by
Musée du Louvre, Département des Arts de l'Islam
Location of object
Current location
Denon, [AI] Salle 186 - De 1250 à 1800, Vitrine 84
Bibliography
- Devi Sharma, Rita ; Varadarajan, Muthuswamy, Les bijoux artisanaux indiens en émail, Paris, Charles Moreau, 2004, p. 54-55
- Riottot El-Habib, Béatrice (dir.), Magnificence de l'Argenterie en Inde au Temps des Moghols, XVIème-XIXème siècle, cat. exp. (Paris, Pavillon des Arts, 1988), Paris, Paris Musées, 1988, n° 86
Comparative literature
- Jaiwant Paul, E, Armes et armures : armes traditionnelles de l'Inde, Paris, Roli, 2005, p. 138-139
- Egerton of Tatton, Lord, A description of Indian and oriental armour : illustrated from the collection formerly in the India Office, now exhibited at South Kensington and the author's private collection, New Delhi, 2001, p. 164, p. VII, n° 99
- Norman, A. V. B ; Rickett, Howard ; Andersen, Verner Jul (dir.), Islamiske vaben i dansk privateje = Islamic arms and armour from private Danish collections, cat. exp. (Copenhague, Davids Samling, 1982), Kobenhavn, Davids Samling, 1982, p. 164-165, n° 127
- Pant, Gayatri Nath, Indian arms and armour, II, Swords and daggers, Chandigarh, Army Educational Stores, 1980, p. 186-188
Exhibition history
- Magnificence de l'argenterie en Inde au temps des moghols, XVIe-XIXe siècle, Palais, 16/04/1988 - 17/07/1988
Last updated on 20.07.2021
The contents of this entry do not necessarily take account of the latest data.