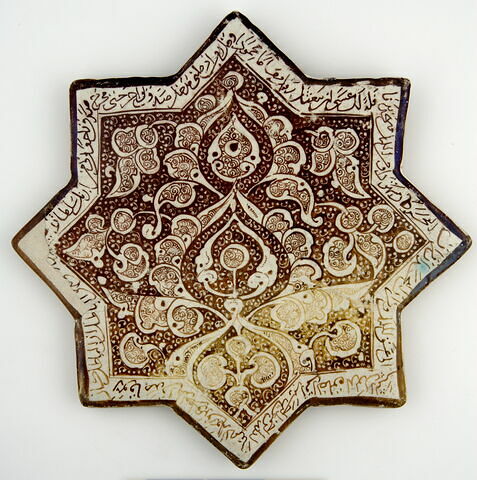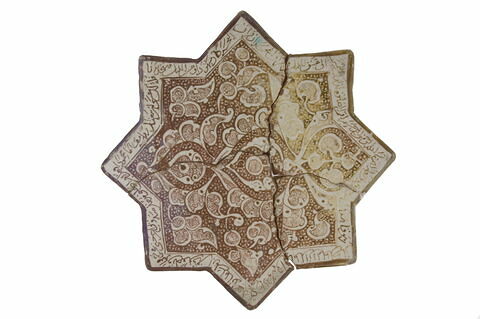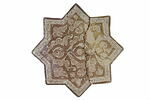 Etoile à décor végétal stylisé
1250 / 1300 (2ème moitié du XIIIe siècle)
Lieu de provenance : Kashan (Monde iranien - Caucase->Iran) ; Varamin (Monde iranien - Caucase->Iran)


Département des Arts de l'Islam
Actuellement visible au Louvre
Inventory number
Numéro principal :
AD 4426
Autre numéro d'inventaire :
UCAD 4426
Description
Object name/Title
Dénomination : Étoile (Élément d'architecture, décor intérieur et extérieur, huisserie->Décor architectural->Carreau de revêtement)
Titre : Etoile à décor végétal stylisé
Inscriptions
Inscription :
أَقِمِ الصَّلاةَ لِدُلُوکِ الشَّمْسِ إِلَى غَسَقِ اللَّیْلِ وَقُرْآنَ الْفَجْرِ إِنَّ قُرْآنَ الْفَجْرِ کَانَ مَشْهُودًا ﴿٧٨﴾ وَمِنَ اللَّیْلِ فَتَهَجَّدْ بِهِ نَافِلَةً لَکَ عَسَى أَنْ یَبْعَثَکَ رَبُّکَ مَقَامًا مَحْمُودًا ﴿٧٩﴾ وَقُلْ رَبِّ أَدْخِلْنِی مُدْخَلَ صِدْقٍ وَأَخْرِجْنِی مُخْرَجَ صِدْقٍ وَاجْعَلْ لِی مِنْ لَدُنْکَ سُلْطَانًا نَصِیرًا ﴿٨٠﴾ وَقُلْ جَاءَ الْحَقُّ وَزَهَقَ الْبَاطِلُ إِنَّ الْبَاطِلَ کَانَ زَهُوقًا ﴿٨١﴾ [ سوره اسری]
lu par Maryam Kolbadinejad-2014
Traduction : Acquitte-toi de la prière au déclin du soleil, jusqu'à l'obscurité de la nuit. Fait aussi une lecture à l'aube ; la lecture de l'aube a des témoins (78) Veille en prière durant la nuit, ce sera pour toi une œuvre surérogatoire. Peut-être ton Seigneur te ressuscitera-t-il dans un état glorieux (79) Dis : " Mon Seigneur ! Fais-moi entrer d'une entrée conforme à la justice, fais-moi sortir d'une sortie conforme à la justice. Accorde-moi, de ta part, une autorité qui me protège" (80) Dis : " la Vérité est venue, l'erreur a disparu. l'erreur doit disparaître !" (81) (Coran 17:78-81) (D. Masson)
Nature du texte : Coran (Texte religieux) ; Sourate XVII : Le voyage nocturne, al-isrāʾ (Texte religieux->Coran)
Langue : arabe
Type d'écriture : Naskh
Positionnement de l'inscription : une ligne, sur le pourtour
Physical characteristics
Dimensions
Epaisseur : 2 cm ; Hauteur : 31,2 cm (Max) ; Largeur : 30,7 cm (Max) ; Poids : 1,58 kg
Materials and techniques
Matériau : Céramique
Matériau/Technique : Céramique (pâte siliceuse), décor de lustre métallique sur glaçure opaque
Places and dates
Date
2ème moitié du XIIIe siècle (1250 - 1300)
Provenance
Kashan (Monde iranien - Caucase->Iran) ; Varamin (Monde iranien - Caucase->Iran)
History
Collector / Previous owner / Commissioner / Archaeologist / Dedicatee
Acquisition date
date : 1888
Held by
Union centrale des Arts Décoratifs, Paris
Location of object
Current location
Denon, [AI] Salle 186 - De 1250 à 1800, Hors vitrine 70
Bibliography
Comparative literature
- Masuya, Tomoko, « Persian tiles on European walls : collecting Ilkhanid tiles in nineteenth-century Europe », Ars Orientalis, 30, 2000, p. 44-45
- Watson, Oliver, Persian lustre ware, London, Faber and Faber, 1985, p. 122-123, p.132-136, p.154, p. 183, p. 186, p. 191, pl. K
Last updated on 01.02.2016
The contents of this entry do not necessarily take account of the latest data.