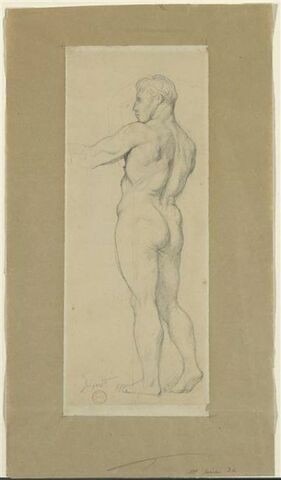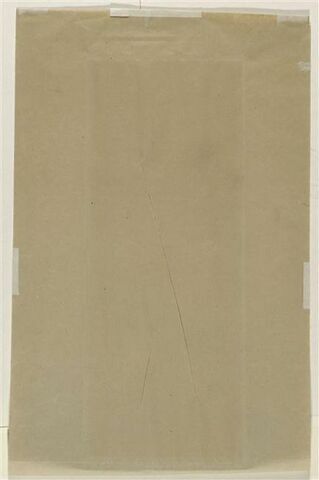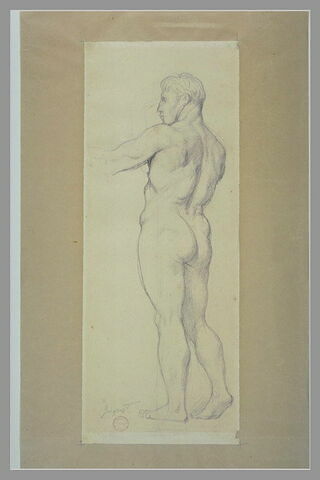 Etude pour Phidias dans l'Apothéose d'Homère
Département des Arts graphiques
Artwork recovered after World War II, retrieved by the Office des Biens et Intérêts Privés (OBIP); to be returned to its rightful owner once they have been identified. Online records of all MNR ('National Museums Recovery') works can be found on the French Ministry of Culture's Rose Valland database.
Inventory number
REC 34, Recto

Artist/maker / School / Artistic centre
Description
Object name/Title
Etude pour Phidias dans l'Apothéose d'Homère
Description/Features
Commentaire :
Etude pour le personnage de Phidias dans l'Apothéose d'Homère (1827), passant pour avoir été faite par l'artiste d'après lui-même. A rapprocher d'une étude pour Phidias au Musée de Montauban et d'un dessin dans la Collection Bonnat de Bayonne.
Physical characteristics
Dimensions
H. 0,395 m ; L. 0,155 m
Materials and techniques
Mine de plomb. Signé en bas, à gauche, à la mine de plomb : 'Ingres'. Montage décollé, assez abîmé. Restauré en 2006.
History
Object history
En bas à gauche, cachet rond rouge de la collection Etienne Haro (Lugt 1241) - sa vente, Paris, Hôtel Drouot, 2-3 avril 1897, sous le n° 172 - collection Théophile Poilpot ; sa vente, Paris, Hôtel Drouot, le 15 mai 1917, sous le n° 181 - acquis par Mademoiselle L. Fischel en août 1941 auprès d'André Schoeller, à Paris - Remis au Cabinet des Dessins par la Commission de récupération artistique le 23 décembre 1949. Pour consulter la base des MNR (Musées nationaux Récupération), adresse du site Rose-Valland : www.culture.gouv.fr/public/mistral/mnrbis_fr?
Collector / Previous owner / Commissioner / Archaeologist / Dedicatee
Dernière provenance : Fischel, L.
Location of object
Current location
Petit format

The artwork can be seen by appointment in the Louvre's Prints and Drawings Study Room.
Exhibition history
- Entre Ingres et Delacroix. François-Etienne Haro
Etape :
Musée national Eugène Delacroix, Paris, France - 24 février - 15 mai 2006
Organisée par : Musée national Eugène Delacroix (Paris, France)

- Présentation des oeuvres récupérées après le Seconde Guerre mondiale et confiées à la garde des musées nationaux
Etape :
Musée du Louvre, Paris, France - 08 avril - 05 mai 1997

Last updated on 28.06.2023
The contents of this entry do not necessarily take account of the latest data.