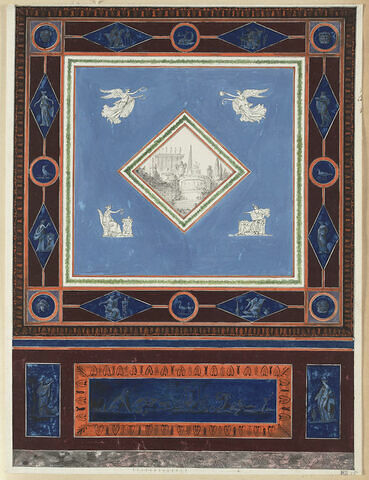 Projet de décor de boiserie avec paysage de ruines dans un losange sur fond bleu, orné de quatre figures féminines dont deux volant tenant des couronnes. Soubassement avec grand panneau rectangulaire orné de félins de part et d'autre d'un vase antique
Département des Arts graphiques
Inventory number
RF 54443, Recto
Handwritten inventory reference:
vol.35, p.130
Artist/maker / School / Artistic centre
Description
Object name/Title
Projet de décor de boiserie avec paysage de ruines dans un losange sur fond bleu, orné de quatre figures féminines dont deux volant tenant des couronnes. Soubassement avec grand panneau rectangulaire orné de félins de part et d'autre d'un vase antique
Description/Features
Commentaire :
Lire aussi : Peter Fuhring, François-Joseph Bélanger (1744-1818), Cahiers de dessin français n° 15, Paris, Didier Aaron & Cie, Galerie de Bayser, 2007.
Pierre Cietty serait l'auteur des dessins de cet album (communication orale Christian Baulez, 2013).
Description de l'album :
Album factice avec 96 dessins collés sur 64 feuilles. (Avant son achat par le Louvre, tous les dessins ont été détachés de l'album.) Il faisait partie d'un ensemble de 2 volumes constitués dans le milieu du XIXe siècle ; celui-ci consacré aux décors muraux et l'autre aux projets de plafonds (3 feuilles en provenant, ont été offertes au Louvre, RF 54529, 54530, 54531).
Physical characteristics
Dimensions
H. 0,403 m ; L. 0,305 m
Materials and techniques
Plume et encre noire, aquarelle, gouache. Echelle de mesure.
History
Object history
Galeries De Bayser et Didier Aaron & Cie, Paris. Commission du 12 octobre 2006. Conseil artistique du 25 octobre 2006. Décision du 25 octobre 2006.
Collector / Previous owner / Commissioner / Archaeologist / Dedicatee
Dernière provenance : Galeries De Bayser et Didier Aaron & Cie
Acquisition details
achat
Location of object
Current location
Réserve des grands albums
Album Bélanger François-Joseph

The artwork can be seen by appointment in the Louvre's Prints and Drawings Study Room.
Last updated on 06.09.2021
The contents of this entry do not necessarily take account of the latest data.