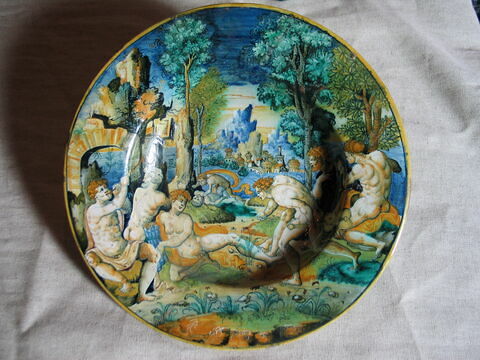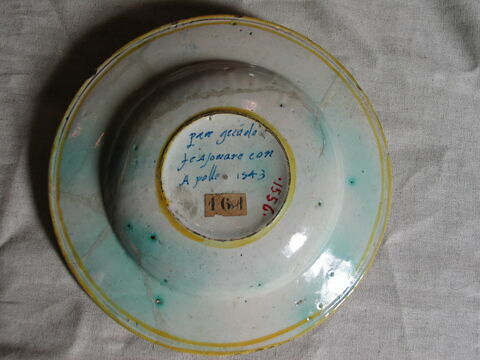 Assiette : Apollon et Marsyas
Epoque / période : Occident ; Renaissance (Occident)

Date de création/fabrication : 1543
Lieu de création : Urbino (Marches->Duché d'Urbino)

Actuellement visible au Louvre
Inventory number
Numéro principal : OA 1556
Artist/maker / School / Artistic centre
Description
Object name/Title
Titre : Assiette : Apollon et Marsyas
Description/Features
Décor « a istoriato » en plein : Apollon et Marsyas
Inscriptions
Inscription :
Au revers, en rouge, à l'envers : "1556"
Au revers "Per quando se asonare con Apolle.... 1543".
Physical characteristics
Dimensions
Hauteur avec accessoire : 3,9 cm ; Diamètre avec accessoire : 26,5 cm
Materials and techniques
Matériau : céramique
Matériau : majolique=maiolica
Technique : décor de grand feu = grand feu (techniques céramique->revêtement et décor)
Places and dates
Date
Epoque / période : Occident ; Renaissance (Occident)

Date de création/fabrication : 1543
Place of origin
Urbino (Marches->Duché d'Urbino)
History
Collector / Previous owner / Commissioner / Archaeologist / Dedicatee
Acquisition details
achat
Acquisition date
date : 1861
Held by
Musée du Louvre, Département des Objets d'art du Moyen Age, de la Renaissance et des temps modernes
Location of object
Current location
Richelieu, [OArt] Salle 507 - Galerie des Chasses de Maximilien, Vitrine 7 , Verticale B
Bibliography
- Gaultier, Françoise ; Haumesser, Laurent ; Trofimova, Anna (dir.), Un rêve d'Italie. La collection du marquis Campana, cat. exp. (Paris, Musée du Louvre, 8 novembre 2018 - 18 février 2019 ; Saint-Petersbourg, Musée de l'Ermitage, 2019), Paris, Lienart, 2018, p. 414
- Gresta, Riccardo, I lanfranco dalle Gabicce e la maiolica pesarese a metà del Cinquecento, Gabicce Mare, Il Fortino, 2018, p. 74, p. 75, n° 21
- Ravanelli Guidotti, Carmen, « Protagonisti del collezionismo della ceralica a Faenza tra '800 e '900 », dans "Faenza" Bollettino del museo internazionale delle ceramiche in Faenza, 1- 6, Faenza, USPI, 2010, p. 23- 83, p. 60, fig. 36 c
- Fiocco, Carola ; Gherardi, Gabriella ; Sfeir-Fakhri, Liliane, Majoliques italiennes du musée des arts décoratifs de Lyon. Collection Gillet, Faton, 2001, p. 251-252
- Herzog Anton Ulrich Museum (dir.), Lessmann, Johanna, Italienische Majolika. Katakog der Sammlung, Brunswick, Waisenhaus-Buchdruckerei und Verlag, 1979, p. 354-355, n° 500
- Giacomotti, Jeanne, Catalogue des majoliques des musées nationaux, [Paris, musée du Louvre; Paris, musée de Cluny; Sèvres, musée national de céramique; Limoges, musée Adrien-Dubouché], Paris, Éditions des Musées Nationaux, 1974, n°996
- Darcel, Alfred, Notice des fayences peintes italiennes, hispano-moresques et françaises, et des terres cuites émaillées : série G. Musée impérial du Louvre. Musée de la Renaissance., [Collections du Musée du Louvre], [Paris], Ch. de Mourgues frères, 1864, p. 229, G374
- Cornu, Sébastien, Catalogue des tableaux, des sculptures de la Renaissance et des majoliques du Musée Napoléon III, Paris, Firmin-Didot frères, fils et Cie, 1862, p. 216, n° 161
- Cataloghi del Museo Campana, Rome, 1857-1858, n° 161
Comparative literature
- Majoliques italiennes de la Renaissance. Collection Paul Gillet. Musée des Arts Décoratifs de Lyon, cat. exp. (Fondation Bemberg, Toulouse, 25 juin - 27 septembre 2015), 2015, p. 224
Last updated on 20.01.2021
The contents of this entry do not necessarily take account of the latest data.