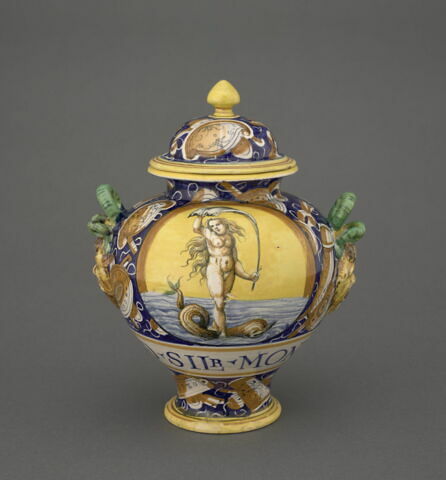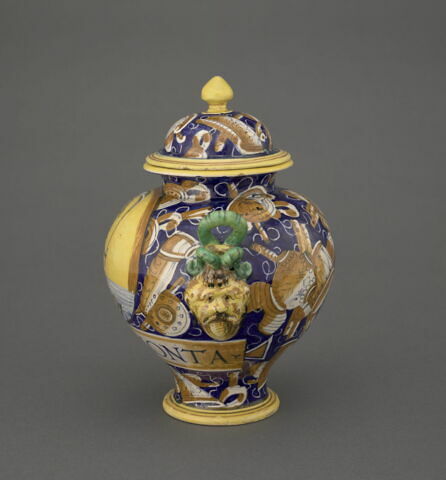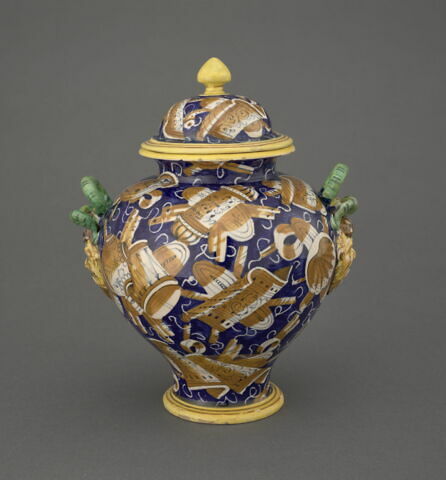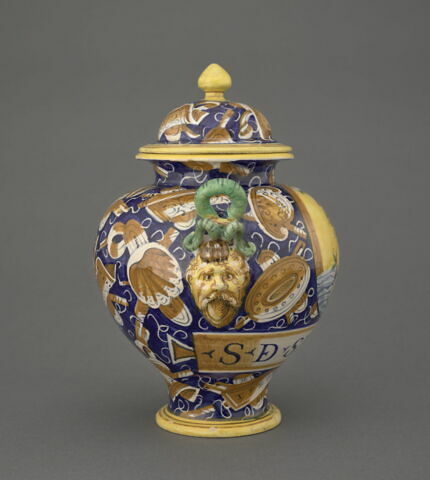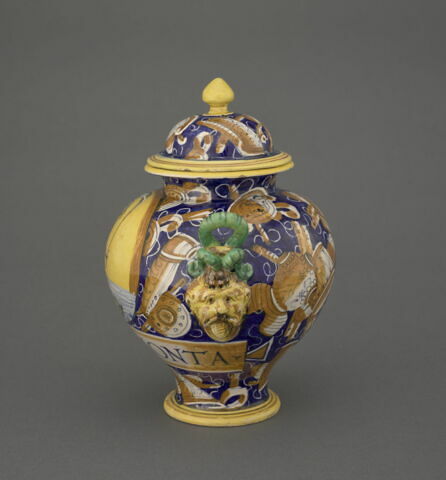 Pot couvert à deux anses : Allégorie de la Fortune
Epoque / période : Renaissance (Occident)

Date de création/fabrication : 1580 (inscription/dédicace/signature)
Lieu de création : Casteldurante = Castel Durante = Castel-Durante = Urbania (Italie->Marches) (Ancienne attribution) ; Pesaro (Italie->Marches) (?)
Lieu de provenance : Pesaro (Italie->Marches) (Pharmacie de Marco Pauli "ad signum Fortunae" [à l'enseigne de la Fortune] (quartier de San Nicola))


Inventory number
Numéro principal : OA 1802
Artist/maker / School / Artistic centre
Description
Object name/Title
Titre : Pot couvert à deux anses : Allégorie de la Fortune
Type of object
pot à pharmacie ; pot couvert
Description/Features
Pot couvert à deux anses : Allégorie de la Fortune - femme nue portée par un animal marin- dans un cartouche. Sous ce dernier, inscription : "S. DE. Silr- Monta" . Sur le pied dans un cartouche, "1580". Allégorie tirée d'une gravure de Nicoletto da Modena, d'une estampe de Baccio Baldini ou d'Antonio Fregoso publiée dans le Dialogo de Fortuna (1521)
Inscriptions
Inscription :
Inscription : "S. DE. Silr- Monta"
Physical characteristics
Dimensions
Hauteur de l'accessoire : 8,5 cm ; Diamètre de l'accessoire : 11,5 cm ; Hauteur avec accessoire : 28 cm ; Largeur avec accessoire : 21,5 cm ; Diamètre avec accessoire : 18 cm
Materials and techniques
Technique : techniques céramique
Matériau : faïence stannifère
Matériau : majolique=maiolica
Technique : décor de grand feu = grand feu (techniques céramique->revêtement et décor)
Places and dates
Date
Epoque / période : Renaissance (Occident)

Date de création/fabrication : 1580 (inscription/dédicace/signature)
Place of origin
Casteldurante = Castel Durante = Castel-Durante = Urbania (Italie->Marches) (Ancienne attribution) ; Pesaro (Italie->Marches) (?)
Provenance
Pesaro (Italie->Marches) (Pharmacie de Marco Pauli "ad signum Fortunae" [à l'enseigne de la Fortune] (quartier de San Nicola))
History
Collector / Previous owner / Commissioner / Archaeologist / Dedicatee
Acquisition details
achat
Acquisition date
date : 1861
Held by
Musée du Louvre, Département des Objets d'art du Moyen Age, de la Renaissance et des temps modernes
Location of object
Current location
non exposé
Bibliography
- Gresta, Riccardo, I lanfranco dalle Gabicce e la maiolica pesarese a metà del Cinquecento, Gabicce Mare, Il Fortino, 2018, p. 174
- Gaultier, Françoise ; Haumesser, Laurent ; Trofimova, Anna (dir.), Un rêve d'Italie. La collection du marquis Campana, cat. exp. (Paris, Musée du Louvre, 8 novembre 2018 - 18 février 2019 ; Saint-Petersbourg, Musée de l'Ermitage, 2019), Paris, Lienart, 2018, p. 417, p. 441, n° 437
- Glaser, Silvia (dir.), Italienische Fayencen der Renaissance. Ihre Spuren in internationalen Museumssammlungen: [Tagung, Nürnberg, Germanische Nationalmuseum, vom 12. bis 14. Februar 2001], Nuremberg, Verlag des Germanischen Nationalmuseums, (Wissenschaftliche Beibände zum Anzeiger des Germanischen Nationalmuseums, 22), 2004, p. 50, n° 72
- Wilson, Timothy, Italian maiolica of the Renaissance, Milan, Bocca, 1996, p. 360, 363
- Giacomotti, Jeanne, Catalogue des majoliques des musées nationaux, [Paris, musée du Louvre; Paris, musée de Cluny; Sèvres, musée national de céramique; Limoges, musée Adrien-Dubouché], Paris, Éditions des Musées Nationaux, 1974, n°986
- Darcel, Alfred, Notice des fayences peintes italiennes, hispano-moresques et françaises, et des terres cuites émaillées : série G. Musée impérial du Louvre. Musée de la Renaissance., [Collections du Musée du Louvre], [Paris], Ch. de Mourgues frères, 1864, p. 170, G.279
- Cornu, Sébastien, Catalogue des tableaux, des sculptures de la Renaissance et des majoliques du Musée Napoléon III, Paris, Firmin-Didot frères, fils et Cie, 1862, p. 237, n° 485
Comparative literature
- La via dellà ceramica tra Umbria e Marche - Maioliche rinascimentali da collezioni private, cat. exp. (Gubbio, Palazzo Ducale - 26/06 2010 - 30/01 2011), Gubbio, 2010, p. 280
- Italian Renaissance ceramics from the Howard I. and Janet H. Stein collection and the Philadelphia museum of art, cat. exp. (Philadelphia, Philadelphia museum of art, December 7, 2001-April 28, 2002), Philadelphie (Pennsylvanie), Philadelphia Museum of art, 2001, p. 209
Exhibition history
- Un rêve d'Italie. La collection du marquis Campana, Napoléon, Exposition Temporaire sous pyramide, 07/11/2018 - 18/02/2019, étape d'une exposition itinérante
Last updated on 20.06.2019
The contents of this entry do not necessarily take account of the latest data.