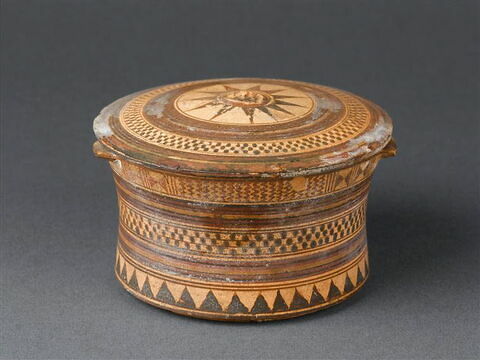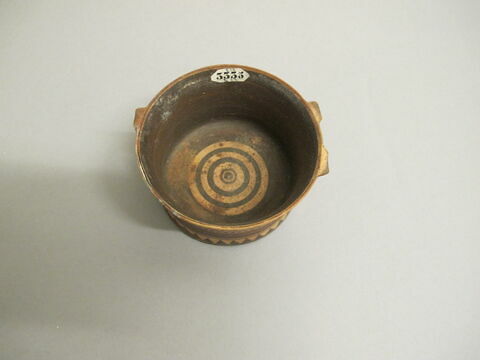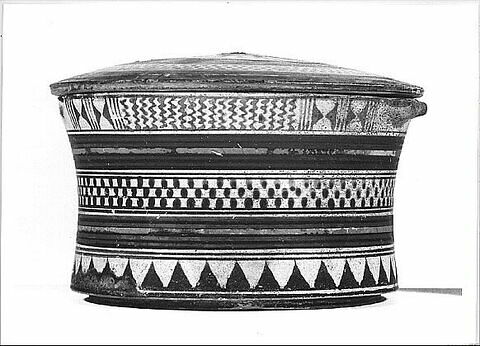 pyxis
Epoque / période : orientalisant ; proto-corinthien ; sub-géométrique

Date de création/fabrication : 3e quart VIIe s. av. J.-C. (-650 - -625)
Lieu de création : Corinthe
Lieu de découverte : Italie centrale
Actuellement visible au Louvre
Inventory number
Numéro catalogue : E 13.1
Numéro de collection : Cp 3335
Description
Object name/Title
Dénomination : pyxis
Typologie : pyxis cylindrique ; parois (concave)
Description/Features
Décor : sur parois (entre les anses) ; frise (ligne, brisé, vertical, entouré de, diabolo, trait, vertical)
sur parois (au milieu) ; damier (triple, zone, encadré de, filet, bande, orné de, filet)
sur parois (en bas) ; dents de loup (encadré de, filet)
sur fond ; cercle (concentrique, pointé)

Etat de l'oeuvre : le vase est incomplet ; moins les petites anses latérales ; rebouchage ; un voile de sels sur une des faces ; des traces d'enfouissement sous le pied.
Physical characteristics
Dimensions
Hauteur : 5,5 cm ; Hauteur : 6,7 cm ; Diamètre : 9,9 cm
Materials and techniques
Matériau : argile (argile jaune pale rosâtre)
Technique : peinture, rehaut jaune (peinture->rehaut), rehaut rouge (peinture->rehaut)
Précision technique : peinture brun rouge ; rehauts rouge et jaune (filets sur bandes)
Places and dates
Date
Epoque / période : orientalisant ; proto-corinthien ; sub-géométrique

Date de création/fabrication : 3e quart VIIe s. av. J.-C. (-650 - -625)
Place of discovery
Italie centrale
History
Collector / Previous owner / Commissioner / Archaeologist / Dedicatee
Acquisition details
achat
Acquisition date
Date : 1863
Held by
Musée du Louvre, Département des Antiquités grecques, étrusques et romaines
Location of object
Current location
Sully, [AGER] Salle 655 - Galerie Campana I, Vitrine 23 centrale
Bibliography
- Union académique internationale. (dir.), Villard, François, Corpus Vasorum Antiquorum. France. Fascicule 21, Musée du Louvre. Fascicule 13, Paris, 1965, pl. 42.1, 2, 4
- Payne, Humfry, Necrocorinthia : a study of corinthian art in the archaic period, Oxford, Clarendon press, 1931, p. 292, fig. 129, n° 665
- Friis Johansen, Knud, Les vases sicyoniens : étude archéologique, 1923, p. 164, pl. 42.5
- Pottier, Edmond, Vases antiques du Louvre. salles A-E, les origines, les styles primitifs, écoles rhodienne et corinthienne, [Musée du Louvre, Paris], Paris, Hachette, 1897, Disponible sur : http://gallica.bnf.fr/ark:/12148/bpt6k62325441/f17.item.zoom , p. 47, pl. 39
Last updated on 15.04.2021
The contents of this entry do not necessarily take account of the latest data.