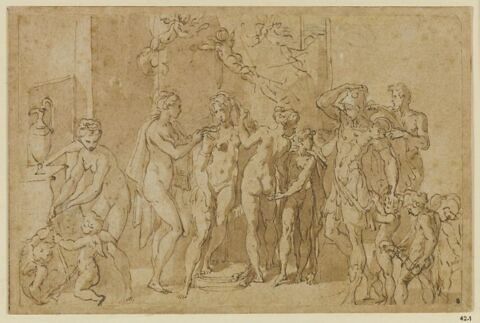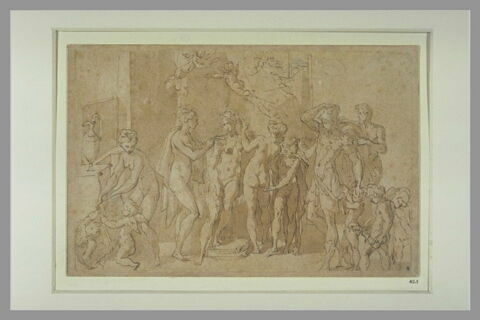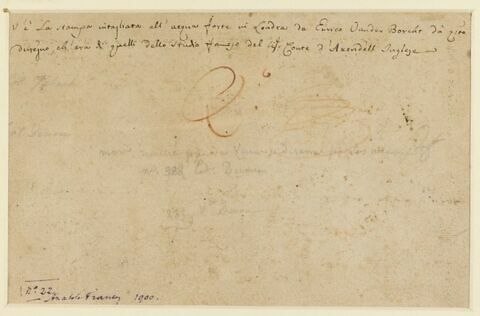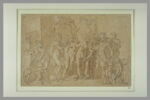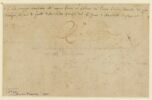 Les Noces d'Alexandre et Roxane
Artwork recovered after World War II, retrieved by the Office des Biens et Intérêts Privés (OBIP); to be returned to its rightful owner once they have been identified. Online records of all MNR ('National Museums Recovery') works can be found on the French Ministry of Culture's Rose Valland database..
Inventory number
REC 68, Recto

Artist/maker / School / Artistic centre
Description
Object name/Title
Les Noces d'Alexandre et Roxane
Description/Features
Commentaire :
A rapprocher d'un dessin de Parmigianino conservé dans une collection particulière dont il est une dérivation (A.E. Popham, 'Catalogue of the Drawings of Parmigianino', 3 vol., New Haven and London, 1971, I, p. 227 n° 795, repr. III, pl. 273 : Parmigianino ; A. Gnann, 'Parmigianino: Die Zeichnungen', 2 vol., Petersberg, Michael Imhof Verlag, 2007 (Studien zur internationalen Architektur- und Kunstgeschichte, 58), I, p. 423 n° 858, repr. II, p. 626). L'une de ces deux feuilles appartint au Conte d'Arundel et fut gravée par Lucas Vosterman.
Voir aussi : cat. exp. Parmigianino, Dessins du Louvre, par L. Angelucci, D. Cordellier, L. Lhinarès, R. Serra, sous la direction de D. Cordellier, musée du Louvre, Salles Mollien, 17 décembre 2015 - 15 février 2016, Paris / Milan, Musée du Louvre / Officina Libraria, p. 41 sous note 37, p. 153 sous note 8.
Physical characteristics
Dimensions
H. 0,146 m ; L. 0,222 m
Materials and techniques
Plume et encre brune, lavis brun. Annotations manuscrites au verso.
History
Object history
Collection Earl of Arundel (?), selon l'annotation au verso du montage : 'Vi é la stampa intagliata all' acqua forte in Londra da Enrico van der Borcht dà questo / disegno, ch'era [...] quelli dello studio famoso del [...] Conte d'Arondell Inglese' - Seconde collection de Everhard Jabach (L. 2959) ; montage à bande dorée des dessins d'ordonnance ; indication de format Q° (L. 2960) - Collection Dominique-Vivant Denon, marque en bas à droite (Lugt 779) ; sa vente, 1826, n° 388, acheté 235 livres par Antoine-Jean Baron Gros - Collection Comte Nils Barck, marque en bas à gauche (Lugt 1959) - Anatole France, vente Paris, Hôtel Drouot, salle 6, 20-21 avril 1932, n° 122 - M. Gentili di Giuseppe, vente Paris, Hôtel Drouot, 23 avril 1941, lot 19 - vente Paris, Hôtel Drouot, salle 6, 15 décembre 1941, lot 22 - Au verso du montage, cachet du Staedtkunstsammlungen, Düsseldorf, (n°42-1) - Remis au Cabinet des Dessins par la Commission de récupération artistique le 23 décembre 1949. Pour consulter la base des MNR (Musées nationaux Récupération), adresse du site Rose-Valland : www.culture.gouv.fr/public/mistral/mnrbis_fr
Restitué aux ayants-droit le 13 mars 2017.
Acquisition details
Remis au musée
Location of object
Current location
restitué à son propriétaire

Exhibition history
- Présentation des oeuvres récupérées après le Seconde Guerre mondiale et confiées à la garde des musées nationaux, Paris, Musée du Louvre, 08/04/1997 - 05/05/1997
Last updated on 06.09.2021
The contents of this entry do not necessarily take account of the latest data.